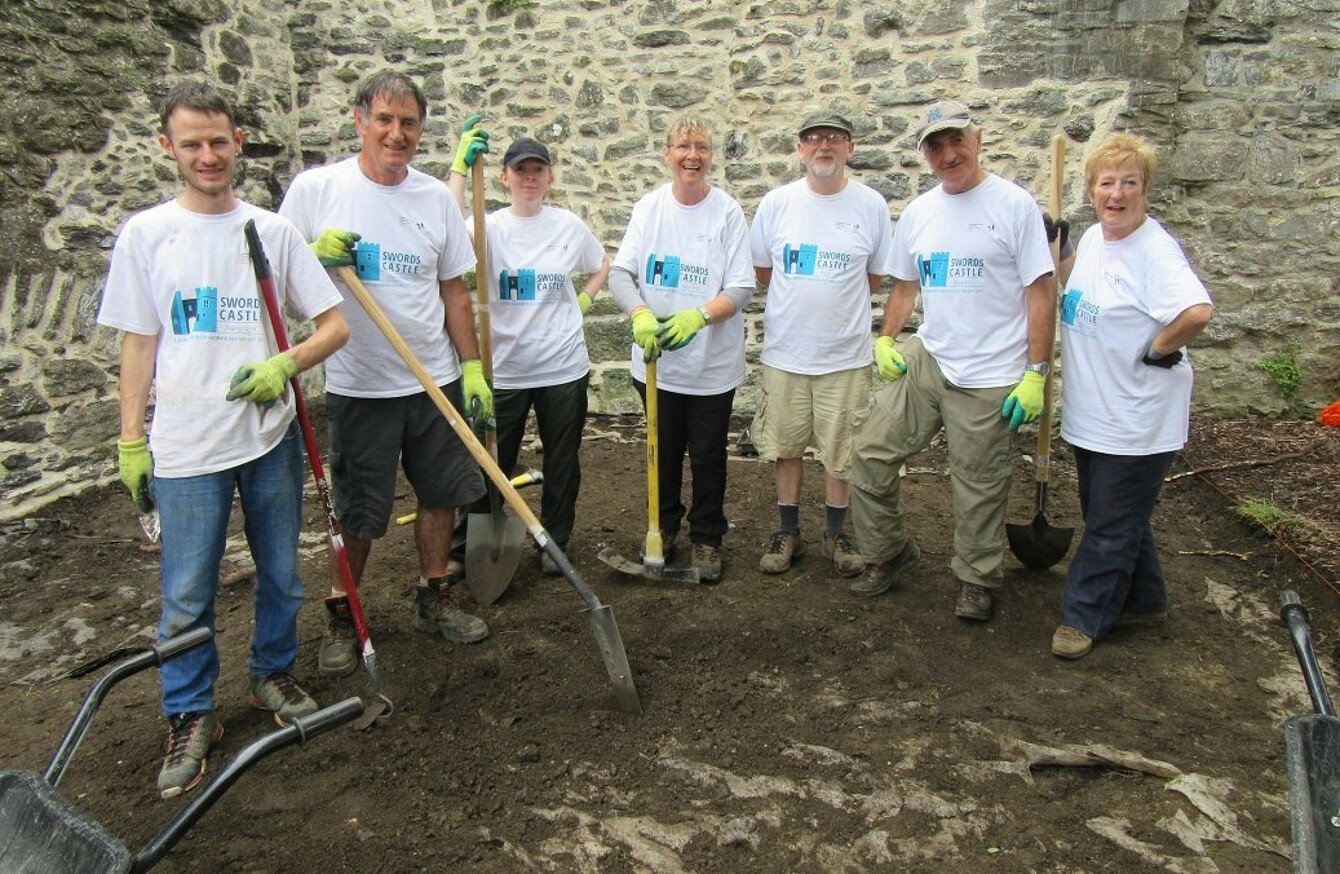 Community volunteers helped uncover burial sites at Swords Castle this week.
Image: Swords Castle: Digging History
Community volunteers helped uncover burial sites at Swords Castle this week.
Image: Swords Castle: Digging History
COMMUNITY VOLUNTEERS HAVE been working alongside archaeologists at Swords Castle since 2015 to gain a deeper understanding of their area.
This week, the group made a "shocker" of a discovery: three burials close to the surface.
The north Co Dublin town's Digging History programme has discovered burials before, but this latest discovery is exceptional for being just 10cm below the surface.
The discovery was "quite a surprise", Christine Baker, Fingal Council's community archaeologist, told TheJournal.ie.
While burials uncovered previously have been dated to the 11th or 12th centuries, the location of the latest find suggests that these burials must have taken place later.
The discovery, Baker said, gives the community the opportunity to further address questions about the site that they've been examining since excavations of the area began in 1971.
Swords Castle was built around 1200, becoming one of the eight manorial estates belonging to the medieval Archbishops of Dublin. It fell into ruin in the 1500s, with restoration works taking place in the 1990s.
In the 11th century, before the castle was built, the site served as a burial ground.
Community engagement
Over 300 people from the area have become involved and worked with archaeologists in the Digging History project, which is now in its third season.
The only restriction, according to Baker, is that volunteers must be over 18. Designed to help people engage with their local castle as it remained closed for renovations, the programme has seen locals between the ages of 18 and 90 get involved "as much as they are able".
The diverse background of the volunteers means the team, made up of those from "every walk of life and background", has many strengths, Baker said.
For example, a recently discovered a roof tile etched with musical notes – an unusual find which they believe dates from the 18th or 17th century – can be examined by those who have musical experience.
After being excavated in the "appropriate" manner, the findings will be studied further by Dr Linda Lynch, an archaeologist. They will then be brought to the National Museum of Ireland, where they will be dated.
Digging History, an initiative of Fingal County Council, also runs art and photography initiatives to help connect local people with the castle. Recent projects have included artists baking bread with medieval recipes.
"Everything's exciting when you're finding stuff," Baker said. "But we want people to relate to it."