Liveblog
IT'S FRIDAY, and the weekend is very nearly upon us.
We'll be with you until 9am this morning, helping you get to where you need to go.
Morning, all.
Catherine Healy here on TheJournal.ie's commuting liveblog, bringing you all the latest traffic, transport and weather news.
Spotted something we should know about? Email catherine@thejournal.ie, tips@thejournal.ie or tweet me @Chealy_.
Not while driving, obviously.
First things first: the weather.
Met Éireann says the day will start with frost in many parts of the country, gradually clearing as the sun emerges. Rain will become more widespread in the south and on the east coast from early morning.
Highest temperatures will be between four to seven degrees, so wrap up warm before heading out.
Remember that no Luas services will run today as the final day of a strike by Siptu workers gets underway.
Buses, Darts and train services will all run as normal, but will almost certainly be busier – so plan accordingly.
Luas tickets will NOT be valid on other forms of transport.
Luas will NOT be providing an alternative transport service, so there will be no extra bus services in place to transport people from Luas stations.
Holders of seven-day, 30-day, monthly and annual Luas tickets are entitled to a refund for the strike days in question.
Delays are expected on all major Dublin commuter routes this morning, especially on the Ranelagh, Canal, Rock and Stillorgan Roads.
If you usually use the Luas, nationaltransport.ie can help you plan an alternative journey.
Heavy fog has been reported on the M3 Dublin/Cavan Road between J7 Skryne/ Kilmessan to J10 Kells. AA Roadwatch is advising drivers on the route to use their fog lights but to make sure to switch them off when they're no longer required.
Look out for frost particularly around Galway City, Letterkenny, Carrick-on-Shannon, Roscommon Town, Castlebar, Longford Town, Tullamore, Portlaoise and Kilkenny City this morning.
A collision on the Harold's Cross Road inbound in Dublin is partially blocking one lane in each direction.
The latest Dublin traffic updates, via AA Roadwatch:
Coming in on the N4 Lucan, traffic is slow moving from before J3 Lucan to Palmerstown
Further in, it's busy turning right for Kilmainham on Con Colbert Road and then on St John's Road West inbound from SCR to Heuston Station
Parkgate Street is slow onto the North Quays, which are busy from Inns Quay to Bachelors Walk
The N7 Naas Rd is busy between Newlands Flyover inbound and the Red Cow interchange
It's slow on the Navan Road inbound from the railway bridge to the Ashtown roundabout
Southbound on the M50, it's very busy from J7 Lucan to J10 Ballymount
Inbound traffic from Fairview is heavy from the Malahide Road junction to Five Lamps on Amiens Street
Nearby, it's busy southbound on Guild Street from the Seville Place junction to Samuel Beckett bridge.
Inbound on the Swords Road is slow but moving from Collins Ave to Dorset Street/ Whitworth Road junction
Traffic is heavy on the Phibsborough Road inbound between Hart's Corner to Doyle's Corner
It's slow but moving on the Rock Road from Booterstown Avenue to the Merrion Gates
Nearby, the Stillorgan Road is busy but moving from Kilmacud Road Lower to Foster's Avenue
In Cork, traffic is now busy both ways on the N28 Ringaskiddy Road at Carrs Hill, as well as approaching the Dunkettle interchange from the N8 Dublin Road and N40 South Ring Road.
Lane restrictions will be in place for works on Albert Quay from 9.30am to 6pm.
In Galway, it's starting to get busy now coming into the city on the N17 Tuam Road from the Abbeyknockmoy turn-off to Claregalway.
In Cork, collisions have been reported on the North Ring Road near the Ballyhooly Road Junction and on the Model Farm Road near the Rossa Avenue Junction.
In Dublin, meanwhile, the collision at Harold's Cross Road has now been cleared.
A breakdown on Dublin's Ellis Quay just before Blackhall Place has blocked the right lane, so take care on approach.
Here's how the rest of the city looks:
Looking to catch up on this morning's big stories? Read our 8 at 8.
Southbound on the M50, traffic is still very busy from J7 Lucan to J10 Ballymount.
It's slow from J11 Tallaght to J13 Ballinteer, as well as exiting J14 Leopardstown, with delays continuing through to the Leopardstown Road roundabout.
Let's take a look at Dublin City Council's traffic camera at Ballinteer:
And Tallaght: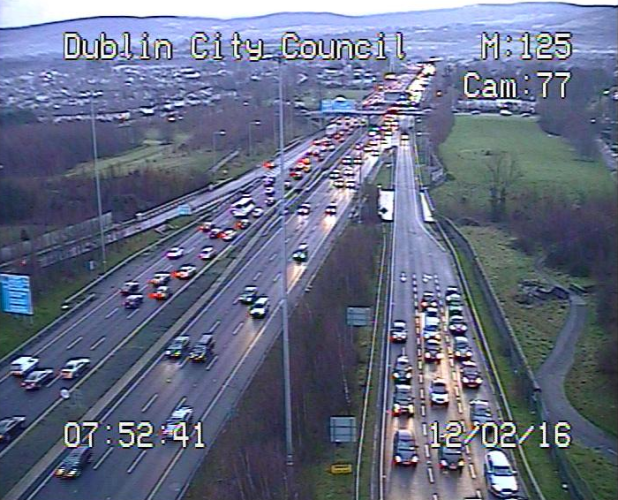 And Lucan: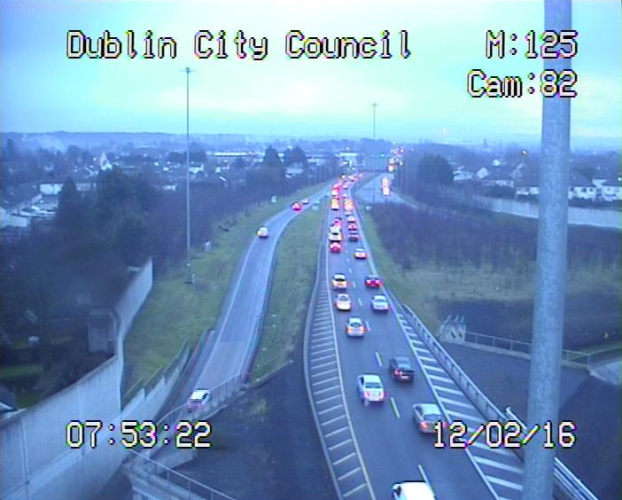 A car has broken down in the inbound bus lane on Dublin's Dorset Street before the Eccles Street junction.
In Cork, the collision on the North Ring Road near the Ballyhooly Road junction has now been cleared.
GET OFF THE ROAD, CANDIDATES.
Planning to get 8am Dart from Drogheda?
In Cork, there's been another collision on the Model Farm Road near the Bishopstown Avenue junction.
AA Roadwatch says heavy fog around Mullingar, Tullamore and on the M3 Dublin/Cavan Road between J7 Skryne/ Kilmessan to J10 Kells has now lifted.
In Dublin, traffic is heavier than usual on Drummartin Link Road up to Clonskeagh Road and through to Ranelagh. The Dundrum bypass is also busy onto Milltown Road.
If you're on the bus or train, here's some reading to keep you tied over:
In Limerick, traffic is slow on the Dublin Road inbound from before the Parkway Shopping Centre to Charlotte's Quay, with a crash at St Patrick's School adding to delays.
Also in Dublin, collisions have been reported on the Rathmines Road inbound just before the canal and on the NCR at St Peter's Church, blocking all outbound lanes.
And that's me done for today.
We'll leave you with this lovely video of Dublin taxi drivers talking about love.
Source: Rothco/YouTube
Enjoy your weekend and see you back here next week.
Contribute to this story: