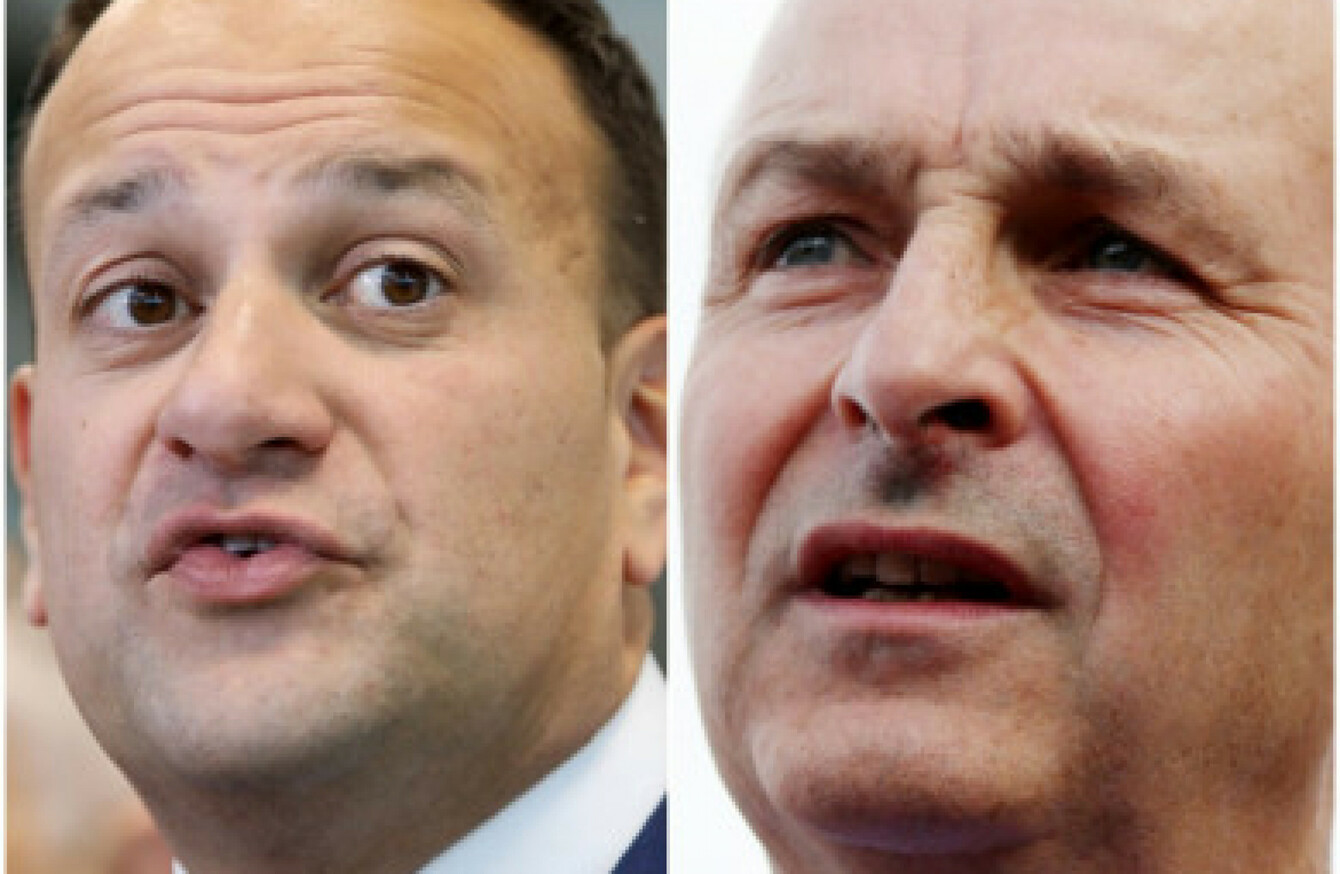 THE TAOISEACH HAS rowed back from a statement he made last week that a confidence and supply deal with Fianna Fáil could be agreed by Halloween. 
Speaking on RTÉ's Six One News, Leo Varadkar said he believed an agreement to renew the arrangement could be done by the end of the Halloween break. 
However, sources within the Fianna Fáil party were quick to slap down such a suggestion, stating that there was no way an agreement could be done within that timeline, adding that Varadkar could not resist dictating the timeline.
A spokesperson for Varadkar told reporters today that the Halloween date was "never a deadline and more of a target".
"Never to be a man to dilly-dally about things" the spokesperson said the objective is still very much to reach an agreement early, but conceded that the goal of an October deal is "unlikely". 
He added that while the Taoiseach still wants to secure a two-year deal he accepts it may take until December to get an agreement over the line. 
The confidence and supply deal is something Fianna Fáil signed up to to facilitate Fine Gael setting up a minority government.
Even though Fianna Fáil are the opposition, they have agreed to support the government on some of the big issues, like getting a Budget passed.
The deal states that Fianna Fáil will facilitate three Budgets– the third of which was passed last week. 
In the same week as the Budget, Varadkar said the two parties agreed to engage in talks, with both parties due to appoint negotiating teams this week, similar to last time round, with four representatives from each party sitting on each team.
The two leaders met yesterday afternoon and agreed to start talks next week. 
While the Taoiseach said Martin wants a detailed review, Varadkar wants renewal talks and a new programme agreed, similar to one he set out in a letter to the Fianna Fáil leader he published in August. 
The pushing out of the timeline comes after Micheál Martin published a letter sent to Varadkar urging him to commit to not calling an election in light of Brexit. It is believed Fianna Fáil are anxious to push out an election into the winter months when trolley numbers and the homeless crisis will be at its height, and when less attention will be paid to their own polling numbers.
Shoring up support 
Separately, the Taoiseach has been shoring up support for the government in terms of votes from independents.
Over the weekend, it boosted its chances of survival for now after two Independent TDs announced agreed to support Fine Gael in crucial Dáil votes.
#Open journalism No news is bad news Support The Journal

Your contributions will help us continue to deliver the stories that are important to you

Support us now
It comes after the resignation of Minister for Communications Denis Naughten last week created a headache for the party's minority government.
Dáil arithmetic means the government requires at least 57 votes to pass legislation, but the recent departure of Peter Fitzpatrick from Fine Gael saw the party become even more reliant on Independents to remain in power.
Independent TDs, Michael Lowry and Noel Grealish, have agreed to formally support the government.
The Irish Mail On Sunday reported that Lowry publicly pledged to support the party, having done so informally on a number of occasions already.
The Irish government, under both Enda Kenny and Leo Varadkar, has consistently denied there is 'an understanding' between Fine Gael and Lowry to ensure government support.
The Taoiseach acknowledged yesterday Lowry has been in contact with government officials in relation to his support.
He told reporters yesterday that he "didn't personally" talk to Lowry but added: "I understand he's had some contact with government."
Varadkar said there is "no formal agreement with Michael Lowry". When asked who Lowry was in touch with in government ranks, a spokesperson had no answer.