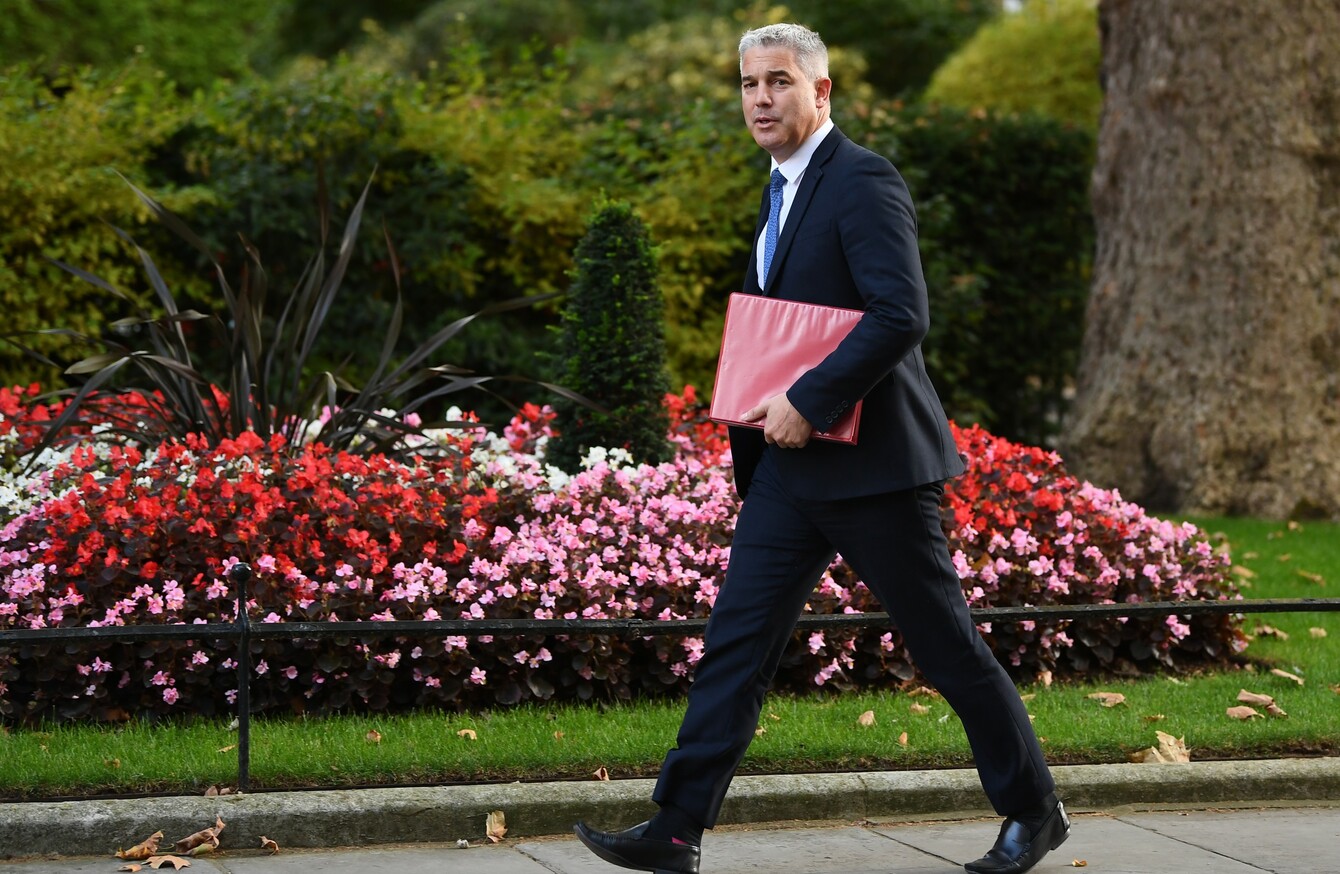 Brexit Secretary Stephen Barclay
Image: Victoria Jones via PA Images
Brexit Secretary Stephen Barclay
Image: Victoria Jones via PA Images
Updated Sep 20th 2019, 3:35 PM
BREXIT TALKS ARE progressing with "momentum", the British minister in charge of the divorce said today after meeting his EU counterpart, despite warnings that a deal was still some way off.
After talks in Brussels with EU chief negotiator Michel Barnier, Brexit Minister Stephen Barclay said there was a "shared sense of purpose" to reach agreement and avoid Britain crashing out of the bloc without a divorce agreement.
Britain is racing toward its 31 October departure without an exit agreement and faces the threat of economic disruption that the government admits could cause food shortages and spark civil unrest.
Barclay and Barnier discussed three papers submitted by London with ideas on replacing the so-called 'backstop' provisions in the Brexit deal struck last year but rejected by British lawmakers.
"There is significant work still to do but there are serious discussions that are taking place," Barclay said after the talks.
We are moving forward with momentum, talks will continue next week between the technical teams.
However, the European Commission, which leads Brexit talks for the remaining 27 member states, gave a more sober assessment, stressing that the British papers amounted to no more than "a first set of concepts, principles and ideas".
"It is essential that there is a fully workable and legally operational solution included in the withdrawal agreement," the commission said.
"We remain willing and open to examine any such proposals that meet all the objectives of the backstop."
This meeting comes after Tánaiste Simon Coveney said that Ireland is aware of the consequences of a no-deal but it won't be "collateral damage" to any Brexit deal. 
Speaking to BBC Radio 4′s Today programme, Coveney said: "The Irish position is that we want to find a solution, we want to get a deal, and we want to allow the UK to leave the EU in an orderly and sensible manner but we cannot let Ireland be the collateral damage of that.
For Britain to ask us to do that is a very unreasonable request. And it won't be the basis of a deal. 
We all want a deal, we all know that a no-deal means a lose-lose-lose for everybody, but particularly for Ireland and Britain.
Coveney was responding to comments made by Barclay, who had suggested that the alternative solution to the backstop may not be needed until the end of 2020. 
Meanwhile, European Commission chief Jean-Claude Junker said yesterday that Brussels could drop the so-called "backstop" solution for Northern Ireland if Britain came up with a fail-safe alternative.
"If the objectives are met – all of them – we don't need the backstop," Juncker told Sky News.
Brussels has rejected London's past suggestions for the Irish border issue and has called for a clear alternative well before Johnson attends a potentially decisive EU summit in Brussels on October 17-18.
Papers
The British government spokesman said London has submitted "a series of confidential technical non-papers" with its thoughts on the dispute. Technical "non-papers" are documents used in negotiations that do not represent a formal position.
#Open journalism No news is bad news Support The Journal

Your contributions will help us continue to deliver the stories that are important to you

Support us now
But EU Commission spokeswoman Mina Andreeva refused to call the papers an official written proposal.
"There are papers for now, until we have looked at them in detail, I will not characterise them beyond being papers," she told reporters in Brussels yesterday.
Juncker said Brussels had received them late Wednesday and that he had not had a chance to read them through.
Coveney told the BBC this morning that "there's certainly a lot of commentary now and some of it is spin in the context of where we are" with Brexit. 
"Asking to remove a very significant section within the withdrawal agreement that solves many of the Irish issues, without any serious proposals as to how you solve those problems, is not going to be the basis of an agreement.
"That is why I think there is an onus on the British government to come forward with alternative arrangements if they have them, that can resolve the Irish border problem," he said. 
He reiterated his warning that a no-deal would be "very damaging" for Ireland, adding "it's very difficult, and it poses huge questions for politics and potentially for the management of civic unrest in the context of Northern Ireland around the border". 
Additional reporting from - © AFP 2019