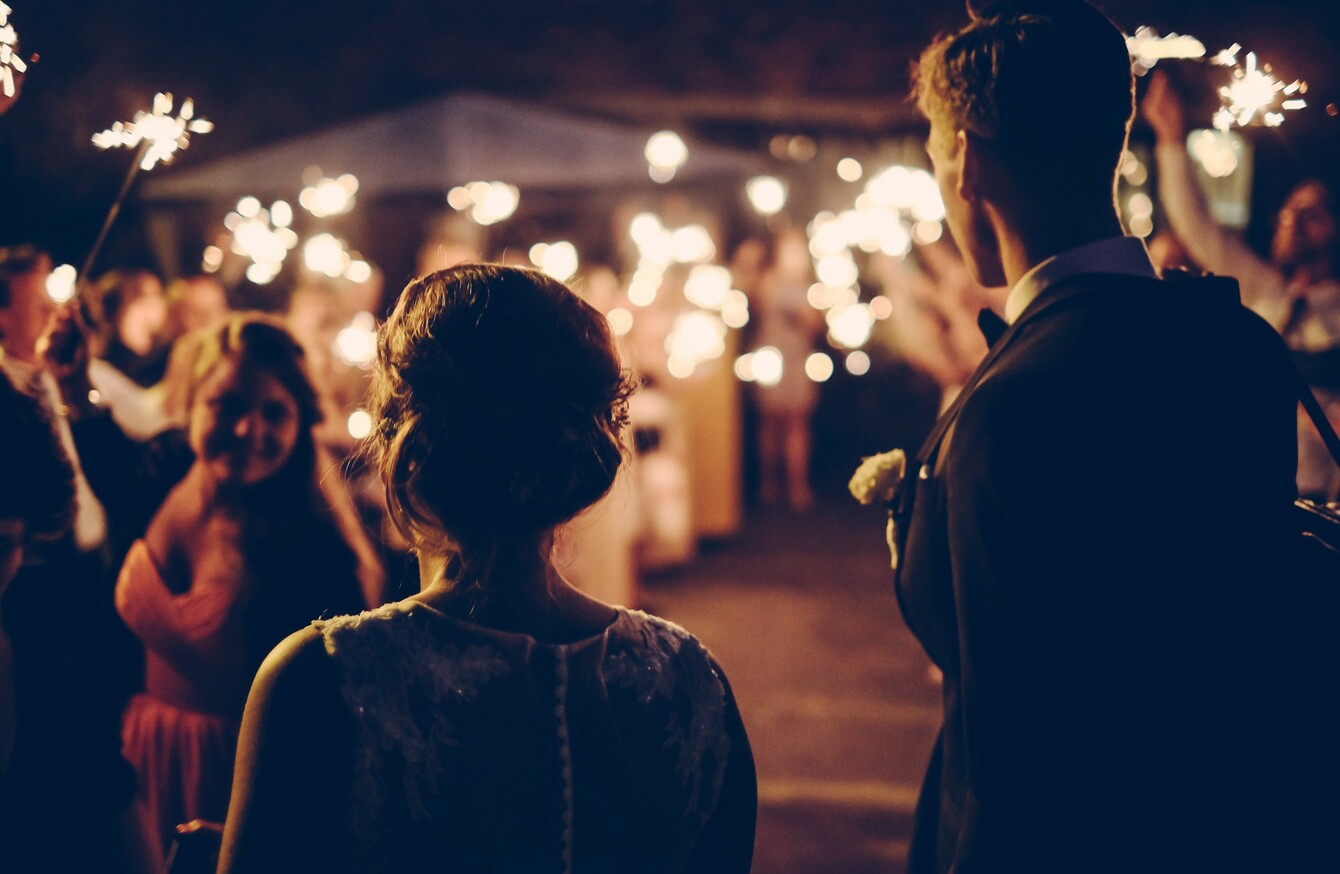 Image: Unsplash
Image: Unsplash
NO MATTER HOW it happens, deciding that you want to spend the rest of your life with someone is a pretty special moment – whether it's as a result of a military-level planned public proposal, or just a very calm, low-key conversation at dinner one evening.
And once the excitement subsides, there's the small issue of how to pay for it. Whether you choose an intimate ceremony at Dublin's City Hall or a guest-packed wedding at a five-star country house – the average Irish wedding is estimated to cost around €27,120.
And when you're planning for a future together, it's good to keep as much money as you can aside for your home, honeymoon and potentially, kids (if you want them).
So, where can you afford to cut costs? Is it OK not to ask your great aunt? Will people really be expecting a sweet cart? We asked people to share their best saving tips in the lead up to what is for a lot of people, the most expensive day of their lives.
1. Decide on a few 'luxuries' and cut corners on the rest 
Make a clear list of what's the most important on the day to you and then cut corners on the rest. Look out for discount offers at wedding shows and enter every competition possible. Check Etsy for handmade stuff because you can find bargains to balance out your 'luxuries' like fancy rings, for example.
- Shannon 
2. Make your own 'sweet cart' rather than renting one 
When my wife and I got married we set up one of those sweet carts ourselves – it was way cheaper than booking one. We just ordered nice little spades/shovels and old-school sweet bags from Amazon, all the sweets in the local cash and carry and all the jars in IKEA – it worked a treat. 
- Luke
3. Get your talented loved ones in for the photos
There are loads of things you can do to keep costs down. Host it all in one place (ceremony and reception) and ask friends for favours if they have any skills, such as singing or photography. I had my brother and his wife sing when I was walking down the aisle and one of my best friends took pictures, which was really unobtrusive. It also saves a lot not to have bridesmaids or groomsmen, if that's an option.
- Genna
3. Keep things small (including the food portions)
It may be unpopular but there is no need to hold weddings with 100+ invitees. It's also worth avoiding churches as they add unnecessary cost. A private venue is a lot more romantic and can be tailored to suit your needs.  Oh and very important, food cost! It can get out of hand because it's always over-provisioned – a massive waste of money. Keep the food portions small because no one ever eats a full three-course meal at a wedding.
- Jason
4. Don't forget about the 'less obvious' costs
It is hard to keep costs down. One thing that helped me was setting a realistic budget, and checking in on it frequently. There are loads of really useful templates online to remind you about all the things you'll have to pay for (including stuff people forget about, like paying the priest/celebrant, stamps for the invitations, etc).
- Christine 
5. Make smart swaps for cars, invitations and rings
There are so many things – not hiring a car (we borrowed friends' fancy cars), no photo booth (bought an instant camera and props on internet), fridge magnet invitations (50c on VistaPrint), no designers (we designed emojis on Bitmoji) and we bought rings directly from manufacturers. We also got married on a Thursday (which saved us money on hotel and a band), bought wine in the north (and paid hotel corkage), and picked a venue that didn't need much decoration.
- Niall
6. Don't invite anyone you don't love
My wedding cost about €8,000 all in. That's because I cut out the stuff that nobody likes (sugared almonds, churches, programmes, staged photography and rented cars were not for us). Don't invite anyone you don't love, buy your wedding dress in a sale or second hand and only spend on the things that matter to you.
- Claire
7. Go to discount stores (or make things from nature)
We also did a lot of the decorations ourselves. I went to Sostrene Grene and bought lots of ribbon and dried twigs to decorate. My mum collected a load of jars over the years we were engaged and decorated them with a glue gun, lace and fairy lights. Our centrepieces were made from a tree that my grandparents had in their garden that had fallen down in a storm – we just cut it up and sanded it down. 
- Stephanie
Ready to streamline your finances? Lodge €2000 per month and get free day to day banking with a KBC Extra Current Account. No need to maintain a minimum balance either. See here for more.
Terms and conditions apply. KBC Bank Ireland plc is regulated by the Central Bank of Ireland.