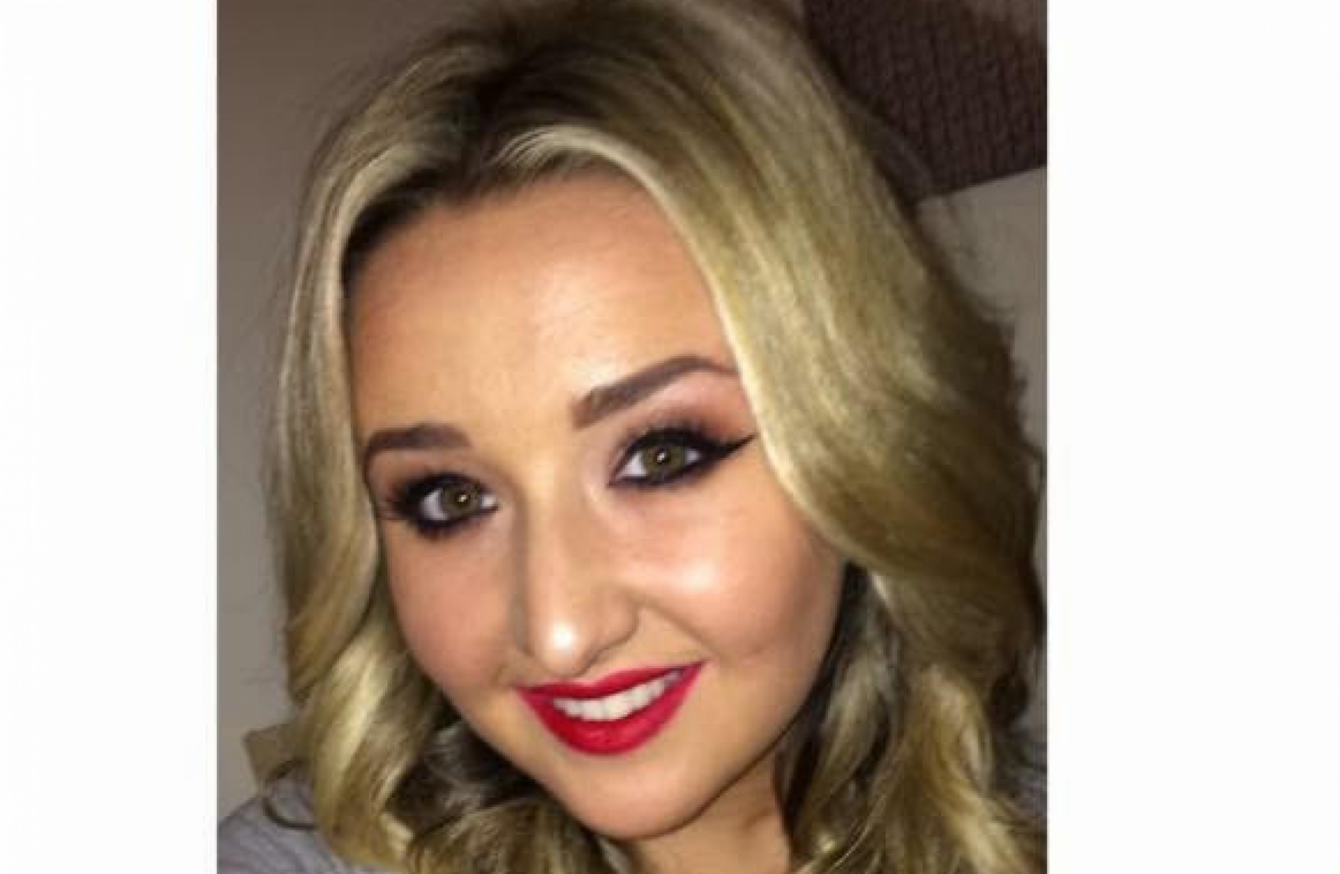 KELSEY NOLAN IS intelligent, beautiful and bubbly.
She is 19, an extremely well-spoken student and a contestant in this weekend's Miss Carlow pageant.
She is a picture of what is normal (maybe a slightly over-achieving normal) in today's teenage world.
But a subtle-but-deep cough that truncates her conversation betrays that normality.
Because it's not normal for a teenager's one wish to be able to breathe. To want fewer than 20 medications, nebulisers and inhalers. To ask to spend less than 168 nights a year in hospital.
Because these are Kelsey's wishes.
Because Kelsey suffers with Cystic Fibrosis.
"I remember hearing Orla Tinsley [CF campaigner] on the radio from New York and she said something that stuck with me," Kelsey told TheJournal.ie ahead of Cystic Fibrosis Awareness Week.
"She had a quote: 'I can breathe easier than I ever have in my life'.
"I remember thinking: 'I want that. I want to be able to breathe and go and live my life'."
Her mother, Michelle, is well aware of the hidden struggles.
They look so perfect. People just don't see and don't understand. To look at those girls… You would think they have nothing wrong with them.
Kelsey's current aim – beyond winning the Miss Carlow title on Friday and getting into college – is to complete a fundraising skydive with her own lungs next April.
"Hopefully I won't have had a transplant or need one and I can do it with my own lungs. I'd be so proud," she says.
But it's not something that will come easy.
The 19-year-old receives round-the-clock care from her mother and is admitted to hospital in St Vincent's for two weeks at a time every six to eight weeks.
She couldn't sit her Leaving Cert last year because she was too unwell and the stress of study was exacerbating her problems.
"It broke my heart to not be able to do it," she says of the disappointment. "I was in and out [of hospital] constantly and the stress didn't help.
I got very, very sick and was on oxygen at graduation day. The teachers and my friends were incredible though.
She has also recently had to give up a part-time job in Next due to a bad infection. The pressure of work on top of a level five course in childcare and special needs in Carlow IT was too much.
But the teenager keeps fighting.
"I'm actually not great at the minute," she says. "But I'm in the gym now (thanks to a grant from CFI). I'm doing as much as I can in there and extra physiotherapy every day.
"I'm doing cardio work to build up my stamina – my heart rate goes crazy when I'm not well…. treadmill, bike and a little bit of weights. I lose a lot of body muscle instead of fat when I get sick," she explains.
Kelsey isn't just fighting for herself, but her younger brother too. Cody, aged 11, was diagnosed with the condition at birth and has recently been told he also has a liver disease that less than 10% of CF patients are susceptible to.
Their mother already had a sense of what was to come thought. After having two children without CF and then struggling for a year to confirm Kelsey's diagnosis, Michelle said her heart knew "there was something not quite right" when her youngest son was born.
It was absolutely devastating but there is a reason for him being here.
"It is a totally different life. They fight a fighting battle every day.
"It is so easy for us to get up in the morning, we jump out of bed. For those with CF, to sit up in the bed to take their first breath, with all the mucus gathered, they find it so hard. They have to sit up for a while so they can move to take their meds. That can take up to 40 minutes.
"It's just another fight every day. That's all they can do. They won't survive if they don't fight. If they don't do their exercise, their physiotherapy, keep up with their medications. Growing up, they had no choice. And I'm trying to keep my two children alive."
Kelsey and Cody have become very close, even with the eight-year age gap. Despite now being in different hospitals – Kelsey in the adult wards of St Vincent's while Cody still is seen in Crumlin – they remain buddies in their illness.
"When the whole family got the results about Cody, there were tears," she remembers.
To me – and this might sound bad – I thought that I had a buddy to go through this with. Some people might not understand that but we're very close.
She struggles with her move to St Vincent's though, particularly as the siblings can't visit each other due to fears of cross-infection.
"I'm still struggling now," she admits. "I struggle with it quite a bit. Leaving Michael's ward, they were family…. the nurses and doctors there. And they treated me like family. It was like trying to make a new one. And leaving Cody behind there."
But with that separation, Cody's condition is always on Kelsey's mind. It's a strong reason she is talking out about her illness – giving personal details about her body, her mental health and her family.
She treads a well-worn path. Orla Tinsley, an effective campaigner for CF patients in Ireland for years, is breathing easier in New York because of the availability of the drug Orkambi. In an article for the Irish Times last December, she was exuberant in describing how she could take joy in walking. How she sobbed over being out in the cold weather. How she spent nine months without seeing a hospital bed. It is a joyous read.
Orkambi changed her life, as it has done countless others who have been granted access to it across the world.
Today, Tinsley and others continue to campaign for it to be made available to suitable patients in Ireland.
Kelsey and Cody are two such patients. And Kelsey is fighting for both of them.
An honest Facebook post – written in a flood of emotion after being in hospital and hearing about the lack of funding for Orkambi – set her on the course to become a fresh fighting face, just like those who have gone before her.
Orla has been incredible. And Katie Murphy too. I would love to be like them – be an ambassador. To save my own life and my brother's life too. I would be so, so, so happy – whether I live to be 100 or not to have helped other people to live.
She is working with CFI to raise awareness and to continue to put pressure on authorities to give the green light to the medicine – which treats the cause of the most common mutation of CF and not just its symptoms.
"We need it," she says simply. "And if it's money people are thinking about, it will make sense in the long run to get me off medication and out of hospital beds which cost €1,000. It would change my life. It would give me my life."
The National Centre for Pharmacoeconomics is due to assess the drug and will make a recommendation on whether the State should pay the €140,000 to €160,000 cost per patient.