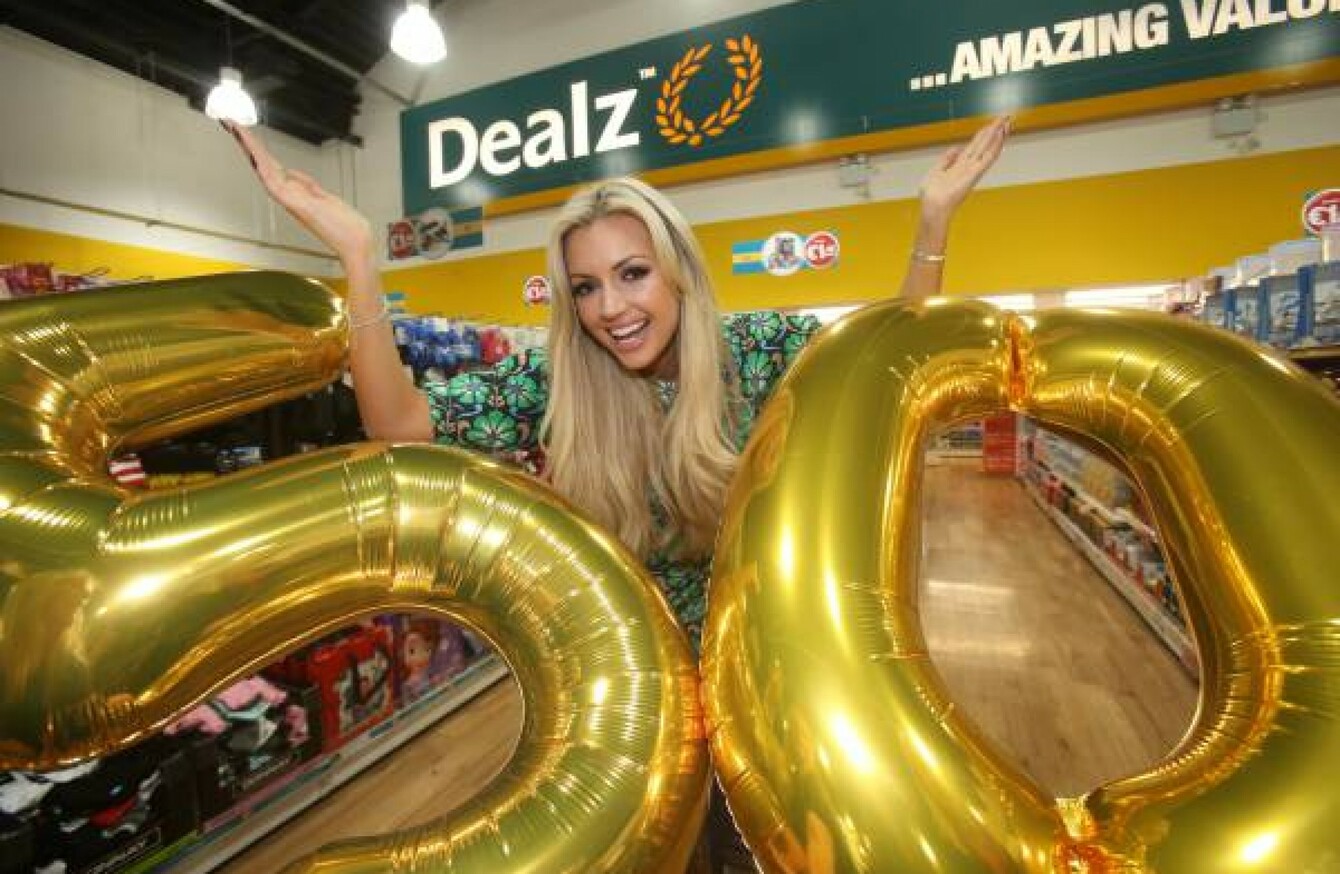 Model Rosanna Davison helped Dealz celebrate the opening of their 50th store last November.
Image: Rollingnews.ie
Model Rosanna Davison helped Dealz celebrate the opening of their 50th store last November.
Image: Rollingnews.ie
BRITISH DISCOUNT RETAILER Dealz is being investigated by two separate local authorities over planning permission for its stores.
Wexford County Council served a warning letter on 13 August to Dealz over the chain's outlet in Wexford Retail Park. It is understood the premises, formerly a tile store, was zoned for bulky goods, rather than for retail.
Dealz is operated by UK firm Poundland, which was recently taken over by a South African retailer.
The council is currently considering enforcement under Part VIII of the Planning and Development Act, 2000, which makes it an offence to carry out an unauthorised development.
Dealz previously applied for retention planning permission at the store just before Christmas of last year, but was told by the Council that the application was invalid.
In a statement to TheJournal.ie, a spokesman for Wexford County Council said: 
I can confirm that Wexford County Council has served a warning letter in respect of this development and we are currently considering further enforcement to resolve the planning issues.
Efforts to contact a spokesperson for Dealz, which was established in Ireland as Poundland in 1990 before changing its name in 2011,  were unsuccessful.
Separately, the company has also been contacted by Limerick Council in relation to "an issue" with unauthorised signage for their Dealz on the corner of Bedford Row/Henry Street in Limerick City. The store opened earlier this year.
Lucan
Questions have also been raised over planning permission for a Dealz outlet in Fonthill Retail Park near Lucan by planning sources.
South Dublin County Council did not respond when asked by TheJournal.ie on Thursday evening and Friday lunchtime whether the site, near the Liffey Valley Shopping Centre, had been zoned for retail or the sale of bulky goods, and whether the outlet's operations were in keeping with this zoning.
In 2005 the Department of Environment, Community and Local Government published their retail planning guidelines which aims to protect the vitality and viability of town centres.
In an effort to do this, local authorities have zoned the majority of out of town centre locations for the sale of goods of a bulky nature.
Galway
Earlier this year, Galway City Council refused Dealz permission to retain signage on its Eyre Square premises.
The UK-owned chain submitted a conservation report with the application for the building – a former men's County Club dating back to 1850 – arguing that the signage was "sympathetic" to its location.
After complaints by An Taisce, City Council planners ruled that the building was within the Eyre Square Architectural Conservation Area and the sign contravened it.
Last month, Dublin City Council gave Dealz changed planning  permission to take over the Epicurean Food Hall, which sits at the confluence of Liffey and Abbey Streets in Dublin 1.
The food hall ceased trading in March after 16 years in business.
The British retailer's planning issues follow several high-profile cases of multinationals opening stores without planning permission.
Earlier this week, Starbucks opened a new outlet in Waterford City without proper planning, TheJournal.ie revealed.
Waterford Council's planning department say they have opened a planning enforcement case on the coffeeshop, which was the chain's first to open in the city centre.
Cork City
A decision on a planning application from Starbucks for its Princes Street outlet in Cork City, meanwhile, is expected on 21 September.
The cafe is one of three outlets Starbucks opened in Cork in the past 18 months ago without the necessary planning.
In March, An Bord Pleanála body ruled that the three developments – the other two are in Opera Lane and Patrick Street – amount to a change of use, meaning planning permission was needed for all outlets.
Starbucks recently applied for planning to retain permission for the Princes Street store to use the unit as a coffee shop with seating.