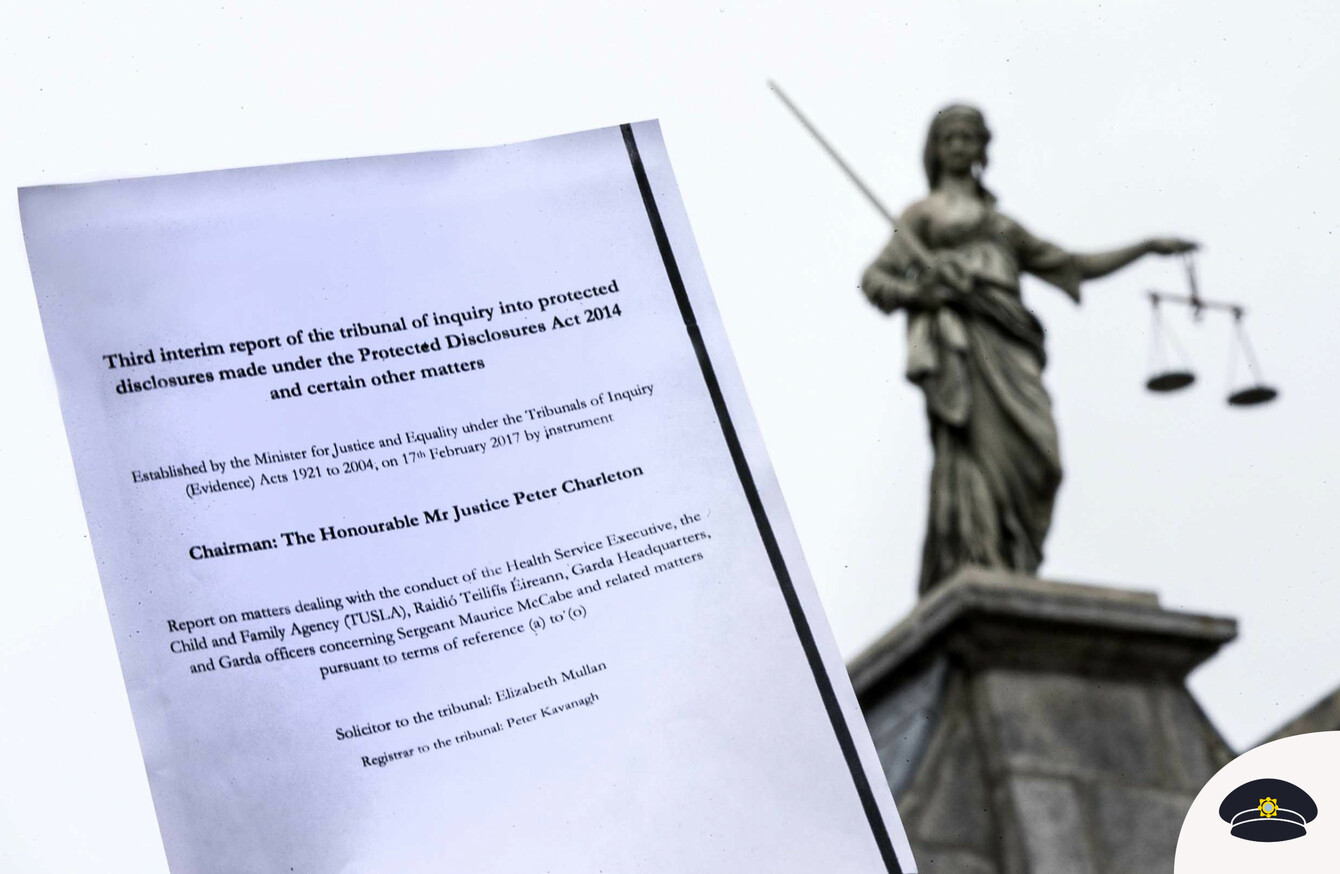 Image: Sam Boal/Rollingnews.ie
Image: Sam Boal/Rollingnews.ie
"THOU SHALT NOT escape calumny" declares Hamlet in the first scene of the third act of Shakespeare's play.
Sergeant Maurice McCabe certainly had no escape from calumny as he was being denigrated behind the scenes by the man leading An Garda Síochána and the garda whose main job was to speak to the media.
And Mr Justice Peter Charleton invoked the bard more than once as he documented in great detail the smear campaign against the whistleblower in his report published on Thursday.
"The Tribunal is convinced that there was a campaign of calumny against Maurice McCabe by Commissioner Martin Callinan and that in it he was actively aided by his press officer Superintendent David Taylor," he wrote on page 275 of his 400+ page report.
And that's not the only literary allusion that the judge invokes in his vast, wide-ranging report that tears down the claims made by Taylor and undoes Callinan, finding against them in a number of areas.
The forensic report goes to the heart of the matter in what is also riveting read that weaves a searing narrative of what was done to McCabe for "being no more than a good citizen and police officer".
No nonsense
For those who sat through any of the evidence of the Disclosures Tribunal, it was clear  the judge would frequently interrupt evidence and digress in unexpected ways.
In January, when the Tribunal was looking into whether Nóirín O'Sullivan relied on false claims of sex abuse to try to discredit McCabe, the judge launched into a digression involving one of Flann O'Brien's various guises that was worthy of the famed writer himself.
He said: "I don't know if anyone reads Myles na gCopaleen anymore, it used to be very popular, but I am thinking one of the passages in that is a series of letters which were published in book form as between a young lady and a young gentleman as their relationship improves and then gets worse and eventually ends with one that is called the stinging riposte, so what they actually do is write to each other out of this book, which was apparently a quite widely publicised book at the time."
As is clear from his report, he wasn't averse to an odd cutting comment either.
On the choice of venue for the O'Higgins Commission, he said: "They still call it the Distillery Building? Not a great name for a legal building."
When Nóirín O'Sullivan told the judge she could expand on a certain piece of evidence, the judge shot back "I think I know a lot about it already, unfortunately."
The barristers representing the various parties would often draw his ire, too, which can be illustrated from this exchange with Michael McDowell SC for Maurice McCabe:
Charleton: "Look, I'm only going to appeal at this point, because otherwise it is pointless, but we have to come to a stop at some stage -"

McDowell: "Yes – "

Charleton: " – in relation to Ms O'Sullivan, you know."

McDowell: "I accept that."

Charleton: "And we have traversed the desert, the deep blue sea, the lakes, the mountains."

McDowell: "Judge, I'm only asking this witness about this letter."
'Ay, sir. To be honest…'
Mr Justice Charleton carried on this style in his report. He pulls no punches, but pierces through the story in a clear, compelling way. 
There are numerous examples of this throughout the report, and this is one of them: "Once gossip starts, however, people will talk. Like feathers blown on the wind, they can never be recovered. The currency of gossip, however, can do terrible harm."
The first mention of Shakespeare, meanwhile, comes on page 23 of the report. It doesn't really need to be cited, but the judge wants us to know he's aware of the bard's work. Or that perhaps he went to see Hamlet in the Gate Theatre while putting the finishing touches on the report. 
It comes in the form of a footnote to this line: "It is a rare person who invariably tells the truth all of the time in their business and domestic lives."
The judge felt it was required to point out where he got this line from, and cites this line from Hamlet, act 2, scene 2: "Ay, sire. To be honest, as this world goes, is to be one man picked out of ten thousand."
The next reference to the playwright comes later on in the page where he directly quotes Macbeth.
"In Macbeth, on hearing a report on the unexpectedly courageous death of Cawdor, a traitor, Duncan remarks: 'There's no art to find the mind's construction in the face. He was a gentleman on who I built an absolute trust'. This remains the case."
Hamlet is invoked again on page 44, when it's cited after this line: "Experience over decades has demonstrated that a single allegation of child abuse is rare. Like troubles, these allegations arrive in clusters or even battalions."
The Shakespeare line comes from act 4, scene 5: "When sorrows come, they come not single spies, but in battalions."
Dissection
The Supreme Court doesn't confine himself to the highbrow, however.
He uses words like "spoof" and "daft" when it comes to the evidence of Superintendent Dave Taylor. 
In fact, his takedowns of Dave Taylor – even in incidental situations not directly linked to his evidence – are particularly striking.
"It is an utter mystery," he said, "as to why Commissioner Martin Callinan could have decided to choose Superintendent David Taylor as his press officer. Both of them have given explanations for this decision: that David Taylor was talented, experienced, articulate and so on.
He is not. All of this is just plain untrue.
Mr Justice Charleton also said that – over emphasising the importance of missing phones – Taylor chose " to present a public lie to the people of Ireland".
Taylor comes in for the toughest criticism, but the judge also spends quite some time delving into the structures of An Garda Síochána. He doesn't like what he finds.
An Garda Síochána has a lesson that "badly needs to be learned" and that is that duty to Ireland is above group loyalty. 
He goes even further, calling for a "cultural shift requiring respect for the truth".
Throughout, Judge Charleton chronicles a thoroughly shocking tale but emphasises the wide implications and impact on the individuals involved, as well as Irish society.
New garda commissioner Drew Harris said it makes for "difficult reading for the organisation".
It's certainly difficult reading for many involved, but an essential one for us all nonetheless.