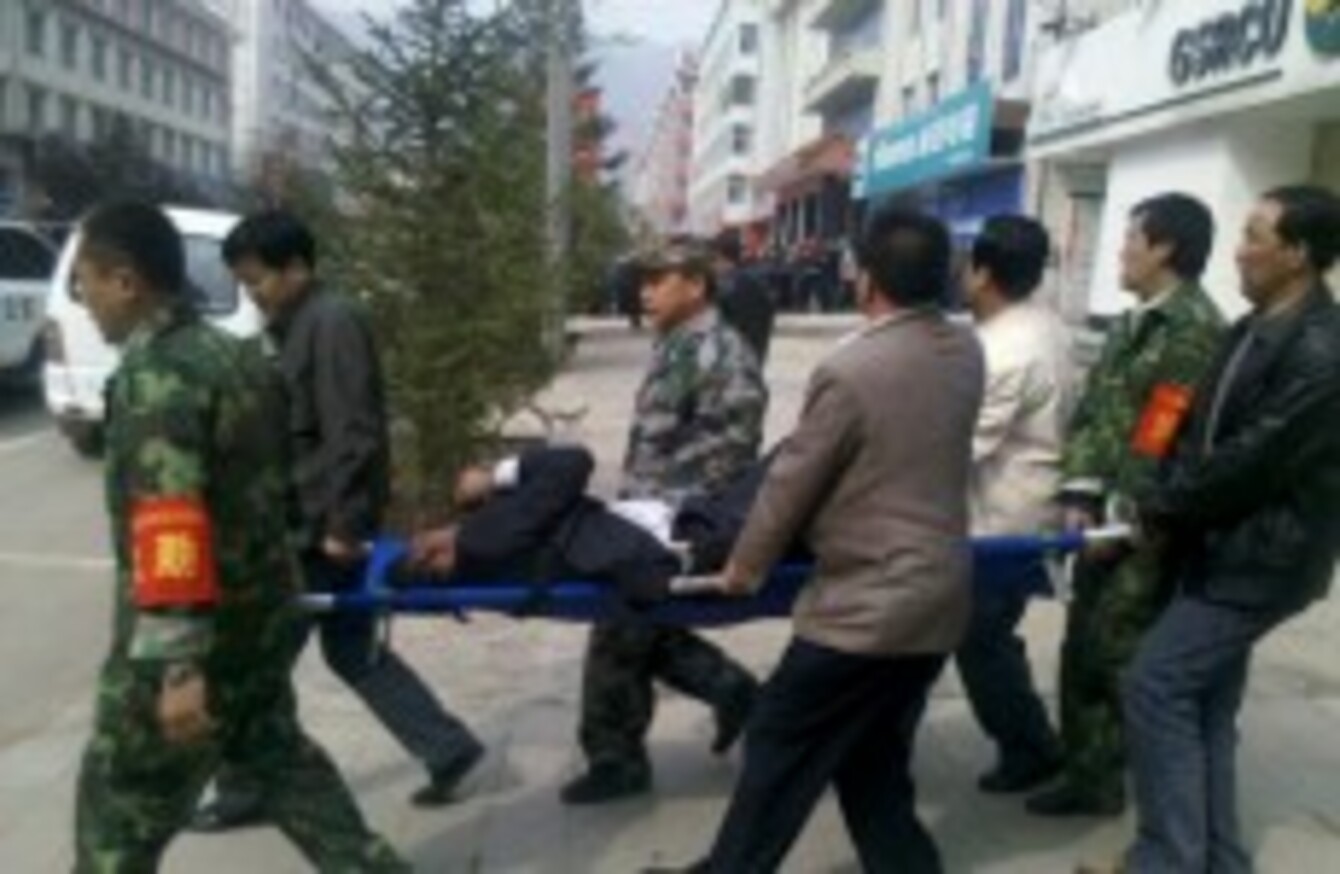 An injured person is removed from the bank in Tianzhu, China after a disgruntled former employee threw a gas bomb into the building
Image: Lu Jianfeng/AP/Press Association Images
An injured person is removed from the bank in Tianzhu, China after a disgruntled former employee threw a gas bomb into the building
Image: Lu Jianfeng/AP/Press Association Images
A BANK CASHIER fired for stealing money threw a petrol bomb inside the bank in which he had worked in northwestern China.
Dozens of people were injured and some had to jump from a fifth-story window to escape, the local government said.
Employees of the Tianzhu County Rural Credit Cooperative Union were meeting about 8am local time this morning when the employee threw the petrol bomb, the propaganda office of the county's Communist Party said in a statement.
It said more than 40 people were hurt, 19 seriously. It also said that some of the injured jumped from the meeting room window onto a three-story building.
The statement identified the cashier as Yang Xianwen and said he was fired last month for "embezzling bank money." It said Yang fled the scene was being hunted by police.
A witness reached by phone and the official Xinhua News Agency described ambulances and police streaming to the scene in the county seat of Tianzhu in Gansu province.
The injured, with visible burns, were carried out of the building on stretchers, according to an unidentified witness quoted by Xinhua news agency.
A woman who answered the phone at the Tianzhu County Hospital's security office told The Associated Press about 20 victims had been sent there. She did not know how seriously they were hurt. Like many Chinese, she refused to give her name.
Tianzhu is an area of pasturelands stuck between deserts and mountains with about 200,000 people.
- AP