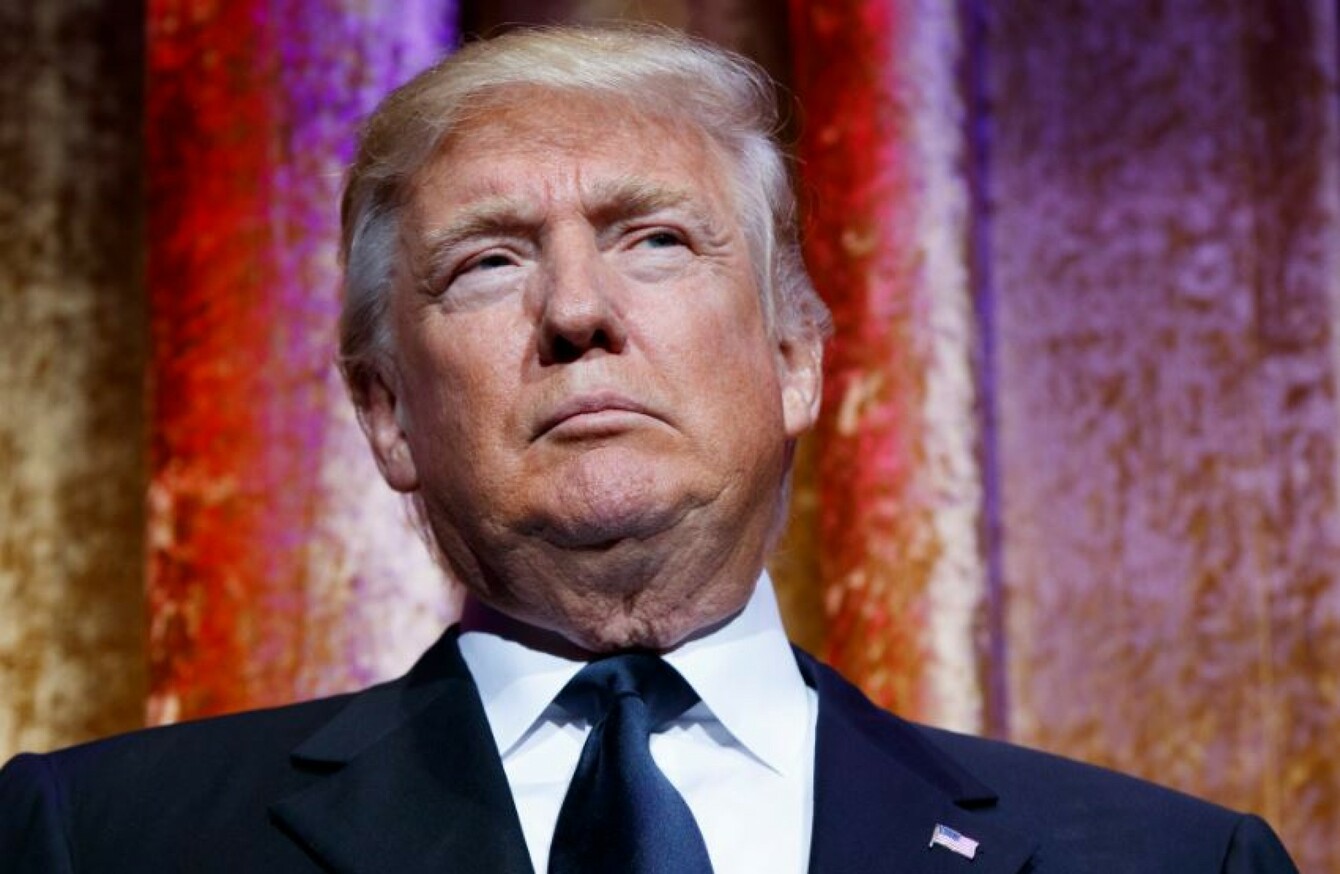 Donald Trump
Image: Evan Vucci AP/Press Association Images
Donald Trump
Image: Evan Vucci AP/Press Association Images
DONALD TRUMP IS a divisive character, even among members of his Republican Party.
The newly-inaugurated US President led arguably the party's most fractured campaign in living memory.
Tom Plank stepped down as chair of Republicans Abroad Ireland – the organisation that represents members of the party living here – when Trump secured the presidential nomination last year.
Plank, an international tax lawyer now based in Switzerland, recently spoke to TheJournal.ie about why he left the role – and his current thoughts on his new president.
"How best to describe it, what so many people have already described? I didn't think he'd be the best nominee," he begins.
I think it was his complete unwillingness to moderate every thought that seemed to pop into his head, and the way he dealt with other candidates.
Plank says he was surprised by Trump's victory in November.
When asked earlier in the campaign – when Trump saw off Ted Cruz in Indiana – if he thought the businessman could go all the way to the White House, Plank said Trump had a shot at taking Pennsylvania and some other key states.
But, he says this belief didn't last for the whole campaign, recalling: "I lost my nerve." Indeed, most polls made it seem as though Hillary Clinton was home and dry.
"I did not stay up [to watch the election results]. I woke up in the morning and my wife told me. She thought he was going to win the entire time."
'Hillary was a bad candidate' 
When asked about how Trump pulled off such a huge upset, Plank notes: "He didn't run in a vacuum, he ran against Hillary. I always said she was a bad candidate. I'm a Republican and the Democrats didn't want my advice, but that's what allowed him to win. Can you imagine him beating anyone else?"
What if Bernie Sanders got the nod? "I don't know if Sanders could have pulled it off…maybe."
So, why does he think Clinton was such a bad choice?
"She has such a long track record getting away with things, and personal enrichment. The Democrats rigged the whole game against Bernie.
"Everything she touches always seems to smell bad afterwards. She didn't have that natural charisma that could have made up for for that." Although, Plank adds, with a laugh: "Donald Trump doesn't exactly have that either."
The idea that most Trump voters are racist and sexist because he has said many racist and sexist things is incorrect, Plank notes.
Can you imagine more of a protest vote than voting for Trump?
Many people who voted for him were tired of the status quo and sick of not being listened to, he adds.
Anyone who disagrees with [liberal] policy is beaten over the head with the racist and sexist moniker to the point that it has lost any meaning.
Clinton got 2.86 million more popular votes in the election, but Trump romped home in terms of Electoral College votes – getting 306 to Clinton's 232.
Some commentators believe certain Republicans argue against getting rid of the college because it has seen some of their candidates being elected president despite not winning the popular vote – namely George W Bush against Al Gore in 2000 and, of course, Trump.
"Some fair weather pundits might say to get rid of the electoral college," Plank says. He thinks the current system helps prevent corruption and scrapping it would "definitely" be the wrong move.
"In general, Republicans wouldn't want to go messing around with constitution."
Plank says he would feel the same way if the shoe was on the other foot and a Republican candidate won the popular vote but lost the EC and therefore the election.
Cabinet picks
Plank isn't Trump's biggest fan, but he has more praise for some of his Cabinet picks.
He described James Mattis, a retired Marine general who led troops in Afghanistan and Iraq, as a "solid pick" for Secretary of Defense, adding that his inclusion in the line-up was a "huge relief".
There are some freak show people in there I suppose, but if he had a lot more freak show people I'd have been digging a very deep hole in my backyard, despite the fact I now live in Switzerland.
Plank also has praise for Betsy DeVos, the Education Secretary nominee, and Jeff Sessions, seen by many as a controversial choice for the role of Attorney General.
The Alabama senator is a former attorney and state attorney general. In 1986, Ronald Reagan put Sessions forward for a federal judgeship, but the nomination was derailed when former colleagues testified at his confirmation hearing that he used the n-word and joked that he thought the Ku Klux Klan were 'OK until I found out they smoked pot'.
Plank believes Sessions has been "smeared" by the media in a " really unfair" way.
"The joke about the Ku Klux Klan smoking pot was obviously gallows humour," Planks says.
He says the n-word allegations were "dubious" and were made at a time when Sessions was prosecuting Klan members and "really breaking their backs in Alabama".
What about Stephen Bannon being a chief strategist for Trump? He's the former executive chair of far-right website Breitbart, which has been accused of publishing racist, sexist and anti-Semitic material.
Plank tells us he doesn't read Breitbart but thinks "the anti-semitism angle is overblown", adding: "It was one of the few outlets to highlight anti-Semitism on [college] campuses."
"Hopefully [Bannon's] role is vastly overshadowed by Mattis and others in Cabinet."
Plank says "racist assholes have always existed" but now have more of a platform as they can use social media to spread their views, adding: "I don't know to what extent the alt-right is even a thing."
The Russian factor
Planks notes that US relations with a number of other countries are very tense.
"I don't know if US relations with other parts of the world have ever been as bad as they are now, even after George W Bush and what Obama has left behind him – Libya, Syria. How much further do we have to fall? I guess we'll find out," he says.
In terms of Russia hacking the election in favour of Trump, a theory backed by top-level US intelligence agencies, but something Trump has been reluctant to admit, Plank says: "I assume Russia is trying to put their finger on any scale that they can."
He adds that the outcome of the election is "quite advantageous" to Russian President Vladimir Putin.
"[Trump] does walk up to the line of being much too friendly with Putin, every US administration has done that."
They all think they can manage Putin, but they all get outplayed. It's only a matter of time before he makes a fool of Trump.
Earlier this month, a dossier containing unverified details about controversial information Russia reportedly has about Trump was published by Buzzfeed News.
The report claimed that Russian spies had obtained compromising sexual material involving Trump that was allegedly collected while the President-elect was in Moscow for the 2013 Miss Universe beauty pageant.
Trump has branded the report "phony" and "fake news" and labelled Buzzfeed a "failing pile of garbage" for publishing it.
Plank says Russia probably has some sensitive information about Trump, but we don't know what.
"He doesn't pay his taxes? I don't think people would care if that came out." He has already refused to release his tax returns, after all.
If there are videos of him in compromising situations, it would be embarrassing, Plank says, "but I don't know [how much people would care]".
So, given the numerous gaffes Trump has already made, and continues to make in the eyes of many, what would it take to change the opinion of loyal backers?
Plank says "a video of him strangling someone in an alley" might be the only thing.
Division in America
Trump's comments about inappropriately touching women without their consent, building a wall along the Mexican border and establishing a Muslim registry have heightened divisions in many parts of the US.
#Open journalism No news is bad news Support The Journal

Your contributions will help us continue to deliver the stories that are important to you

Support us now
He was also recently criticised for calling civil rights activist and Democratic Congressman John Lewis, who marched alongside Martin Luther King, "all talk" and "no action" after he said Trump was an "illegitimate" president.
Plank admits Lewis is an American hero, telling us: "That's an overused phrase, but it's true in his case."
However, Plank says this doesn't mean Lewis is "above reproach", adding: "Lewis is so blatantly partisan…he has used up a lot of his political credibility."
'That drives me up the wall'
Attacking and criticising people on Twitter is something now synonymous with Trump, especially when Alec Baldwin appears on Saturday Night Live.
When asked what he makes of this side of Trump, Planks tells us: "That's the weirdest thing, that drives me up the wall. That comment about Cruz's wife really drove me over the edge," he says, referring to Trump retweeting an unflattering photo of Cruz's wife Heidi, comparing her to his own wife Melania, during the campaign.
Plank adds: "And the fact that he would criticise Arnold Schwarzenegger over the ratings his version of the Celebrity Apprentice got, that blows my mind, I can't explain it. It reminds me of why no I'm no longer the chair of Republicans Abroad Ireland."
Nepotism 
The fact that Trump is set to make his son-his-law Jared Kushner, a real estate magnate and publishing executive who is married to Ivanka, a senior advisor has been criticised as blatant nepotism by many.
"I don't know anything about the guy, no one knows him or what he will bring to the table," Plank says.
In terms of other potential conflicts of interest, Planks says Trump's sons running his businesses in a blind trust is a "cop-out".
"I don't know what he can do about that. A blind trust doesn't really work … but if you were going to discredit anyone who has business interests from being president that wouldn't work.
"I don't think he's a billionaire, he needs to release his tax returns. I don't think he makes as much as he says he does. That's probably the biggest insult I could pay to him, I could be down in Guantanamo pretty quickly."
Four more years?
Does Plank think Trump will make it to 2020?
"That's a good question. A lot of Republicans would be quite happy if he didn't last four years. As long as there is no serious issue, he might … He'd have to actually do something rather than just say he will do something.
I would not be very upset [if he didn't last the four years].
"I like Mike Pence. I'm not an evangelical myself and I know people on the left get very uncomfortable [about him] … but the government is too big and too bloated for one person to make a huge difference."
The presidential campaign was very divisive for Republicans, so what's next for the party?
Plank thinks "the division will continue" under Trump, but "won't be strong enough to end the Republican party", which was founded in the 1850s.
"It's much bigger and more enduring than one particular person," Plank notes.
And so is the US? "Exactly."