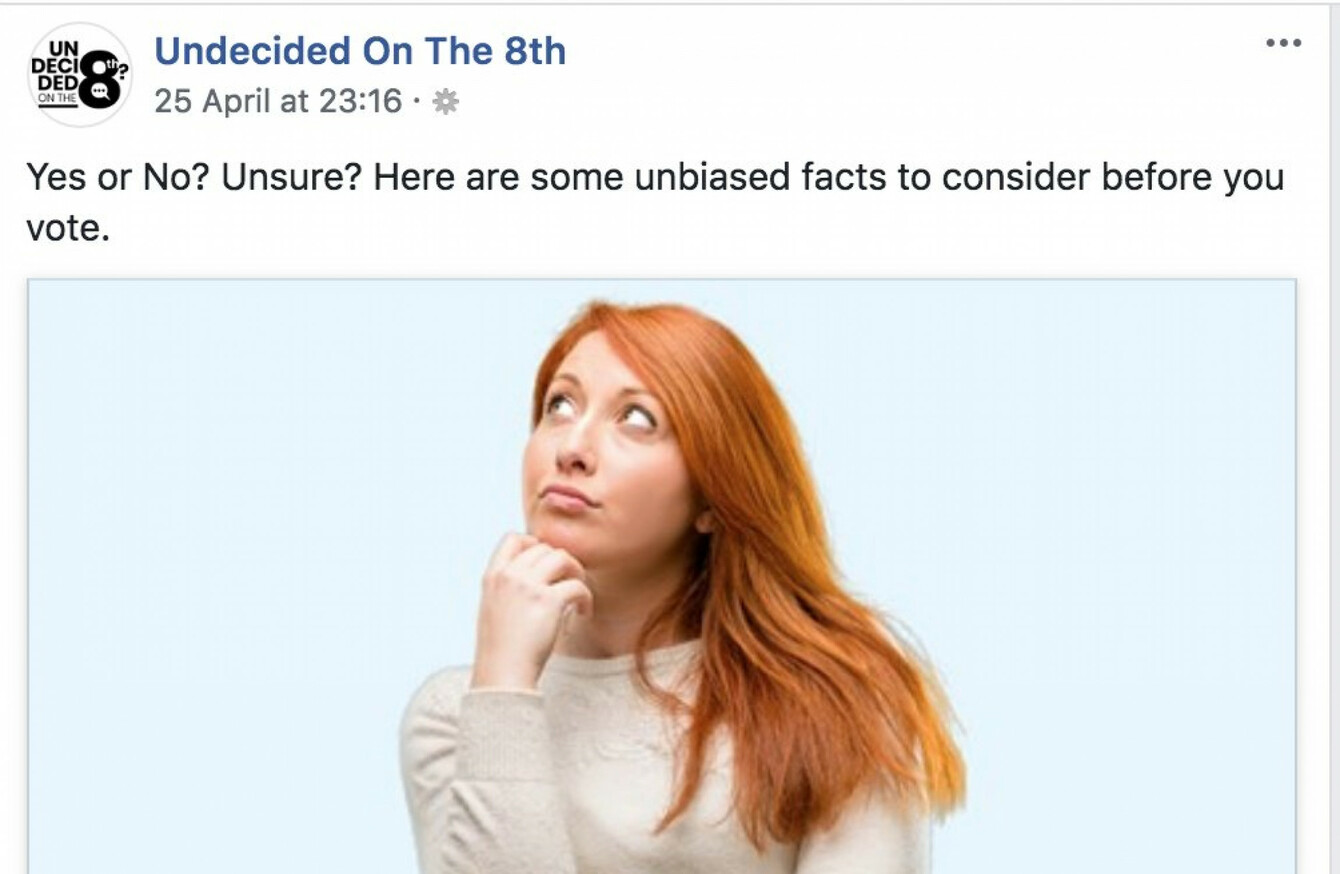 THERE HAVE BEEN calls for the introduction of proper laws and regulations around organisations advertising on social media in relation to the upcoming Eighth Amendment referendum.
The issue has been highlighted after Facebook users were targeted over the weekend with advertisements from an unknown group purporting to be unbiased.
Over the weekend, a number of Facebook advertisements appeared directing users to a website called undecided8.org.
Facebook ads can be posted by pages and targeted at users based on a variety of different factors (age, location, gender, etc). The ads can direct users to 'like' pages on Facebook or link them to other websites.
The ads for undecided8.org said that it was providing people with "unbiased facts" in relation to the upcoming referendum on whether or not to Repeal the Eighth Amendment of the Constitution.
Any users who click through to the website were offered "eight unbiased facts to help you decide" on how to vote.
But while a number of the facts provided were entirely neutral (for example: when the referendum will be held; what is the deadline to vote), others were less so.
One of the "facts" stated:
Repealing the Eighth Amendment will allow abortion up to "viability" on certain health grounds, including mental health. This would allow abortion up to 24 weeks or 6 months.
This is not true, as the question of laws around abortions will be decided by politicians after the referendum, with the actual referendum only determining on whether the Eighth will be repealed. (More about what those politicians are proposing can be found here.)
Aside from the eight "facts" and a countdown clock to the referendum, the website contained no contact info, no information on who operates it, or no external links to social media accounts.
A total of eight ads similar to the one below were sent out by the page.
The Facebook page, again, provides no information of any organisation it may be affiliated with, nor does it provide any contact details.
Since Sunday night, both the website and the Facebook page have either been deleted or temporarily deactivated.
Ad campaign
Gavin Sheridan, transparency campaigner and co-founder of legal intelligence platform Vizlegal, highlighted and investigated the source of the undecided8.org website in a widely shared Twitter thread.
The website was registered on 24 April of this year, but it is unclear who registered it.
Sheridan reported that a YouTube ad campaign for pro-life group Protect the 8th (which is the referendum campaign of the Irish pro-life group, Family & Life) contained a link to the undecided8.org website in advertisements that were broadcast on Sunday.
Protect the 8th released three videos on its YouTube channel a day ago which have collectively amassed over 225,000 views.
Later, Sheridan said the advertisements no longer linked to the undecided8.org website, linking instead to the official Protect the 8th website.
TheJournal.ie made numerous attempts to contact Protect the 8th and Family & Life for comment yesterday, but no response was received at the time of publication.
What the law says
There are no laws or regulations governing social media advertisements or targeting of voters by overseas organisations in relation to the upcoming referendum.
According to a spokesperson for the Department of Local Government – which has responsibility for referendums and elections – the law requires that any notice, bill, poster or similar document used during a referendum campaign has to include the name and address of the printer and of the publisher on it.
"However, these requirements do not apply to advertisements placed on social media platforms," the spokesperson said.
In addition, it should be noted that the Electoral Acts do not regulate the content of advertising for political purposes either within or outside of electoral or referendum campaigns.
Laws do exist around funding from foreign sources to third party campaign groups that are registered with the Standards in Public Office (Sipo).
Under the Electoral Act 1997, any individual or group – other than a registered political party or election candidate – who or which accepts a donation of over €100 for political purposes has to register as a third party.
Third parties are prohibited from receiving donations from people or organisations living outside of Ireland.
Sipo is responsible for ensuring compliance with the Electoral Act, but has no role in regulating the content of a campaign.
RefCom – the official independent organisation that explains the referendum and encourages people to vote either way – also has no role in governing the content of the campaign.
"From what I can see of this particular campaign is that I can't see any laws being broken. Partly because there are no laws against this type of behaviour," Gavin Sheridan told TheJournal.ie.
Transparency 
According to Sheridan, advertisements to a website like undecided8.org can be used to track and collect data on undecided voters who can later be targeted by a campaign to attempt to sway their vote in a certain direction.
"Usually the objective is – and these same tactics were used in other election or referendum campaigns abroad – now that I've collected data about audiences, I can now re-target that audience on different platforms again," he said.
Sheridan said that it was important that proper laws were brought in to regulate referendum campaigning on social media platforms.
He said they should be introduced as a matter of urgency.
"I would argue that we can't trust Facebook or YouTube or Twitter or any of the social media companies with our democratic processes or our electoral processes," he said.
We need to impose on them rules around what can and can't be done on their platform in the context of a referendum like this.
A Housing Department spokesperson said that there are "no specific requirements under the Electoral Acts in relation to online advertising".
However, a Private Members Bill - Online Advertising and Social Media (Transparency) Bill 2017 – is currently progressing through the Oireachtas.
The spokesperson said that the purpose of the bill was "to introduce a number of measures aimed at making political advertising on online media platforms more transparent".
Facebook is aware of pages being run by organisations outside of Ireland that are running ads in relation to the upcoming referendum (which again, is within the law).
As reported in the Times Ireland edition on Saturday, it recently made a report to Sipo in relation to a foreign page sharing and boosting a post of an Irish campaign page (as this goes against the rules around funding).
A spokesperson for Facebook pointed to the efforts of the social media giant to combat the spread of misinformation around the referendum.
These include the deployment of AI to identify and combat fake accounts, misinformation, or foreign interference related to the upcoming referendum.
The efforts also include third-party fact-checking programme in Ireland through a new partnership with TheJournal.ie.