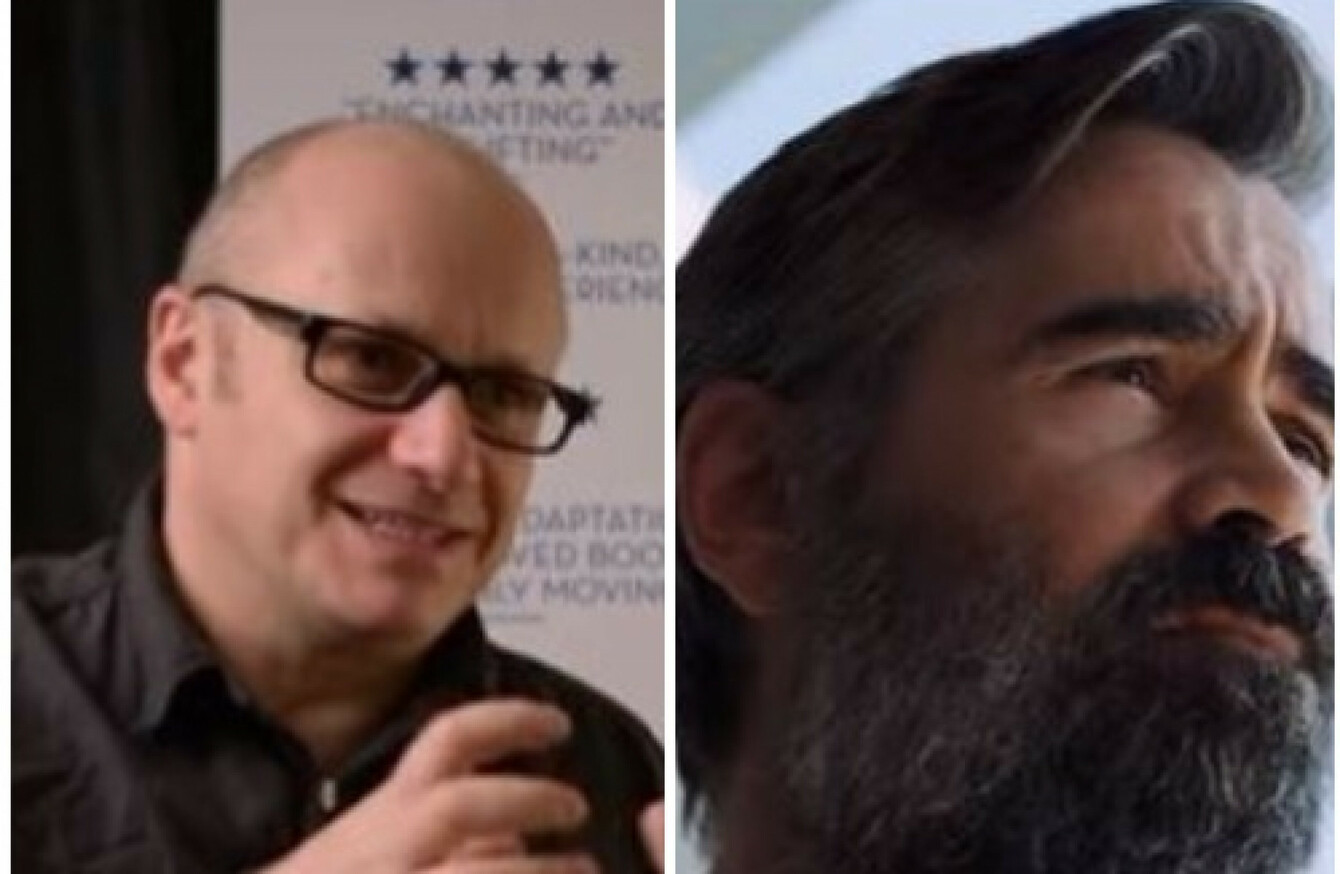 Image: Element Pictures, TheJournal.ie
Image: Element Pictures, TheJournal.ie
IN 2011, THE team behind the Irish TV and film production company Element Pictures was not doing well.
"Before we made The Guard we were on our knees," says Ed Guiney, one of the co-founders of Element, alongside Andrew Lowe, when reflecting on that time. "It was absolutely the last gasp."
That last gasp – The Guard – was a comedy starring Don Cheadle and Brendan Gleeson, and the John Michael McDonagh-written film brought the company out of the doldrums.
"That film completely saved us and gave us a new impetus," says Guiney now. It became the most successful independent Irish film of all time at the Irish box-office, even overtaking the company's own The Wind That Shakes The Barley.
Gleeson got a Golden Globe Award nomination, McDonagh got a BAFTA nomination, and Element was finally on the up.
Today, not only is Element producing top films, but it is also responsible for the TV series Red Rock, running the Lighthouse Cinema in Dublin's Smithfield, and the distribution company Volta. In 2016, its worldwide box office take was €34.9m.
'This might be a car crash – let's give it a go'
But as Guiney points out, you don't enter the film business thinking that it's all going to be plain sailing. Not only do films take years to get off the ground, but success is never guaranteed. As their film Zonad, which never lived up at the box office to the expectations behind it, showed.
"It's a very tough business," says Guiney. "I believe [it] to be the case now of only being learnt through very tough experiences, making lots of mistakes – and you continue to make mistakes. You have to prepare to make mistakes. 'This might be a car crash: let's give it a go'."
"It's really hard to make a good film, it's extremely hard, and it takes a lot of brain power from lots of people but I guess coming out of that year 2016, it opened up a lot of opportunities for us which still exist," he says. That was the year when Element's film The Room, directed by Lenny Abrahamson, won an Oscar.
Now it's a very different world for us post-Room than for pre-Room and The Lobster did well as well, so it definitely catapulted us from an Irish-British company to a company that works internationally and is seen as just another international company.
Dublin-born Guiney has lived and breathed film for decades, starting off making short films with friends who also formed their own film society. Element started off with 2002′s Magdalene Sisters and along the way has brought us Adam and Paul, Lassie, and co-productions like This Must Be The Place, Glassland, and Room.
2016 was the year that put Element on the map, thanks to a number of factors – the success of its co-production with Lanthimos, The Lobster; the huge success and Oscar win for Lenny Abrahamson's film Room; and Red Rock's success on TV.
2017 has been another hugely busy 12 months for Element – alongside the release of The Killing Of A Sacred Deer, (which grossed €100,000 within a week at the Irish box office), it has also had three films in production. One is the next Lanthimos film – The Favourite – while another is Lenny Abrahamson's adaptation of the Sarah Waters book The Little Stranger, starring Domhnall Gleeson.
Getting to the Oscars with Abrahamson was obviously a highlight for Guiney, not least because it spurred him on to work even harder in 2017.
"It was really special and brilliant and to be enjoyed," he says. "And Lenny is one of my very best friends so it's particularly fun and memorable going through that experience with a great friend, but I guess it also gives you that confidence to keep on trying to do work that makes an impression internationally."
From the 1990s to now
Source: TheBubblesChannel1/YouTube
In the 1990s, Ireland made major strides in Hollywood. Films like My Left Foot, The Crying Game and In The Name of the Father received multiple Oscar nominations. Directors Neil Jordan and Jim Sheridan became internationally-renowned figures.
"In a way they broke open the dam, they got us here if you like," says Guiney of his 1990s predecessors. "I also think the world is so small now… For Irish people, we speak English, we are good at being out in the world. What's also really interesting is what you are seeing in related professions. There's a lot of really great Irish writing at the moment, great new fiction, great theatre, so there's a vibrancy about the whole thing. It's not just film, it's right across the creative disciplines."
Are Irish productions perhaps less concerned with the notion of 'Irishness' now than they were in the past?
"It's a really interesting question because I think you could definitely have said maybe until Room and – you could have said that actually, the stuff [we did] did fit into an archetype, whether it was stories of the IRA… We did the Magdalene Sisters and The Wind That Shakes The Barley… Or stories of poverty, overcoming poverty. Tropes in Irish storytelling that did do well, but now you are seeing very different stories being told."
The work Element is doing today is "infused with Irishness", but is not so overtly 'Irish' – or 'Oirish'.
"We definitely want to do more Irish stuff going forward along with everything else," says Guiney.
"We all have so much access to international culture that I guess local concerns don't loom. In terms of what we want to do it's all about finding the best people in the world, the best filmmakers."
Source: Emmet O'Neill/YouTube
It's arguable that the success of Element Pictures's output and other films, from Intermission to The Young Offenders, can be put down in part to the re-establishment of the Irish Film Board by Michael D Higgins in 1987.
Abrahamson made Adam and Paul in 2004, so it's not like Irish filmmakers don't put in their hard work before making it big – funding is necessary to enable people to make their short films, put in the hours, take the flops alongside the successes.
"It takes a cycle of investment and time," says Guiney. "We've made a load of movies and some of them haven't been successful. You have to invest in failure, it's an absolute prerequisite when it comes to supporting the arts."
But for Element, the drive isn't purely financial, he says. "If you think about the work and what's good and what hasn't been seen before and what's surprising, or simulating, or truly vital, then you have a chance to create something that can endure."
"Right now there's so much money out there and so much opportunity.
They used to say content is king – in a way now I think it's slightly different: content-makers are queens or kings. It's all about people who have something unique to say, something different to say. Our job is finding those people.
But for people to be able to create, the funding has to be there – and the Irish Film Board has itself called multiple times for its funding to be restored to pre-recession levels.
This is something that concerns Guiney, too. "We've always said and I've always been saying [to politicians] that we are part of the solution, the creative arts are part of the solution. I don't think we're an either-or – it's not spend money in the arts or spend money on something else.
"Arts are a vital component of a vibrant growing economy and vital economy. And in a way what oil is to Saudi, creative talents are to Ireland."
He believes that 'official Ireland' is finally seeing the potential in Ireland's creative sectors. "I think the Oscars success has really helped. I think we're gradually becoming comfortable with the fact that maybe we are really good at this," says Guiney.
"Government investment in the sector really needs to improve and what you read and what you hear about doubling the arts budget over 7 years, that promise has been made a number of times and I hope it does come to pass. Having said all that, there are a lot of brilliant people out there who do need to get support and aren't, and if they were, it would make what they make even better."
He sees Element's success this year as part of the greater Irish performance in the cultural arena. "Even this year you're seeing Saoirse [Ronan] and the [Cartoon Saloon animation] The Breadwinner and Catriona Balfe [of the TV show Outlander]," says Guiney.
And I have a feeling it will continue, I have a feeling our presence of Irish people at a very top end of movies will continue. I do think they will, I know what's coming up and what's coming up is really exciting.