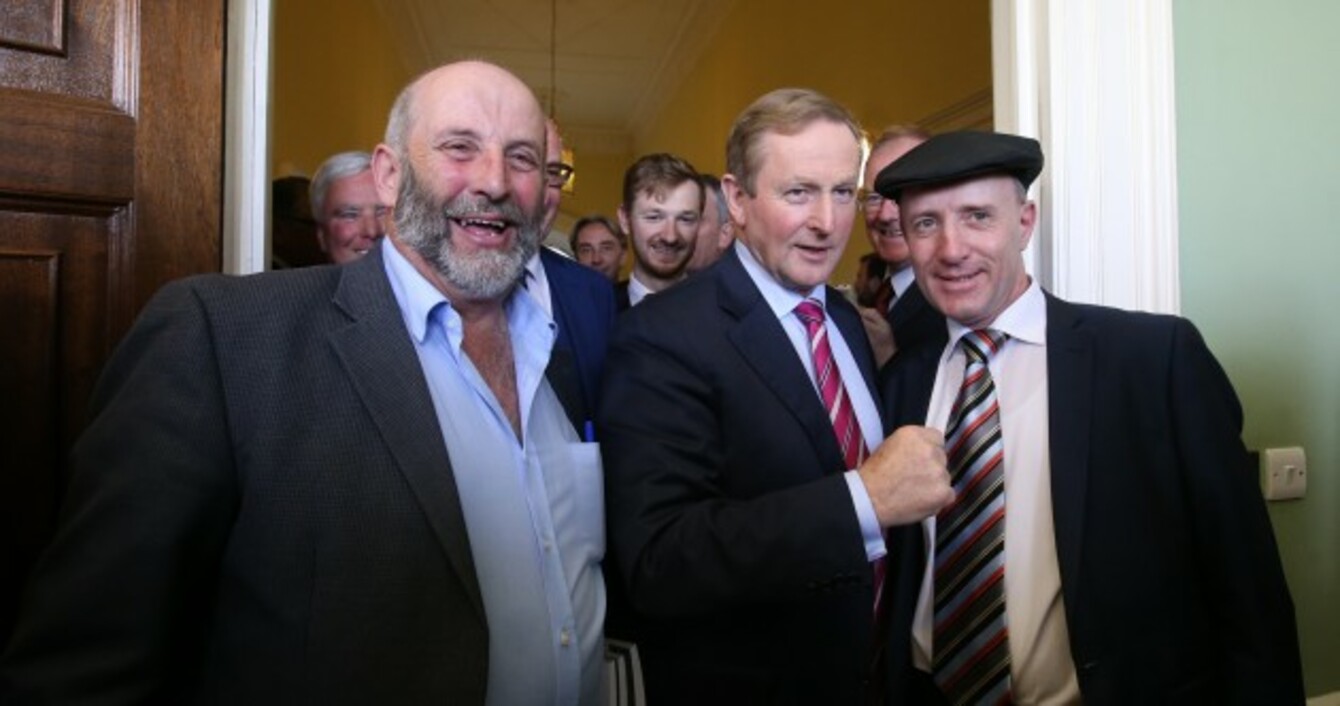 Image: Sam Boal
Image: Sam Boal
"LOOKING FORWARD to tomorrow, Taoiseach?" the scrum of media asked Enda Kenny outside Merrion Square this evening.
Giving nothing away, the outgoing Fine Gael leader replied: "I look forward to every day."
The sun was setting over the park (and perhaps on Kenny's career as the Dáil's longest-serving TD) as he made his way across the road, avoiding his car and driver, to set about a walk through the beautiful grounds.
Basking in the evening light, the Taoiseach stopped to talk to passersby – perhaps his final lap of glory?
Last week, Kenny said he would address the issue of the Fine Gael leadership at the parliamentary party meeting tomorrow.
While speculation is rife in Leinster House, it's widely expected that Kenny will set out his plans to step down as Taoiseach tomorrow.
However, others think he might surprise everyone by stating that he wants to stay on until the summer. Who knows?
Keeping his cards close to his chest this evening, the Taoiseach was asked by the hungry media to comment on tomorrow's announcement. Enda Kenny replied: "Now, now."
Addressing a crowd full of politicos at the launch of the Nealon's Guide to the 32nd Dáil and 25th Seanad (a guidebook of sorts of who's who in government) the Taoiseach was reflective on his time as leader.
Perhaps a warning to who might take his place (widely tipped to be Leo Varadkar or Simon Coveney) Kenny said your life is never really your own once you become Taoiseach.
"From my experience of this job it takes up practically every waking hour of your day and I also learned that people actually own you in a very different way than you ever imagined."
Politics has changed a lot since he was first elected in 1975. The simple times are gone, he mused, stating there was no Facebook, Twitter, Whatsapp, or Viber to get your message across back then.
Politics in today's world has been reduced to soundbites and entertainment for some, said Kenny.
People at the edges are looking to their politicians for a far greater degree of certainty and when politicians look for is something that is deliverable, what the people want is deliverance. That seems to be the problem with politics in general, which seems to have become degraded and debased and is seen as entertainment and gossip.
The Mayo TD also had some tips to those politicians out there that have all the slick messaging, but no substance.
You can find plenty of people to talk about delivery in perfectly packaged soundbites but often times, without humility, because nobody has all the answers. This government does not have all the answers, but it makes an honest effort to get it right.
The speech had self-serving elements, with Kenny reminding people that Ireland is the fastest growing country in Europe for a fourth year in a row, and boasting that when he is in Europe he is often asked how this small country achieved so much is so little time.
"These things don't happen by accident as much as some people might imagine that they do," he said.
#Open journalism No news is bad news Support The Journal

Your contributions will help us continue to deliver the stories that are important to you

Support us now
But he had kind words to say about his former junior partners in Government – the Labour Party – who effectively took many of the bullets for Fine Gael. With some of its members in the crowd this evening, Kenny thanked his former Tánaiste.
I want to publicly thank Eamon Gilmore, we had some serious conversations about the state of the nation and it was anathema for the Labour Party on many occasions to make really serious decisions but they did it in the interest of Ireland. Sometimes people underestimate politicians in their willingness to make the big decisions and make the big sacrifices that bring about correction.
Kenny also addressed the form of the current government, highlighting that many said it wouldn't last.
Despite the fact that many people said it couldn't happen and wouldn't happen, the government was put together. We can't get as much legislation through as in previous times but the government is functioning in the sense that it is continuing the path of progress for our country.
If ever the Taoiseach needed a reminder of just how much 'new politics' had changed matters, he said he got his reminder when he was leafing through the Nealon's Guide.
Opening up the guide on page 68 – there was Shane Ross with a caption describing him as a government minister, laughed Kenny.
How times have changed since the first Nealon's Guide in 1977. What will the next one bring?