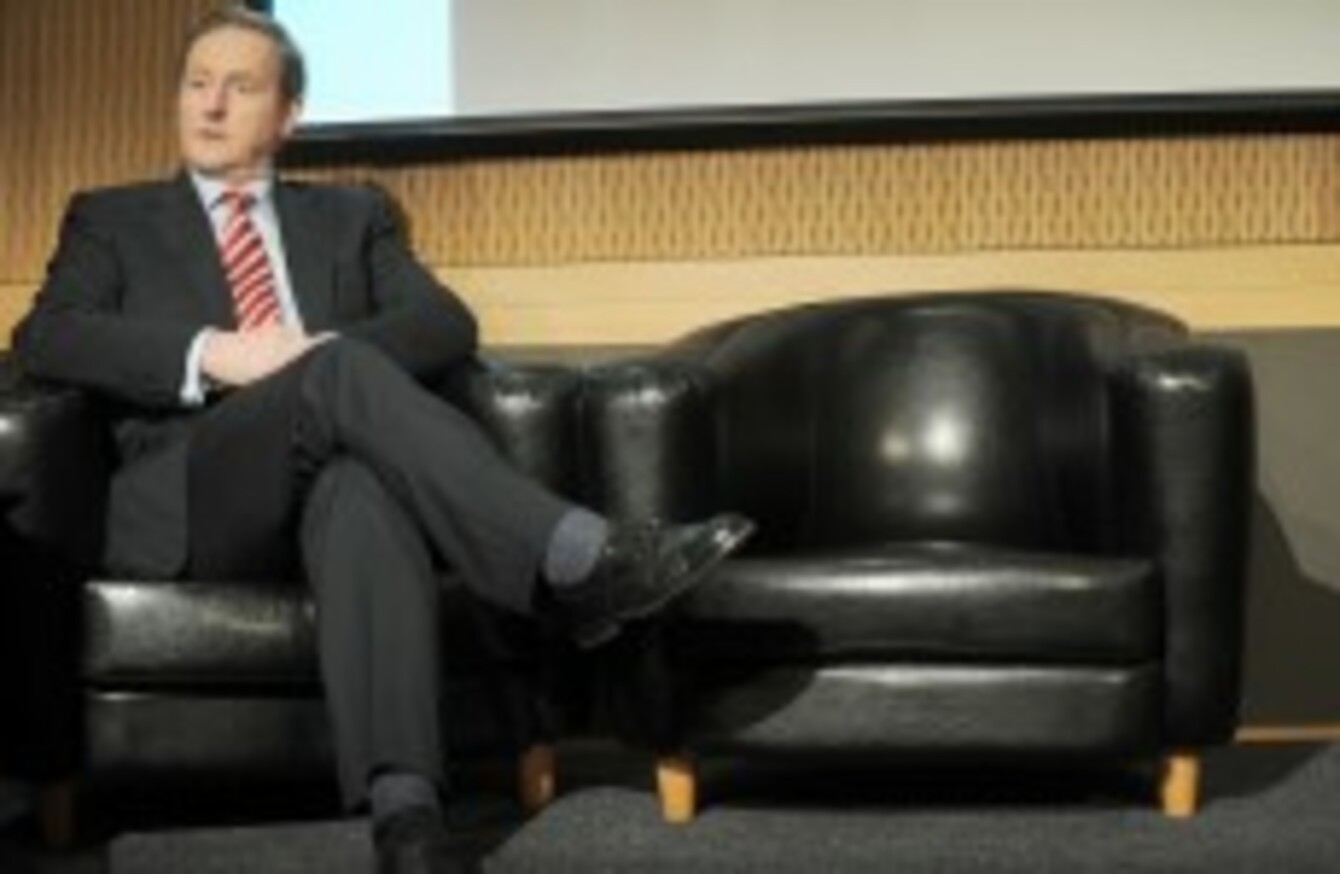 Take a seat...
Image: Photocall Ireland archive
Take a seat...
Image: Photocall Ireland archive
TAOISEACH ENDA KENNY is getting his clicks on tomorrow by taking part in the first webcasted meeting from the Department of the Taoiseach.
The meeting is a consultation with ten businesses from across Ireland who either trade online – or want to – or use online to promote their goods or services.
Included in those businesses is online marketplace Adverts.ie (part of the Distilled Media Group), to Doyle's The Butchers – about to go live with a new site – to auto parts and accessories online shop Mick's Garage.
The event is part of the overall government jobs strategy, a spokesperson for the Department of the Taoiseach told TheJournal.ie this afternoon. The idea behind the webcast – which can be viewed at merrionstreet.ie from noon tomorrow – is to make the conversation public and to invite debate to inform jobs and digital strategies at the highest level of governance.
The Taoiseach said: "In broadcasting online, I want to start as broad a conversation as possible about the progress we can make in this area and help create more jobs in this country."
To this end, the Department is pushing a #retailroundtable hashtag that they hope interested tweeters might use tomorrow to give feedback on what they hear in the webcast session.
The Taoiseach also noted today that Ireland spent €3.7bn online last year but that 70 per cent of that went to retailers abroad. He said:
Trading online offers a real and growing opportunity for Irish retailers to market their goods and services more broadly, make more sales both here and abroad, and retain or grow staff numbers. WE are taking steps, such as the new Trading Online Voucher Scheme to encourage more retailers to get selling online and we need to see what more needs to be done.I want to hear directly from retailers their experiences and needs, which is such a valuable part of getting our supports right.
Click back into TheJournal.ie tomorrow morning at 7.45am for a further dive into the challenges facing companies hoping to grow their business online.
The other companies involved in tomorrow's podcast include fashion store The Whyte House, wineonline.ie, Vibes & Scribes books and crafts company, The Happy Pear greengrocers, Lifestyle Sports, Gutterman, a rainwater systems business, and training and coaching service Fresh Thinking.
Journal Media Ltd has shareholders – Brian and Eamonn Fallon – in common with Distilled Media Group.
Now THIS is how you sell a used car>