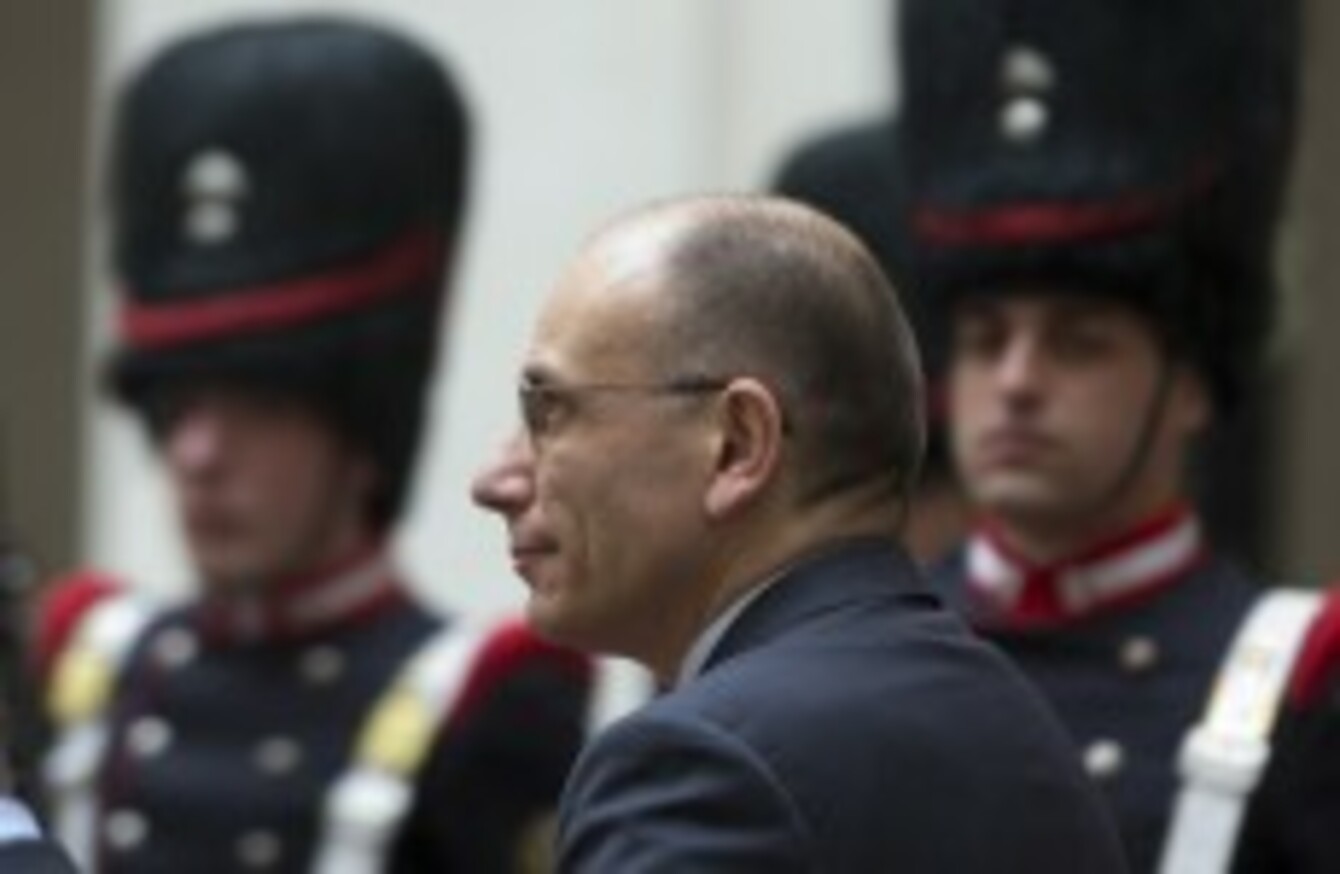 Image: Andrew Medichini/AP
Image: Andrew Medichini/AP
ITALY IS SET to end two months of political uncertainty this evening when the country's new Senate formally ratifies the appointment of a new government.
The administration – which will have Enrico Letta as its Prime Minister – is a coalition of the two largest parties, Letta's Democratic Party and the People of Freedom movement led by Silvio Berlusconi, and also includes ministers from Mario Monti's independent coalition.
The appointment will formally mean that Monti's interim administration, which has remained in power despite being handed a heavy defeat in February's election, can end.
Italian electoral law means the party (or electoral coalition) which tops the national poll for the Chamber of Deputies is guaranteed to be given a majority in that house – meaning that the Democratic Party, led into the election by Pier Luigi Bersani, had an automatic majority.
However, Bersani failed to secure a majority in the Senate, thanks to the strong regional performance of Berlusconi's People of Freedom and the protest votes gathered by the Five Star Movement of the former comedian Beppe Grillo.
The logjam and ensuing negotiations saw Bersani step down, to be replaced by his former deputy leader Letta, who has forged a coalition with the People of Freedom – a broad marriage which leaves Grillo's upstart movement as the main opposition body.
The independent coalition founded by Monti to fight February's election, and which came a disappointing fourth behind Grillo's protest movement, backed the motion of confidence in the Chamber of Deputies, giving it an easy win by 453 votes to 153.
Motions of confidence must precede
Letta has already technically been sworn in as premier, but the first duty of a new administration is to be supported in a vote of confidence by both houses of parliament, and would be expected to immediately resign if he was rejected.
The coalition has promised to end an unpopular property tax – following an election pledge by Berlusconi – and a cut to some income tax.
Mindful of the fact that he did not himself fight the election, and that his predecessor Monti had not been elected by the people, Letta has promised to examine his record after 18 months and call an election if he is not achieving success.
His cabinet features seven women, including the first Afro-Italian minister in the country's history, and has an average age of 53 – significantly younger than previous administrations.
Additional reporting by AP and AFP