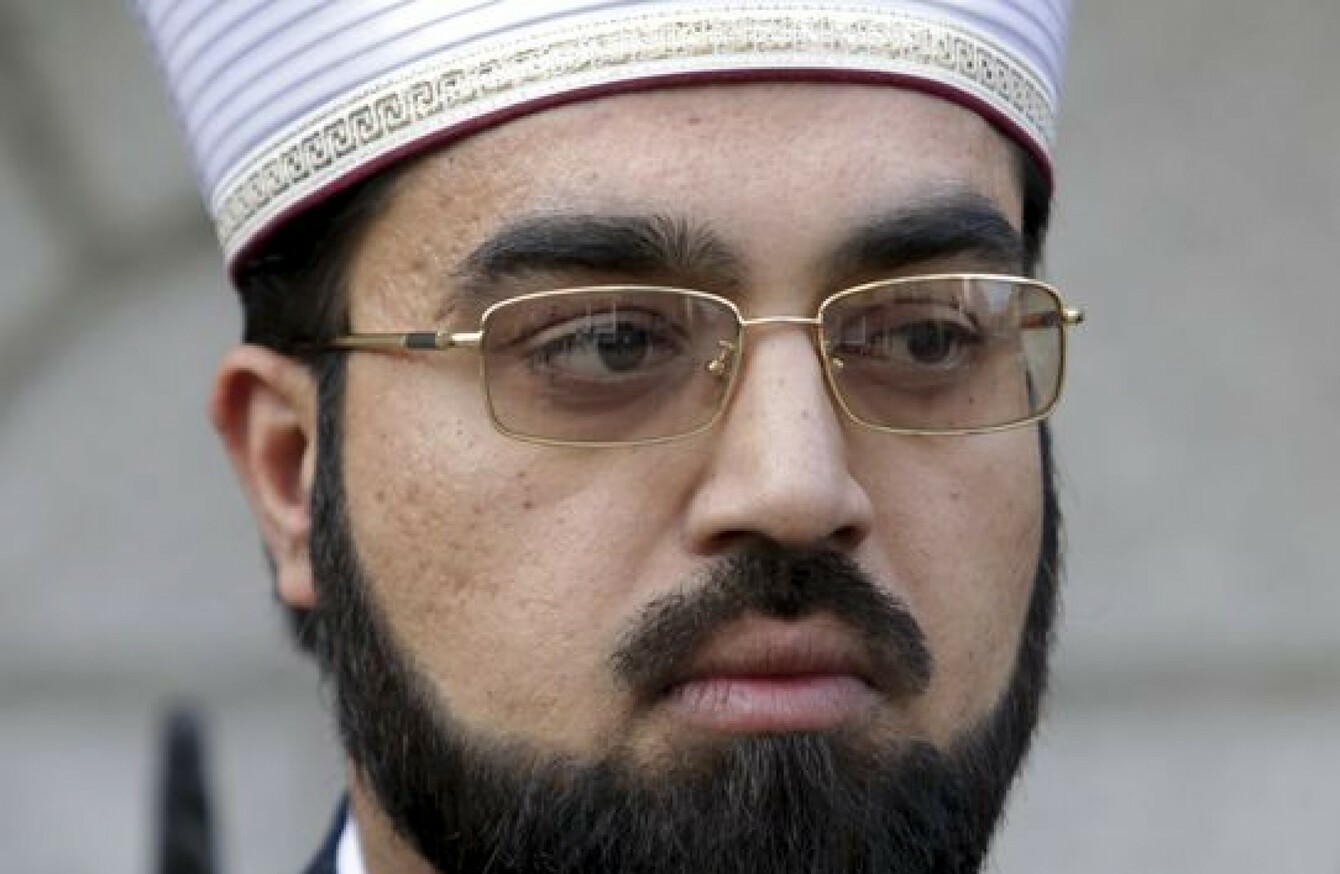 Shaykh Dr Umar al Qadri
Image: RollingNews.ie
Shaykh Dr Umar al Qadri
Image: RollingNews.ie
THE CHAIR OF the Irish Muslim Peace and Integration Council, Shaykh Dr Umar Al-Qadri, has said people with extremist views are targeting "vulnerable" young Muslims in Ireland.
Dr Al-Qadri has been vocal about the risks of radicalisation here for a number of years. The Irish Muslim Peace and Integration Council launched an anti-extremism declaration and a guide to prevent radicalisation within the Muslim community in 2015.
His comments today come after it emerged that one of the attackers in last weekend's terror attack in London, Rachid Redouane, had lived in Dublin for some time. He was not under surveillance by authorities here.
Dr Al-Qadri told Morning Ireland he did not know Redouane, but that one of the other attackers, Khurum Butt, looked "familiar".
The imam said it was not enough to monitor individuals with extremist views, adding that attempts to deradicalise them need to be made.
"I, in fact, do not know [Rachid Redouane], but I know a number of other individuals that are still living in Ireland that are spreading their hatred, spreading their hate narrative on social media, as well as offline, and these individuals I'm sure they must be monitored by the Department of Justice, but only monitoring these individuals, I do not think it is sufficient.
I think these people need professional help. I think they need to be deradicalised and … if we cannot put these people behind bars, then at least what the State can do is to ensure that these people are given deradicalisation training to ensure that they are deradicalised.
Dr Al-Qadri said if this doesn't happen these people will be "free to spread their very, very dangerous ideas" and "cancerous ideology to other Muslim youths, teenagers".
A lot of them are vulnerable because they are young, because they have not dealt with the leaders of the Muslim community, have never spoken about theology, have never spoken about the Islamic stance on jihad for example. These youngsters, many of them that are going through grievances, are very, very vulnerable to radicalisation. Such individuals they use this, they exploit it.
Dr Al-Qadri said extremists may be aware they are being monitored and, as such, not carry out an attack but could encourage others to "commit an atrocity".
He condemned the actions of the people behind the recent terror attacks in Manchester and London, saying they are "un-Islamic" and "will not be tolerated". He is one of more than 130 imams and Muslim religious leaders who have refused to say funeral prayers for the perpetrators of the London attack.
In a statement to the same programme, the Department of Justice said there are a small number of people in Ireland who are being monitored by authorities as their activities are a cause for concern in terms of supporting terrorism. The statement added that, where evidence is available, these people will the face full rigours of the law.
'Empathy education' 
A conference highlighting the role education can play in preventing violent extremism is set to take place at the UNESCO Child and Family Research Centre in NUI Galway later this week.
Speaking in advance of the conference, Professor Pat Dolan said: "We know that empathy education is now recognised as one of the key ingredients in the prevention of youth violent extremism.
"Ireland should not be complacent about this serious issue and needs to lead the way in the development of empathy education in schools. This is no longer just an issue in the UK, France and Belgium, it also has real resonance for Ireland, and the challenges of intolerance, hatred and fear is now a global humanitarian crisis."
#Open journalism No news is bad news Support The Journal

Your contributions will help us continue to deliver the stories that are important to you

Support us now
Gardaí 'in control of situation' 
Over the weekend, Foreign Affairs Minister Charlie Flanagan said a terror attack is "unlikely" to happen in Ireland, but we must remain vigilant.
Speaking on RTÉ Radio's This Week, Flanagan said: "We don't have any direct evidence of any threat here for Ireland in terms of our national security but, of course, we're by no means immune, we're by no means exempt. Our threat level is currently moderate."
Flanagan said he is "absolutely confident that the Garda Siochána, at every level, are fully in control of the situation here, the sharing of the intelligence internationally and obviously securing the State here from a national perspective".
However, garda representative associations have previously said their rank-and-file members have received no training for such eventualities.
Writing for TheJournal.ie recently, security specialist Tom Clonan said: "Ireland currently fits that security profile as Europe's weakest link in terms of counter terrorism awareness, preparedness and training…
Compared to other jurisdictions in Europe, Irish citizens are the least well-informed in terms of the current evolving and emerging terror threat and the appropriate responses to it.
Fine Gael leader and Minister for Social Protection Leo Varadkar has indicated he intends to establish a cabinet-level committee on national security similar to the Cobra committee in the UK.
On Sunday, TheJournal.ie revealed that armed garda units are monitoring Ireland's major cities in the wake of the London attack.