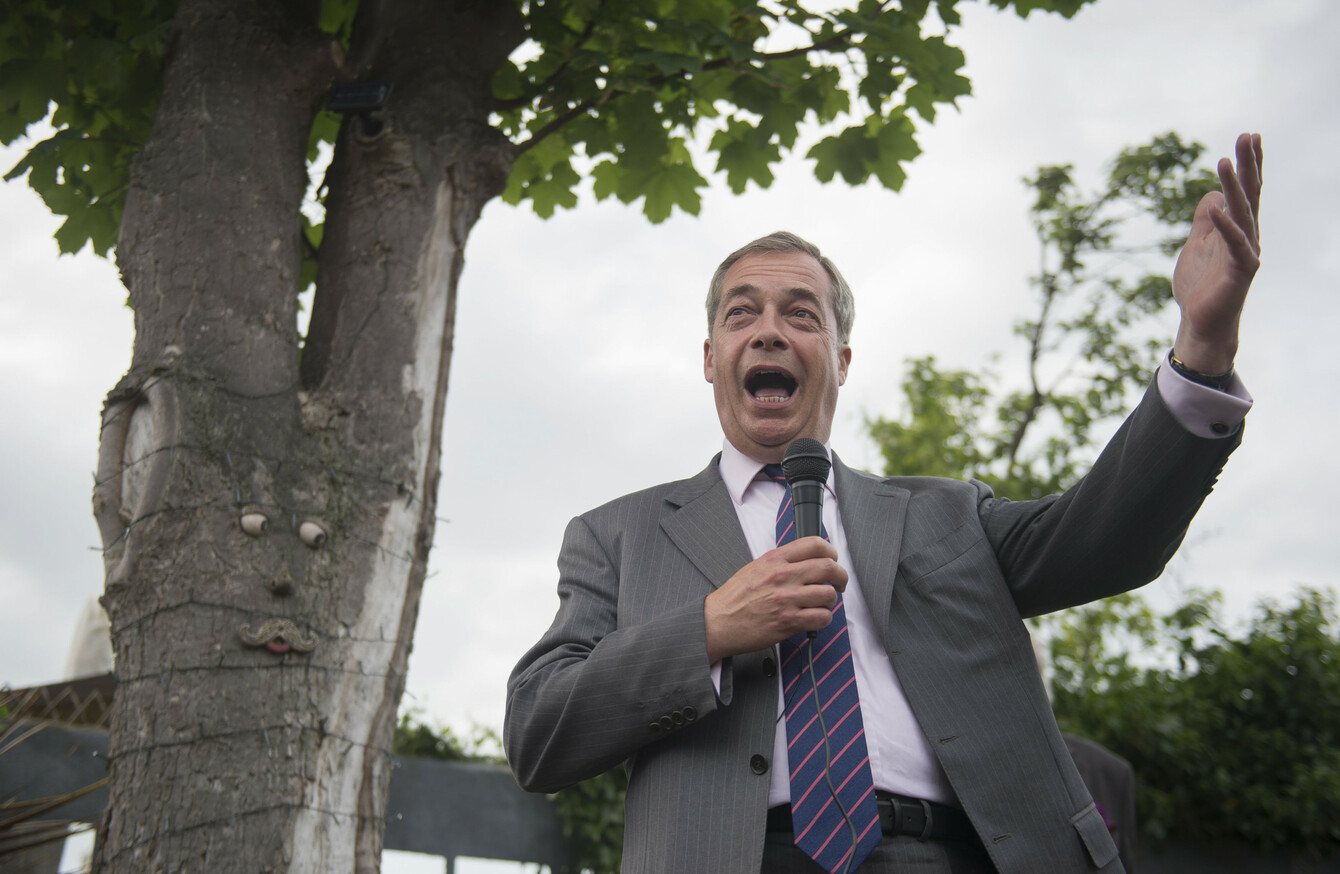 Farage said he believed the British government was being reasonable in Brexit talks
Image: PA Wire/PA Images
Farage said he believed the British government was being reasonable in Brexit talks
Image: PA Wire/PA Images
FOUNDER AND FORMER leader of UKIP, Nigel Farage, has blamed the European Commission for the uncertain future status of Northern Ireland, claiming the commission is the "only barrier" to a frictionless border.
Farage said that while political opinion in both Ireland and the UK was unified in wanting no hard border between Ireland and the UK, the EU's chief Brexit negotiator is "putting a barrier up" to this goal by saying that customs controls are part of the EU's management of its borders.
The comments are the latest in what has been an ongoing back and forth between the UK and Brussels about the status of the border, with EU and Irish officials often critical of Britain on the issue – because they decided to leave the EU.
Taoiseach Leo Varadkar has put the responsibility for resolving the border issue onto Britain. "It's the United Kingdom, it's Britain that has decided to leave and if they want to put forward smart solutions, technological solutions for borders of the future and all of that that's up to them," he said to much reaction last month.
Former Taoiseach John Bruton has also criticised Britain for failing to "come forward with their own ideas" on resolving the issue.
Seamless border
The Irish government reaffirmed its commitment to a "seamless and frictionless" border, with Varadkar this week saying that he is "very confident" there will be no need for passport controls as "nobody is looking for them".
Despite this consensus, the issue has become one of the most heated as Brexit negotiations continue, with the UK government's position paper criticised by officials in Ireland and the EU when it was released earlier this month.
It stated that the UK planned to leave the customs union but called for a borderless trade relationship with Ireland, similar to the one already in place.
Minister for Foreign Affairs Simon Coveney said these proposals were "totally unworkable", while a key EU negotiator dismissed them as "fantasy".
EU chief Brexit negotiator, Michel Barnier said today that although there had been little progress in Brexit talks, discussions on the fate of  the border were "fruitful" with "substantial progress" achieved.
#Open journalism No news is bad news Support The Journal

Your contributions will help us continue to deliver the stories that are important to you

Support us now
UK position
Farage was speaking on RTÉ Radio One's Today with Sean O'Rourke, where he was challenged on what appears to be a weakening position by the British government in Brexit negotiations.
When asked about what appears to be a "softened" position from British Prime Minister Theresa May, as well as Labour's major policy shift that calls for a longer transition period, Farage said he thought the government had "softened significantly".
He warned, however, of public reaction over potential outcomes of these changes.
If we finish up with continued free movement of people, with a foreign court still having a say over our lives and financial contributions still being made, then don't underestimate the anger of the British public."
He further criticised the EU for creating "barriers and obstructions" to the UK's exit in a bid to make leaving the EU look less tempting to other countries: "I'm certainly concerned about the way the European union are behaving. They're not applying any logic at all."
In contrast, he said that the UK government is being "reasonable".
- Additional reporting by AFP.