Image: (AP Photo/Peter Morrison)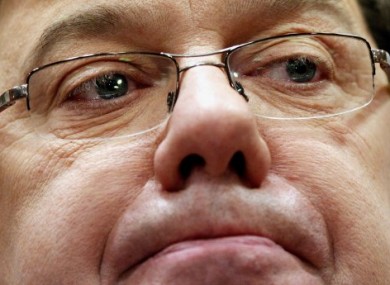 Image: (AP Photo/Peter Morrison)
THE FIANNA FÁIL PARLIAMENTARY party has voted this evening to support Brian Cowen's continued leadership of the party, following hours of discussion over the issue.
In a message posted to Twitter, the Fianna Fáil party said:
The Fianna Fáil Parliamentary Party has voted confidence in the leadership of An Taoiseach Brian Cowen T.D.
The margin of votes has not been announced, and will not be announced. Chief Whip John Curran said the votes had been shredded, and he would not discuss any individual member's views.
Emerging from the vote, TD Ned O'Keeffe told RTÉ News that the party would unite behind Brian Cowen, and would "work very hard" to get the electorate on their side, although he did not know how they would do that.
Martin resigns
Micheál Martin had been the most vocal opponent to Cowen's leadership retention, holding a press conference on Sunday evening to outline his reasons for not supporting the confidence motion. He said he had offered his resignation, but Cowen had not accepted it. He said that resignation remained on the table.
Cowen announced this evening following the ballot that he had accepted Martin's resignation from cabinet, but felt that they would continue to "remain good colleagues" into the future.
The party meeting
Fianna Fáil TDs began meeting at 5.30pm this evening to discuss other business before addressing the motion of confidence Cowen had tabled.
The Taoiseach met with his parliamentary party colleagues at the end of last week and over the weekend to hear their concerns and ideas regarding his leadership before declaring on Sunday that he would table the motion today.
Finance Minister Brian Lenihan was accused of misleading party backbenchers about his views on the vote after he finally ended speculation over his position and announced today that he would support Cowen. TD John McGuinness, a known critic of Cowen's leadership, claimed that "what Brian Lenihan has been saying to you is not what he has been saying to the backbenchers".
Other ministers such as Mary Hanafin had played their cards closer. She refused to state her position on the motion, saying she would make it known after her vote had been cast. She also said she wasn't "in the business" of trying to influence other party members on their vote.
Minister Dermot Ahern was allowed to give his vote by proxy as he was recovering from a hip operation and could not be present at the meeting in person. Seventy TDs are understood to have voted on the confidence motion this evening.