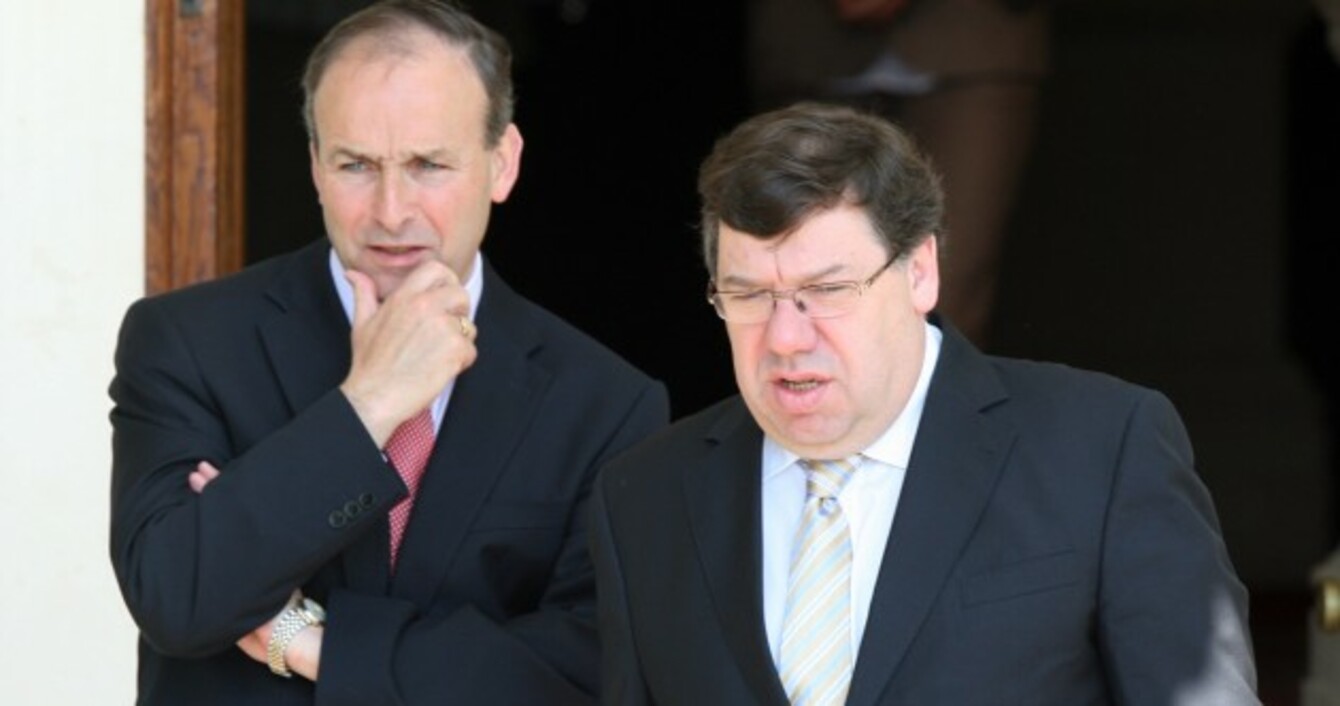 File photo of Martin and Cowen
Image: /Photocall Ireland
File photo of Martin and Cowen
Image: /Photocall Ireland
Updated: 3.39pm
FIANNA FÁIL LEADER Micheál Martin has criticised people who restrict others' freedom of movement.
Martin made the comments when asked about a recent incident where his predecessor Brian Cowen was targetted by protesters who called him a "scumbag" and a "traitor".
He refused to say if garda drivers for former taoisigh should be reinstated but told reporters:
"People who blatantly restrict the freedom of movement are essentially fascist in their approach to politics and society – and I make no apology for saying that.
"I would put the onus on those who are doing these kind of attacks. Society has to stand up to them quiet frankly …and I think the power of moral argument is the strongest force, ultimately."
He compared the Cowen incident to when protesters trapped Tánaiste Joan Burton in her car for almost three hours last November.
Martin was speaking at his party's Ard Fheis at the RDS.
Fianna Fáil did 'what had to be done'
Delegates at the Ard Fheis have been told the party did "what had to be done" when the recession hit.
Finance spokesperson Michael McGrath said: "As a party, we can justifiably say that, in the worst of times, we did make the hard choices and did what had to be done.
Delegates, the National Recovery Plan published by the late Brian Lenihan in 2010 put Ireland on a long and difficult road but a road led to recovery – and we shouldn't be afraid to say it.
In his speech, McGrath said that, if returned to power, Fianna Fáil would do more to help those in mortgage arrears.
He also pledged to:
Abolish the universal social charge "as soon as the resources allow"
Introduce an earned income tax credit equal in value to the PAYE credit of €1,650 per year for self-employed people (over a three-year period)
Exempt the first €200 of interest income earned from DIRT
Cut capital gains tax from 33% to 15%
Housing
Meanwhile, environment spokesperson Barry Cowen said the party's "four-step roadmap" for housing will build 150,000 new homes, support 80,000 first time buyers, create 80,000 jobs, empower 20,000 new local authority homeowners, and secure homes for our elderly.
Cowen said they will do this by will directing the €7 billion Strategic Investment Fund to start providing finance to private developers who cannot access credit, and by establishing a new €4.5 billion Direct Home Building Program for urban and rural Ireland.
He added that he didn't think the scheme for first-time buyers, which would see couples receive up to €10,000 or individuals get a maximum of €5,000 over four years, would create another property bubble.
The scheme, which would not be means-tested, would cost €105 million a year and be available to those who are under the age of 40.
Waiting lists
Health spokesperson Billy Kelleher was sharply critical of the government's health policies, in particular universal health insureance.
He said waiting lists are a key area Fianna Fáil want to improve by reactivating the National Treatment Purchase Fund.
"To have 70,000 people waiting more than a year for an outpatient appointment is outrageous. We are also going to set an ultimate target of all patients requiring hospital treatment getting it with the internationally accepted benchmark of six months."
Fine Gael TD and Chair of the health committee, Jerry Buttimer, said Fianna Fail's health policy "shows that they don't like change – of any sort".
They want the system to stay exactly the same. And they want to pay for it through taxes – more and more taxes – without trying to make things work better.
In a nutshell, Fianna Fail has dusted down its health policy from the Bertie Ahern era and put on a new cover. They want to maintain the two-tier health system without trying to improve it.
"Let's not forget that Mícheál Martin created the HSE. Deputy Martin is clearly so wedded to the HSE that he wants to pour more State funds into it, throwing good money after bad without any reform."
No coalition with Fine Gael
Delegates at the Ard Fheis have voted to rule out going into coalition with Fine Gael, or as a junior partner.
The motions are not binding, however – which might be for the best given the fact only 20 or so people were present to vote.
During a debate on the issue Chair of Wexford County Council Malcolm Byrne said: "We're not going to be dragged over to the right by Fine Gael," adding that the party wasn't going to adopt the "irresponsible" policies of far left either.
One delegate said entering a coalition with Fine Gael would be "the final nail in Fianna Fáil's coffin".
While another said debating such issues was "arrogance beyond belief" as no vote has been cast in a general election so the party shouldn't predict the outcome.
Speaking after the vote was passed, party leader Micheál Martin said: "We haven't had a general election, we have to fight the election."
Martin said Fianna Fáil wants to "maximise" its seats so the party can influence policy implementation.
Discipline 
Delegates passed a motion to put in place "strict and clear" disciplinary regulations to deal with members who "bring the party's name into disrepute".
They also backed a call to require election candidates to pay a fee to the party, set by the Ard Chomhairle, which will be refunded in full within two weeks of polling day "provided the candidate has not broken the party pledge prior to this date" – i.e. defect and run as an independent.
To keep up to date with everything happening at the Fianna Fáil Ard Fheis, follow @TJ_Politics, @orlaryan and @oconnellhugh.