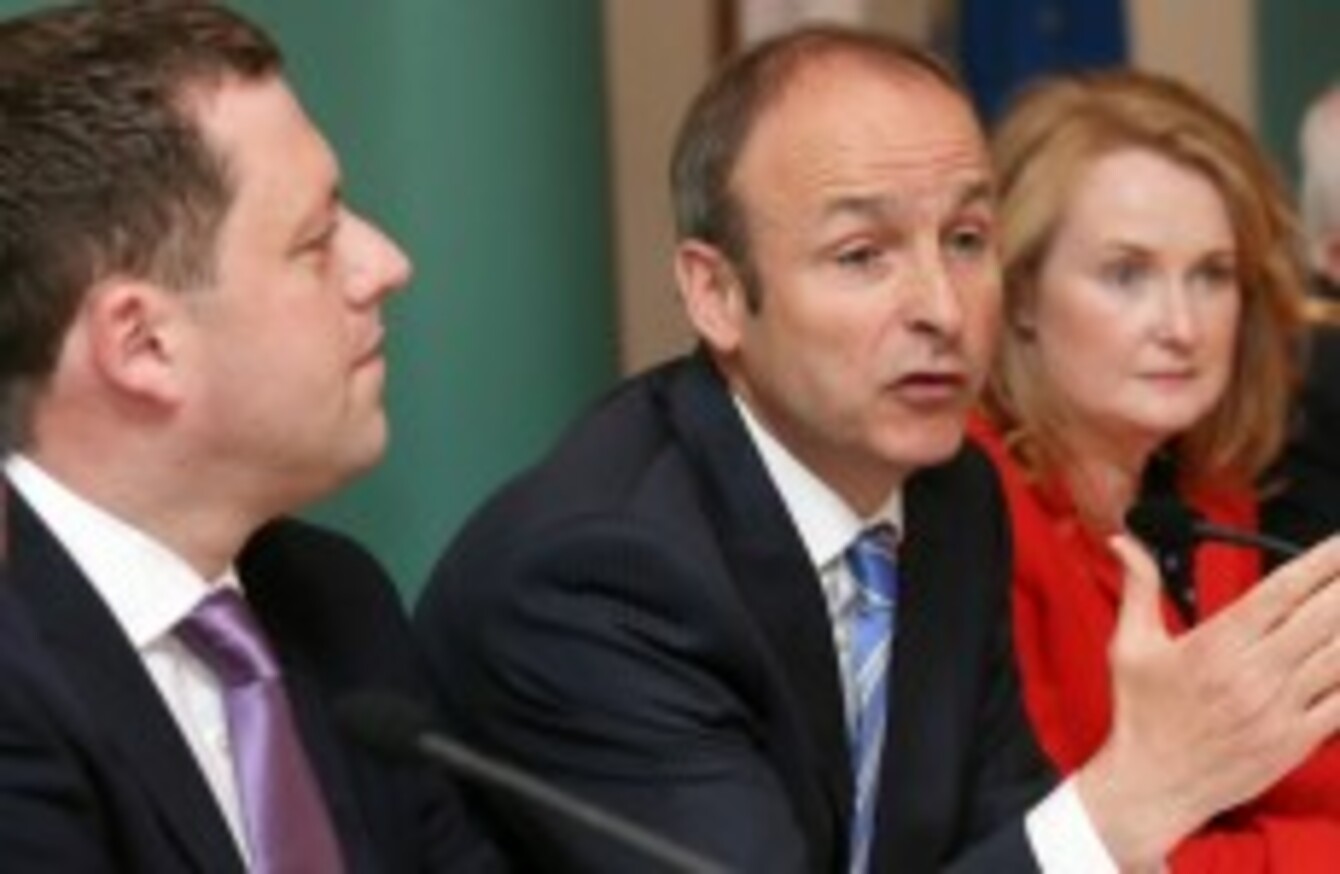 Members of Fianna Fáil, including party leader Michael Martin (centre)
Image: Laura Hutton/Photocall Ireland
Members of Fianna Fáil, including party leader Michael Martin (centre)
Image: Laura Hutton/Photocall Ireland
Updated 22.43
FIANNA FÁIL HAS condemned a racist slur allegedly made by a canvasser.
The Jewish Representative Council of Ireland said that one of the party's canvassers working with outgoing councillor John Lahart in south Dublin made anti-Semitic remarks to a member of the public regarding the former Minister for Justice Alan Shatter.
It is alleged that the comments were made once the woman said she would not be voting Fianna Fáil:
The FF canvasser acting in support of outgoing councillor John Lahart upon being informed that the young woman would not be voting Fianna Fáil queried "You're hardly voting FG? The problem is that Alan Shatter is a Jew and as a Jew he looks down on the rest if us Gentiles….. Oh Maybe you're a jewess?" Whereupon he followed with "Well it's a good profession to be in.
"The Council is looking at this incident and may ask the Gardai to examine the relevant clauses of the Incitement to Hatred Act 1989 in order to establish if there has been any infringements under this Act," the Council added.
Councillor Lahart has said the remarks were "entirely inappropriate and expressed views which are repugnant" to him.
He added that when he was informed of the allegations last night, he went to the house of the constituent in question and "apologised unreservedly to them for the comments made by the canvasser in question, and for the obvious distress caused to them", and that his apology was accepted.
The canvasser will no longer be working with him, he added.
When informed of the allegations, Director of Elections Timmy Dooley told TheJournal.ie that the views of the canvasser "in no way" represents the view of the Fianna Fáil party.
A party spokesperson said:
The comments attributed to an individual member of Cllr John Lahart's campaign team are utterly unacceptable and we condemn them. Fianna Fáil rejects all forms of racism and has worked hard over many years to strengthen laws targeting racist behaviour.
"I have a growing concern with what I feel is a rise in anti-Semitic rhetoric in public discourse," Maurice Cohen, Chair of the Jewish Representative Council of Ireland said.
It is imperative that the people of Ireland and especially our teachers and clergy of all our religions, foster and encourage respect for all communities, traditions and races that make up the ever more colourful tapestry of modern Ireland.
Last month, an image of Nazi soldiers at a rally was sent to the home of the Alan Shatter.
The Taoiseach condemned what he described as "anti-Semitic material" and said that it was "a new low".
Originally published 10.09