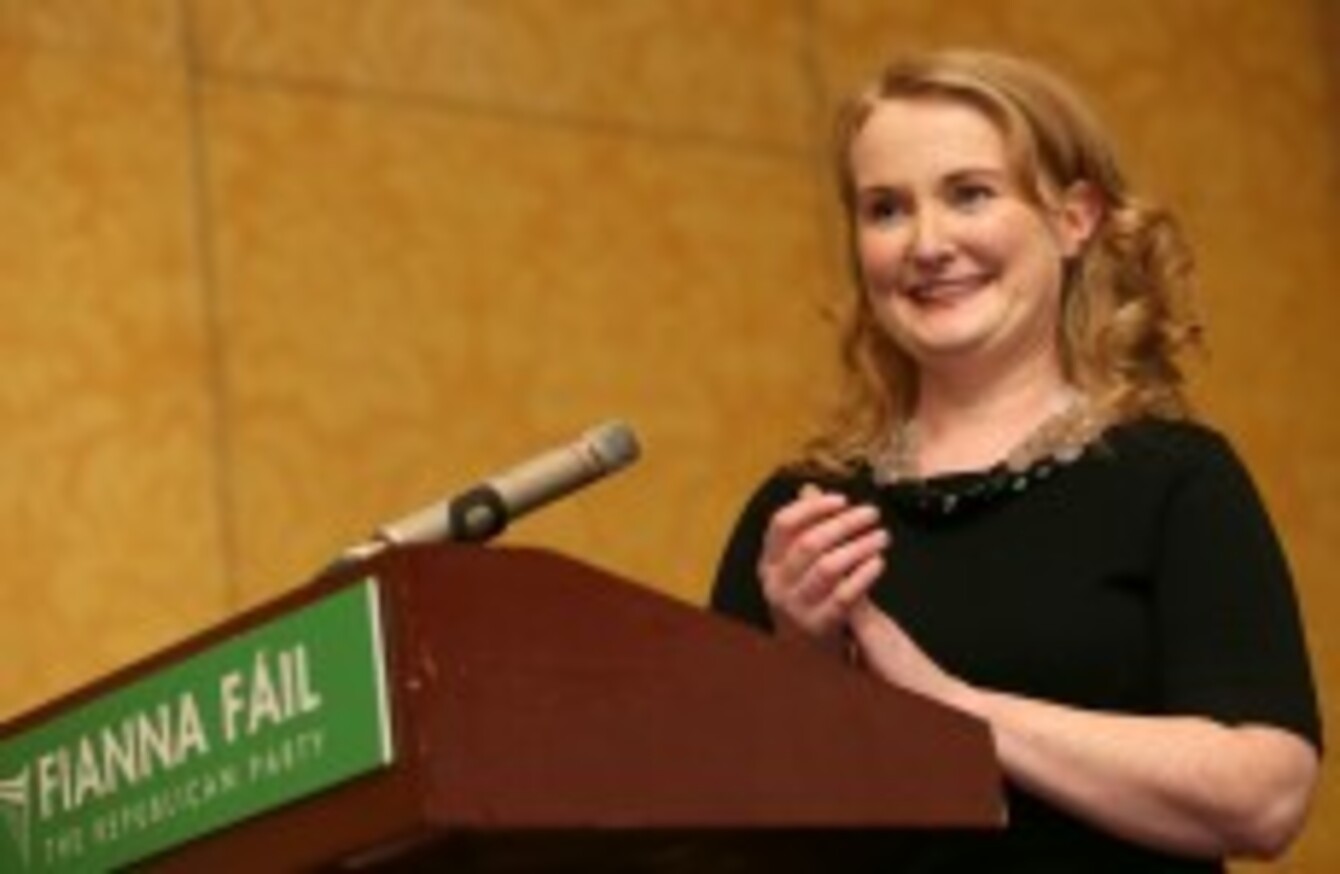 Mary Fitzpatrick
Image: Laura Hutton/Photocall Ireland
Mary Fitzpatrick
Image: Laura Hutton/Photocall Ireland
FIANNA FÁIL'S CANDIDATE for the European elections in Dublin has hit out at the coalition parties and said it is unbelievable that the majority of people in Dublin don't know who Fine Gael MEP Gay Mitchell is.
The city councillor is seeking to capitalise on Fianna Fáil's recovery in the polls by taking one of three seats available in the capital on 23 May and has hit out at the two government parties who 'll be bidding to take a seat each.
"How can any member of Fine Gael or Labour put themselves forward as a credible candidate to the people of Dublin, to be their champion in the European Parliament, when they have squandered their money like that at home?" she said of the recent controversy over spending on consultancy at Irish Water.
She said that as a result of this and the property tax, the candidacies of Fine Gael's Brian Hayes and Labour's Emer Costello are "just not credible".
'An indictment of Gay'
Fitzpatrick also hit out at Mitchell, the incumbent Fine Gael MEP in the capital who is stepping down, saying that it is "unbelievable" that people don't know who he is despite being an MEP since 2004 and running for the presidency in 2011.
"That the people of Dublin don't know that he is their representative in Europe is an indictment of him, it's not an indictment of the people of Dublin," she said, citing a recent street poll which found 91 per cent of Dubliners don't know who their MEP is.
The Fianna Fáil candidate is perhaps best-known for her spat with former taoiseach Bertie Ahern after she missed out on a seat in his Dublin Central constituency at the 2007 general election despite polling nearly twice as many first preference votes as fellow Fianna Fáil candidate Cyprian Brady.
Brady took the final seat in the four-seat constituency thanks to Ahern's transfers after A late leaflet drop urged voters to give Ahern their number one, and Brady their number two, leaving Fitzpatrick to claim that she had been "shafted".
'His number one will be fine'
She said that she is "not at all" bitter or resentful about the matter which she said was "a long time ago". Asked if she would welcome active support from Ahern, who is no longer in Fianna Fáil after the findings of the Mahon Tribunal, she said: "Let him go and give me his number one vote, that'll be fine."
Fitzpatrick believes the European Parliament offers her the best opportunity to offer proper representation for Dublin, lamenting the lack of a directly-elected mayor in the capital .
"Dublin doesn't have a directly-elected political leader. I think we suffer as a capital city as a consequence. The four local authorities largely have policies dictated by national government, which has good things to do as well," she said.
"But if Dublin is to compete internationally [it] needs strong leadership and I believe that the role of an MEP can fulfil that role."
On why people should vote for her, she added: "I think they should vote for me, because I am a candidate who represents Dublin, who is of Dublin, who has a track record in Dublin, who's somebody who's track record is open to scrutiny."
Mary Fitzpatrick on….
The last time she met Bertie Ahern:
"It must be a couple of years. I am trying to think, did I meet him at all last year? I don't think I did. I would say it's at least a year, maybe a couple."
Why she wants to be an MEP:
"Because the European Parliament has evolved from being just a forum of debate to being the only directly-elected institution of the European Union. It has very significant powers now and a lot of our laws now, the vast majority of our laws, originate in Europe.

"The European Parliament and the European Union has the power to not only amend and approve laws but also to approve budgets which will directly impact on our economic well-being, hopefully our economic recovery. So I see a huge opportunity, I see a fantastic opportunity for Dublin, for me personally."
Why Fianna Fáil support in Dublin collapsed in 2011:
"The electorate felt let down, felt like they couldn't trust us any more, felt like we'd taken our eye off the ball. I think that became even more critical in Dublin, because Dublin, let's face it, is the economic engine of the country, and most people live here for economic reasons…

"… so the economic crash really hit hard in Dublin and we were most affected by the economic downturn in Dublin and Fianna Fáil was the party who was in power, who was in government and had to take responsibility for that economic for our economic demise, our economic crisis. Maybe in more rural communities where you have more stable, settled communities, a less transient population… voting patterns were more resilient."
#Open journalism No news is bad news Support The Journal

Your contributions will help us continue to deliver the stories that are important to you

Support us now
Serving a full five-year term:
"It is absolutely my intention, this is a big decision for me, politically and personally, I see it as a huge opportunity… I'd love to have five years, absolutely."
How many member states are in the EU:
"28."
Who is the head of the European Commission:
"Of the European Commission? Jose Manuel Barroso."
Who is head of the European Council:
"Herman van Rompuy."
Who is the president of the European Parliament:
"Ouch! The parliament [pause] Give me an initial… ah go on!" (It's Martin Schulz)
Other candidates currently in the running for the European elections in Dublin include independent Nessa Childers, Lynn Boylan for Sinn Féin, Brian Hayes for Fine Gael, Emer Costello for Labour, Paul Murphy for the Socialist Party, Eamon Ryan for the Green Party, and Brid Smith for People Before Profit.
TheJournal.ie intends to speak to all European Parliament candidates in the capital and elsewhere in the country before May's elections.