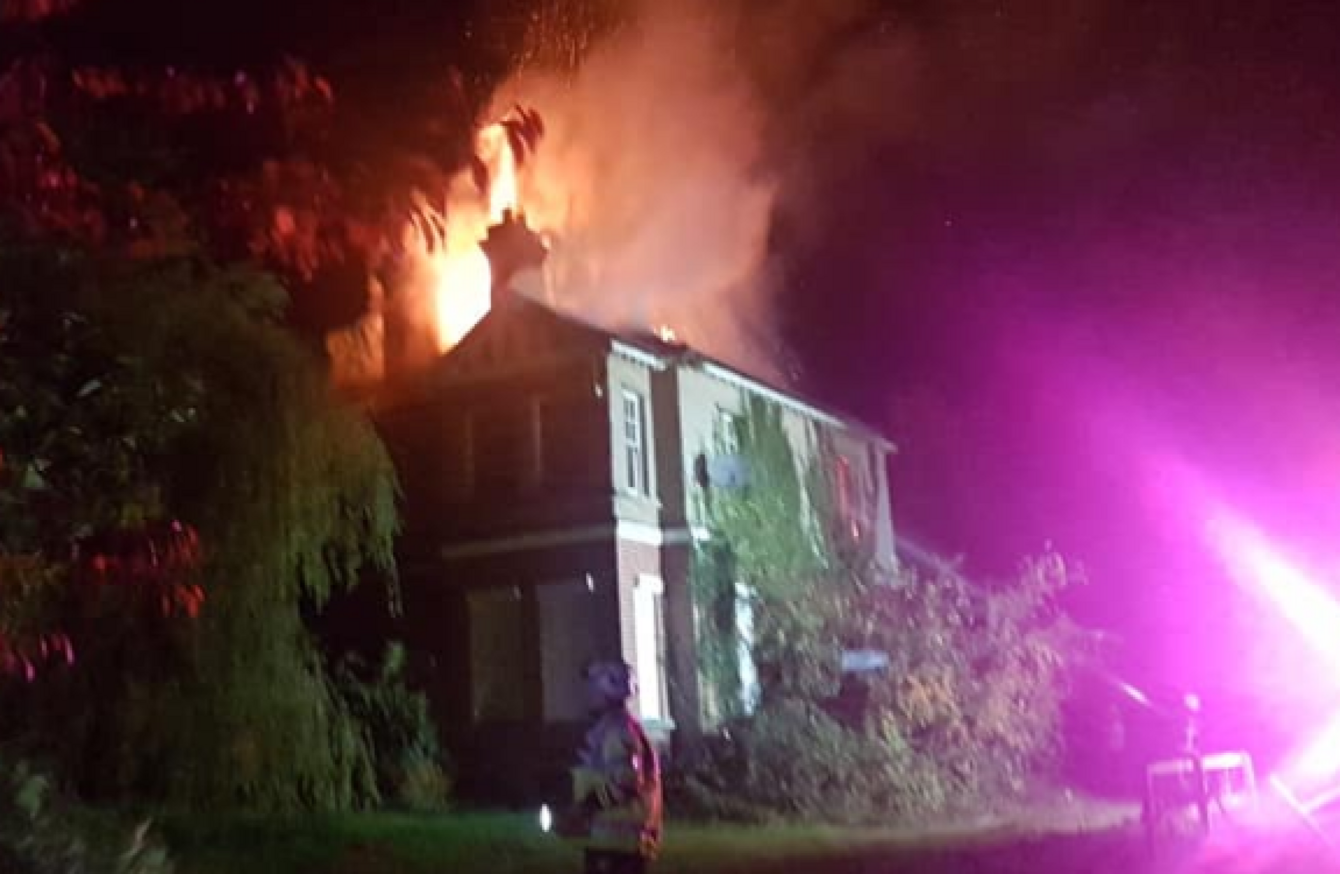 Gardai responded to the blaze at the property after 1am last night.
Image: Facebook/Stephen Moore
Gardai responded to the blaze at the property after 1am last night.
Image: Facebook/Stephen Moore
GARDAI ARE TREATING as suspicious a major fire which destroyed an "iconic house" in Co Limerick overnight.
The property – a former parochial house – at Ballyhanrhan East, Patrickswell, was unoccupied when firefighters and gardai responded to the blaze at the property, shortly after 1am this morning.
According to local sources the house was being used as a den by youths, and that, vandalism had previously occurred inside of the former parish priest's home.
A local source said the house had been renovated a number of years ago before it was rented out by a private owner, but the property had lay vacant for some time.
"Local youths had broken into it and had been using it. There has definitely been drinking there," said a source.
"It's a disgrace that this has happened. It's very sad. I can't believe it."
The source said that recently a door at the rear of the house "was kicked in and a shutter had been forced as well".
Gardai sealed off the property and carried out a forensic examination of the scene.
The results of the technical examination will determine the route of the garda investigation, a garda spokesman said.
A garda source said the fire was being treated as "suspicious".
Firefighters fought the blaze for over four hours before eventually putting it out.
A number of local people expressed their "disgust" on social media at the damage caused to the house.
Some reported hearing loud bangs or explosions coming from the fire.
"Jesus Christ almighty, (someone) just told me he woke at 1.30 and thought it was gunshots going off there was so much banging coming off it," wrote one woman.
"Yep, woke us up like fireworks going off," added a man.
"What a sad end to a beautiful iconic building that has been at the centre of life in Patrickswell for decades," added another man.
Units
Munster Fire Control received an alert about the fire at 1.11am.
Eight units from the Limerick City and County Fire Service attended the scene.
The last crew of firefighters returned to their base around 5.25am this morning.
Stephen Moore, who lives near the scene, said:
I'm very disappointed because it was such an iconic building in the village. It's a pity…the house is gone, overnight…just like that, it's gone.
"It's horrible to see it."
A garda spokesman stated: "Gardaí are investigating a fire that occurred at a house in Ballyhanrahan East, Patrickswell, Co. Limerick on the 16th October 2018 at approximately 1am.
"A technical examination will be carried out, the results of which will determine the course of the investigation."
Appealing for witnesses, the spokesman said, anyone with information can "contact Roxboro Road Garda Station on 061-214340".