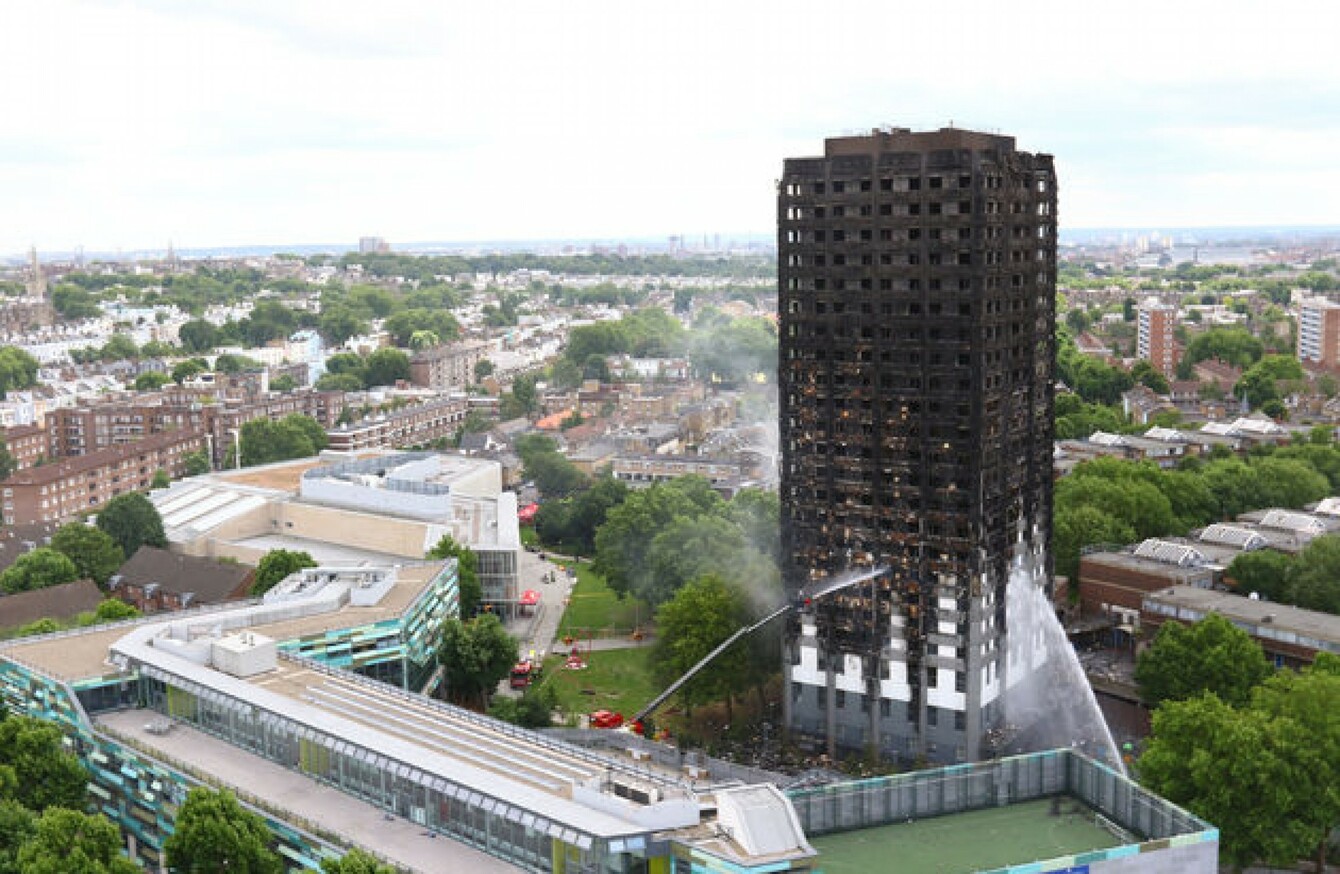 Grenfell Tower in west London.
Image: Rick Findler
Grenfell Tower in west London.
Image: Rick Findler
PLANNING EXPERTS, ARCHITECTS and politicians have expressed concerns about the fire safety compliance of many of Ireland's buildings, following on from the devastating fire at a London tower block earlier in the week.
UK prime minister Theresa May has ordered a full inquiry into the Grenfell Tower fire on Wednesday, in which at least 17 people were killed. Police have said they expect the death toll to rise.
Speculation has been mounting over how the fire spread through the building so quickly.
The focus of criticism centres on the cladding fitted to external walls on the 1970s concrete block as part of a €9.9 million refit completed last year.
According to the BBC, the cladding had a plastic core and was similar to that used by high-rise buildings in France, the United Arab Emirates and Australia, which had also suffered fires that spread.
Following on from the fire, concerns have been raised about a number of issues around Ireland's fire safety regulations.
Dublin Social Democrats councillor Cian O'Callaghan said the blaze must serve as a "wake up call" for Irish fire safety authorities.
He called on incoming Housing Minister Eoghan Murphy to introduce a number of measures around addressing fire safety issues here.
O'Callaghan pointed to a number of housing estates built during the economic boom that fail to meet fire safety standards.
A famous example of this is Priory Hall in Dublin, which was evacuated in 2011 over serious fire safety concerns. More recent examples include Longboat Quay and Beacon South Quarter in Dublin, which also had fire-safety issues.
O'Callaghan said that a large number of estates that were built during boom-time years did not meet proper fire safety standards, and that the problem needed to be addressed.
O'Callaghan's concerns are echoed by architect and housing expert Mel Reynolds, who said there are at least 30 building developments built during the Celtic Tiger years that have structural or fire safety issues.
Reynolds said that in many cases, tenants or owners living in these developments don't raise the issue publicly as they are worried about the value of their homes plummeting as a result.
With a number of Celtic Tiger developments, the residents have had to foot the bill themselves to bring their homes up to fire safety code.
"You actually have more consumer protection if you buy a phone than a home," said Reynolds.
Reynolds also called for more building control inspectors in the country, in order to ensure that developments are up to standard.
This is a view shared by former Minister of State for Planning and Green Party councillor Ciarán Cuffe, who said that Ireland needed an independent building inspection system to ensure fire safety standards were adhered to.
"I think its good to have an independent inspection system and perhaps that is something that Minister Murphy should be looking at in Ireland as part of a review of this tragic incident," he said.
#Open journalism No news is bad news Support The Journal

Your contributions will help us continue to deliver the stories that are important to you

Support us now
Millfield Manor
Both O'Callaghan and Reynolds also raised concerns about the delay in publishing a report into the 2015 fire at Millfield Manor estate in Kildare.
On 31 March, 2015  fire spread rapidly destroying a terrace of six houses in half an hour in the estate. Industry standards dictate that it should take at least half an hour for a fire to spread from one building to another.
This meant that the fire should have taken three hours to spread in the manner that it did.
Following the blaze, then-Environment Minister Alan Kelly announced a review to "develop a framework for general application" in residences where fire safety was a concern.
The review was completed 15 months ago, but the report has yet to be published.
O'Callaghan called on the Government to publish the report as a matter of urgency.
In relation to the report, a Housing Department spokesperson said:
The report on Milford Manor remains under examination and the Department is seeking clarification on a number of issues.