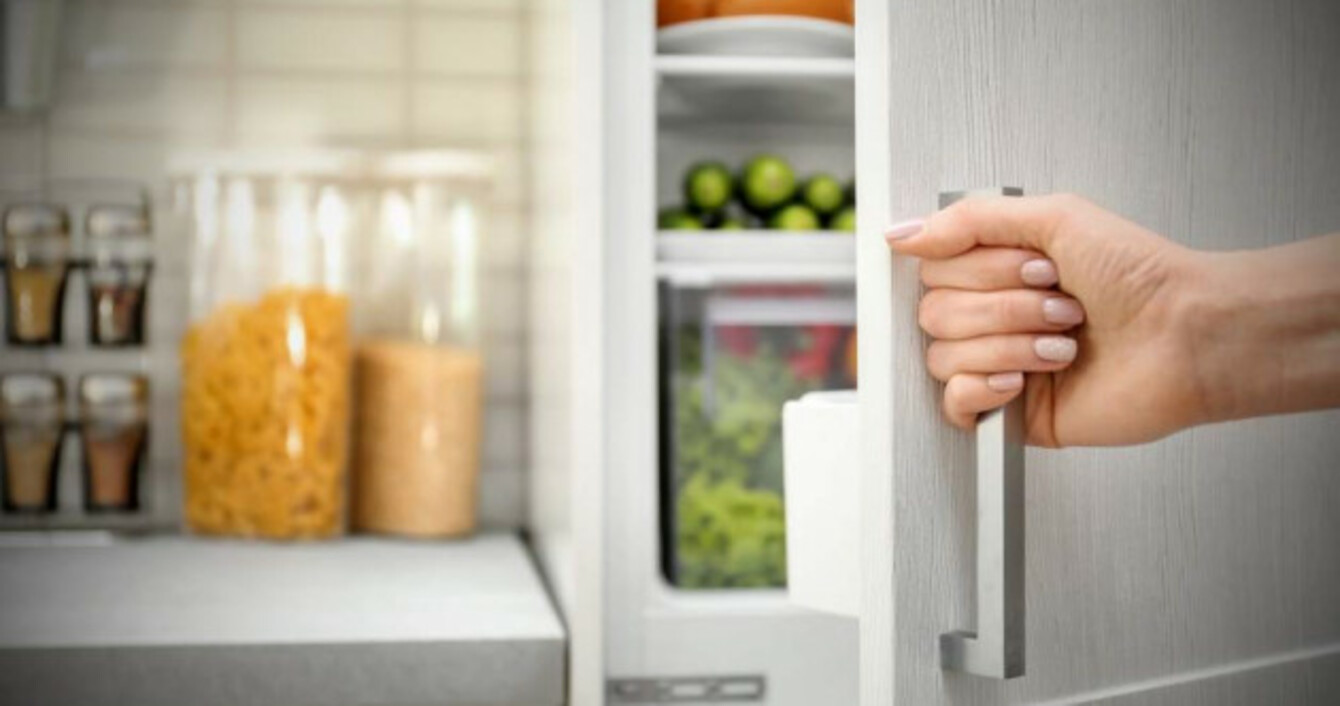 UNTIL THE 1930s, most Irish households did not have access to domestic refrigeration and the common kitchen fridge only started to become a household staple from the 1960s.
To avoid food spoilage, many foods were brined, pickled, or preserved in some way in order to prolong shelf life. Today however, the fridge is one of the most common household appliances and is plugged in 24 hours a day, 365 days a year.
But are you getting the most from your fridge? Safefood, Ireland's Food Safety Promotion Board, recommends following some basic storage procedures to follow when storing food in the fridge. The most important tip is to always store poultry and meat in the bottom shelf, and away from any fresh or cooked food.
Disposing of fresh food packaging or boxes prior to storage is also recommended, as these can create excess moisture and lead to the food deteriorating more quickly.
But apart from these basic food safety measures, what specific foods need to go in the fridge and what can survive happily outside it? 
Foods you should really keep in the fridge
1. Eggs
Eggs cause a lot of debate when it comes to whether or not to store them in the fridge. They're not in the fridge in the supermarket – but that's because a supermarket shelf is considered safe due to the controlled temperature environment, whereas temperatures in homes can vary much more.
Dr Gary Kearney, Director of Food Science at Safefood, recommends that eggs are stored in the fridge, either in their egg box or the storage shelf in the fridge door. It's also worth noting that any eggs with damaged shells should not be consumed, because they are more likely to be contaminated with bacteria.
2. Jam and jarred condiments
Unless you are planning on consuming a whole jar of jam within a few days, it is best stored in the fridge once open. Most store-bought jams have a lower sugar content than they used to, and without the preservative effect of lots of sugar, mould can grow if not stored at a cool temperature.
3. Mushrooms
Despite popular opinion, mushrooms are best stored in the fridge. Mel O'Rourke, who has been working in the mushroom industry for over 35 years, says "mushrooms continue to grow after picking, and refrigeration slows down their metabolism which helps to keep them fresher for longer". Mel also recommends that they should be refrigerated in a brown paper bag, in order to maximise freshness.
4. Soy sauce
While soy sauce contains ingredients that prevent mould growth like lactic acid and potassium sorbate, the flavour profile can be greatly reduced if not stored in the fridge. Takashi Miyazaki, head chef at Cork's Michelin star restaurant Ichigo Ichie, advises that storing soy sauce out of the fridge can encourage it to "lose flavour and become saltier. If it becomes oxidised, we call 'burnt shoyu'."
5. Fresh herbs
For ample freshness, herbs like rosemary and thyme are best rolled up in some kitchen paper, then placed in a ziplock bag in a door in the fridge. If you wash the herbs before storing them, make sure they're completely dry, otherwise you might end up with quite a soggy result!
6. Butter
Butter should be stored in the fridge for longer term storage and cooking. Gary O Hanlon, Culinary Director at Baxter Storey Ireland, reiterates: "For use in cooking always take butter from the fridge, but have a chunk at room temperature for toast, crackers etc. There's nothing I hate more than being given butter, with bread, that I can't spread!"
7. Maple syrup
Maple syrup is a pure food and will grow mould if not refrigerated. It contains no preservatives, so once opened, it should go straight into the fridge and be consumed according to pack instructions.
8. Tomato ketchup
Tomato ketchup, and condiments in general, can be the cause of confusion, due to the fact that they are stored on the shelf in supermarkets. While this is fine for unopened, sealed ketchup, it is much better to store opened tomato ketchup in the fridge. While storing it on a shelf should not cause any serious concerns due to its natural acidity level, the flavour, smell and colour can become quite off.
9. Opened wine
Wine that has been opened should be recorked and kept in the fridge. If not refrigerated, the oxidation process will occur and the wine will end up having a very vinegary taste and smell. Opened wine should be consumed within 3 to 5 days.
And the foods you shouldn't keep in the fridge?
1. Honey
Due to its low water level and high acid content, honey does not need to be stored in the fridge, and will not spoiled if stored (correctly!) outside of it.
Storing honey in a cold place, specifically the fridge, will cause the sugars to crystalise, where the honey turns from liquid to solid. While this doesn't cause any known food safety issues, it can make it very difficult to consume, and negatively affect the taste and colour. Storing it in a dark kitchen press away from sunlight will keep your honey perfectly runny and delicious!
2. Potatoes
Potatoes should be stored in a cool, dark, well ventilated place, but never in the fridge. The cold temperatures and moisture in a fridge converts the starch in potatoes to sugar more quickly, which can have a negative effect on both taste and colour.
Another tip when storing potatoes is to ensure they are not washed prior to storing, as this can also result in discolouration of the skin.
3. Tomatoes
Tomatoes can be sensitive to low temperatures, and putting them in the fridge can greatly reduce their naturally delicious flavour. As for ideal storing conditions? Ivan Varian, head chef at the Dalkey Food Company, says that "tomatoes will benefit somewhat from being kept on a sunny windowsill".