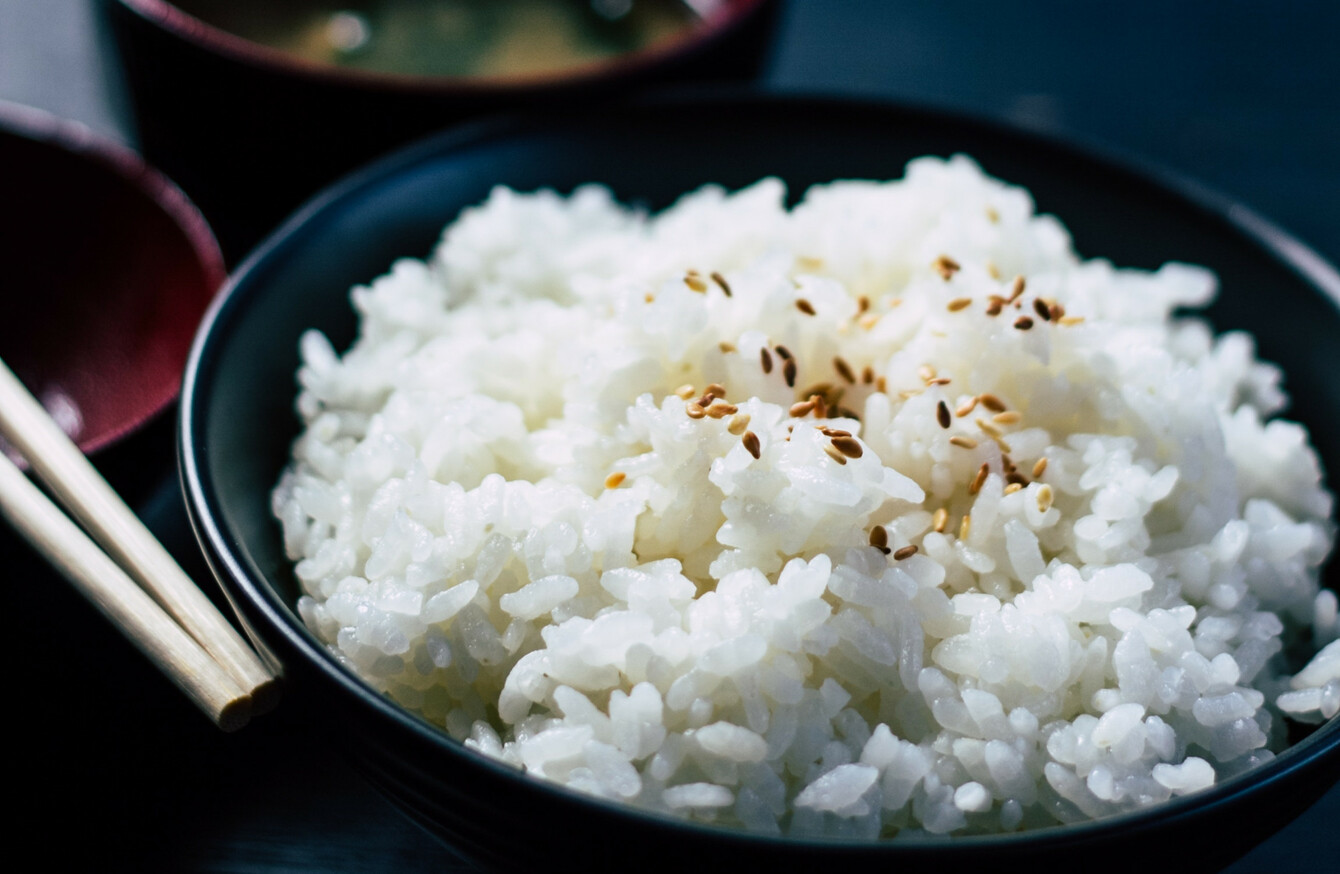 Image: Vitchakorn Koonyosying
Image: Vitchakorn Koonyosying
EVERY HOME COOK has their own kitchen hacks, cheats and traditions, and we want to know yours.
Each week as part of our Kitchen Secrets series, we'll be asking readers to share their cooking tips and go-to-dishes. From the secret to quick-and-easy dinners, to the best way to scramble an egg, we'll have a new question every seven days.
This week, we're asking…
What are your tips for perfect fluffy rice?
As usual, our home cooks had lots to say. If you'd like to join the panel, send us your name and a bit about yourself to food@thejournal.ie!
All our cooks agreed that washing the rice is key:
Thoroughly rinse the uncooked rice (normally Thai rice for me) in cold water before it goes into a pan of cold water. A big pinch of salt,  bring to a boil then reduce the heat to a high simmer for 10 minutes. Drain well and serve! That's it! 
- Ross Boxshall
Keep the heat low:
For years I used boil in the bag rice because I just couldn't get it right when I used loose rice. Then I came across a beautifully simple recipe from Mary Berry. The key is all in the stirring, or lack thereof! I measure out double the amount of water to rice (for 300g rice, I use 600ml cold water). Rinse the rice thoroughly under running water, until the water coming off is clear. This removes the starch that makes the rice stick together.
Put the rice and cold water in a large enough pot, with a lid, and over a medium heat. When it starts to boil, stir the rice once, then lower the heat to a gentle simmer and leave it alone for 13/14 minutes until it's cooked. Don't stir it again, but keep an eye on it to ensure it doesn't boil over. If bubbles creep up the pot, just briefly lift the lid and the bubbles will lower, but don't take it off the heat.
When it's done, take it off the heat and just leave it to sit for five minutes. Then just fluff it up with some forks, and serve.
- Olly Keegan
A rice cooker is a life-saver:
First I wash the rice. Then if using a saucepan I work on one cup rice to two cups boiling water and 1/2 tsp salt, stir and cover with tight lid, cook on high for 8-10 mins, then stir with fork and it is ready to go. Using a rice cooker can be so handy, for each cup of rice I put one and three quarter cups water with the salt, turn it on and you have fluffy rice that is kept warm until you need it! 
- Fiona Staunton
Why not try adding some flavourings?
I like to use basmati rice, it has a nuttier flavour than long grain and cooks quicker. First wash rice in a colander under cold running water for about one minute, this is to remove some of the starch and thus make your rice less sticky. Next bring a pot of salted water to the boil and add the rice, simmer covered for about ten minutes.
Strain rice, put the colander back on the pot off the heat and cover tightly, leave for five minutes and serve. Your rice will stay hot for up to twenty minutes if left covered.
This is my basic recipe for perfect fluffy rice but sometimes I add desiccated coconut to the rice when accompanying Indian curries. Just put one tablespoon of coconut in the  rice two minutes before it's fully cooked. Another favourite of mine is to add a cinnamon stick, three crushed cardamom pods, a spoonful of nigella seeds, a couple of whole black peppercorns and a little turmeric. Stir in some chopped coriander before serving for a wonderful aromatic touch. Who said rice is boring? All it need is a little imagination.
- Angela Nolan
Some cooks add fat to the pan first:
Firstly ratio is key: 75g rice to 150ml of water per person (so double the liquid amount to rice used). Rinse the rice under cold water. Add a knob of butter / oil to the pan to coat the rice. Add water and bring to the boil. Turn heat down to the lowest temperature, stir ONCE and put lid on. Cook for 10mins. Fluff cooked rice with a fork and serve!
- Jennifer Dillon
… and LEAVE IT ALONE!
I really felt like I'd achieved something the day I perfected fluffy rice. Gone were my days of expensive and awkward boil in the bag options. It was a new dawn! Jamie Oliver was my sensei and I've stuck to his method. Firstly the ratio: 1 cup of uncooked rice to 2 cups of water. One cup of rice should feed 2 people (depending on the appetites).
Bring the water, with a pinch of salt, to the boil first, then add your rice. Pop the lid on and bring the temperature right down. For extra flavour I add things like cinnamon sticks, cardamom pods, star anise or cloves to the boiling water, depending on what dish the rice is being served with. Simmer for about 15 mins (this really depends on the rice). The important thing here is to LEAVE WELL ALONE! Do not stir or touch during this time. You'll know it's done when you lift the lid and see small air-holes appear on the top. Fluff it up with a fork and serve. 
- Donna Connolly