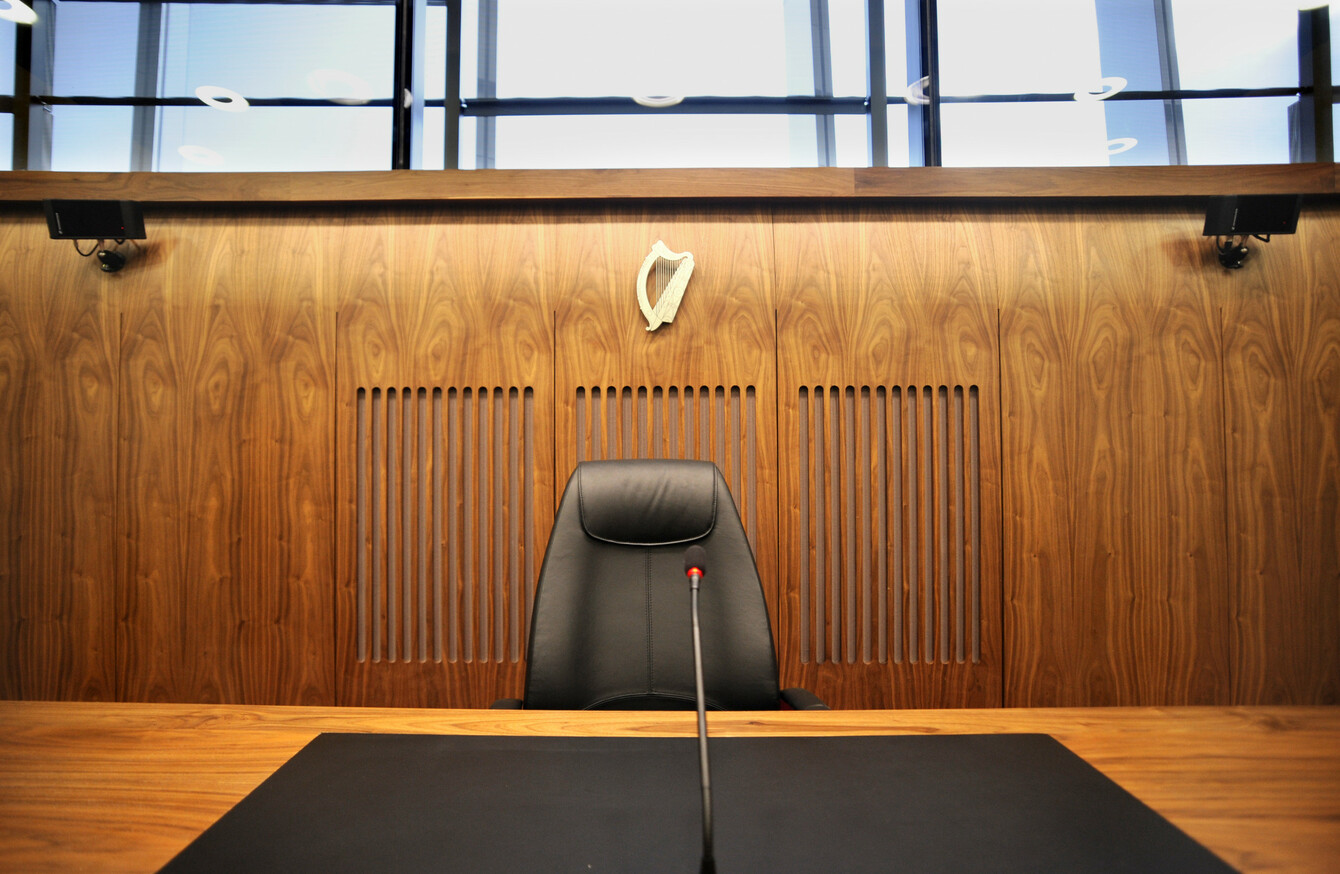 File photo of a courtroom.
Image: Sasko Lazarov/Photocall Ireland
File photo of a courtroom.
Image: Sasko Lazarov/Photocall Ireland
A FORMER PUB owner who got involved in an almost €1.4 million drugs enterprise to offset his gambling debts has been jailed for five years.
John Fitzgerald SC, defending, submitted that Emmet Fogarty (47) had previously owned a pub but his then business partner had written cheques against the venture without him knowing.
This got him in trouble with Revenue and he developed an alcohol and gambling addiction, the court was told.
Counsel submitted that after time spent abroad, Fogarty returned to Ireland and got involved with the drugs operation to offset his serious gambling debts.
Detective Garda Ivor Scully agreed with Fitzgerald that Fogarty had told gardaí on arrest: "I've no money. I've nothing. I've no bank account, I'm an alcoholic, I drink. it's a vicious circle and I gamble."
Fogarty, of Brookhaven Drive, Blanchardstown, Dublin, pleaded guilty at Dublin Circuit Criminal Court to possessing cocaine, cannabis herb and cannabis resin worth a total €1,398,714 at a lock-up unit at Mount Dillon Business Park, Malahide Road, Dublin 5, on 31 March 2017.
He also pleaded guilty to unlawful possession of .44 Remington caliber ammunition, Magnum caliber ammunition and .22 LR caliber ammunition at the same location and on the same date.
He has three previous minor road traffic convictions dating back to 2012.
Scully told Derek Cooney BL, prosecuting, gardaí went to the small industrial estate on foot of confidential information and forced the door of the lock-up unit.
They found 15 blocks of cocaine worth over €1.35 million, cannabis herb valued at €39,902 and €10,000 of cannabis resin in crates and holdall bags on the premises.
Scully said he and colleagues also discovered 10 firearms magazines in good working condition, the assorted ammunition and three tracking devices.
Fogarty's home address was found on a receipt at the lock-up unit and he was further linked to the premises through DNA and fingerprint evidence. He admitted he had leased the premises to store the drugs.
Scully agreed with Fitzgerald that his client had been victim of deceit through his former pub business. The detective further agreed that, as a result, Fogarty began to drink and gamble.
'Buried his head in the sand' 
Fitzgerald submitted to Judge Melanie Greally his client got into serious debt "entirely unknown to him" when his former business partner wrote cheques against his pub. Counsel said Fogarty didn't deal with this "ideally" and began to drink as he had easy access to alcohol.
He said Fogarty also began to gamble and after a time spent abroad "having buried his head in the sand" he returned to Ireland in serious debt.
Fitzgerald submitted that Fogarty got involved in this offence using the connections he had made through his vices.
Counsel asked the judge to take into account Fogarty's medical difficulties, his early guilty plea, his lack of relevant previous convictions and that he had never been in custody before.
Judge Greally said Fogarty was playing "an extremely important role" in the enterprise and was taking all of the risks by leasing out the lock-up unit.
She said the drugs offence was on the "lower half of the upper range" for a crime of its kind, given the amount of substances involved. She deemed the firearms offence at the upper range.
She imposed a seven-and-a-half year sentence with the final two and a half years suspended for that period, taking into account Fogarty's personal circumstances and difficult background.
Comments are closed for legal reasons.