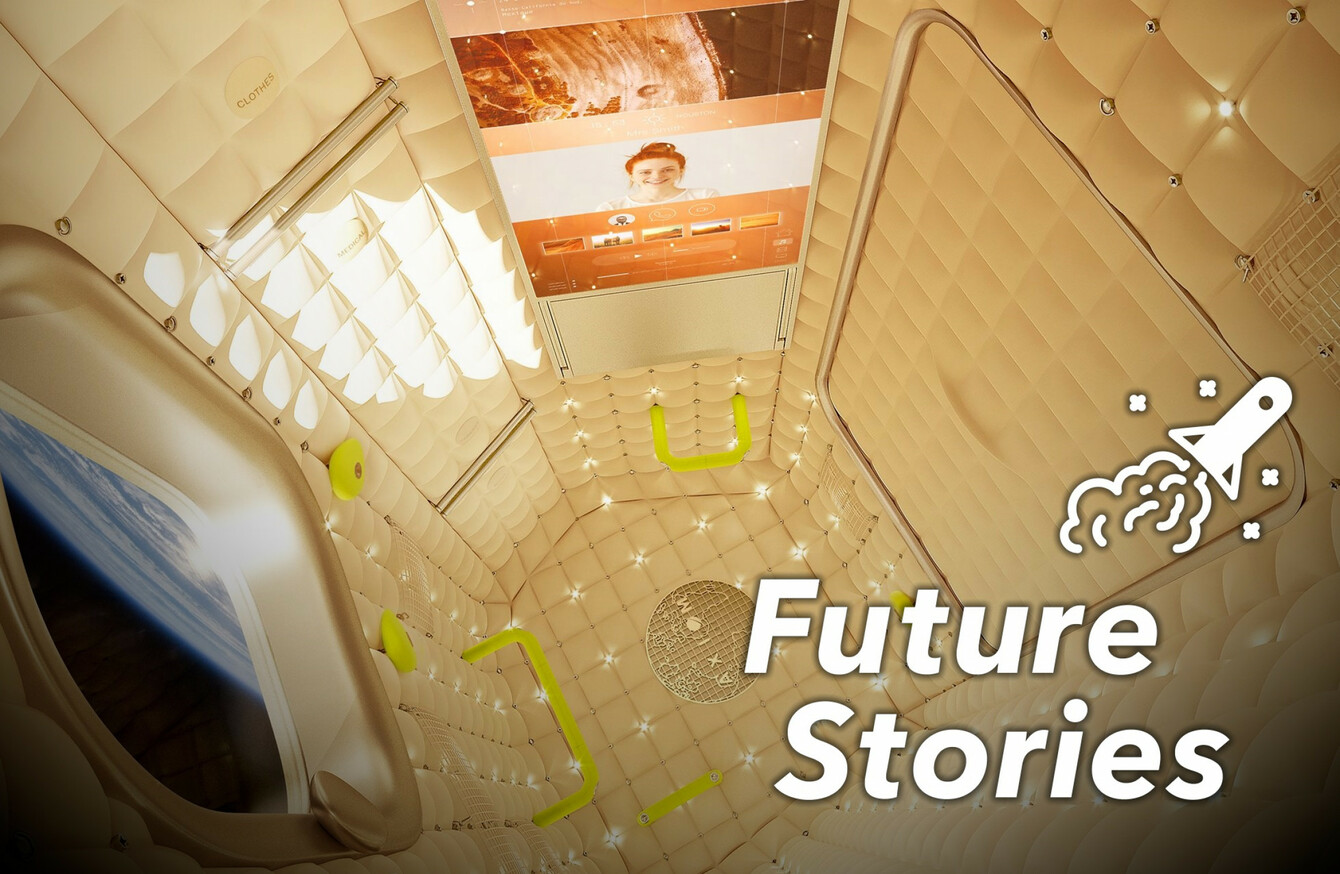 IMAGINE SETTLING DOWN in your Philippe Starck-designed hotel room, after an evening spent eating delicious food and gazing at Earth floating 400 km below you.
Oh, and there's Wi-Fi too, in case you fancy checking in with back home.
Can't quite picture it? Space tourism might sound like a far-fetched idea to some, but for Texas-based company Axiom Space, it's fast becoming a reality.
In the newest episode of Future Stories, a monthly podcast from TheJournal.ie and Volkswagen, we're looking ahead to what your summer holiday might look like in the future.
By 2022, Axiom Space hopes to be sending groups of space tourists (or 'private astronauts') into orbit, for ten-day or sixty-day trips on board the fully equipped Axiom Station.
"It's relatively easy to get you to orbit and to get you trained and to get you to have this experience," says CEO Michael Suffredini.
Michael co-founded Axiom Space in 2016, along with the company chairman Dr Kam Ghaffarian. As CVs go, Michael's is pretty (inter)stellar: he previously spent a decade managing the International Space Station programme at NASA.
Of course, the project is in early days, and if you want to be one of the first to take a holiday in the cosmos, it'll cost you.
Around $55m, to be exact, or €47m, says Michael:
For that price, you'll get an all expenses paid trip to a space station. It covers your launch cost [the rocket launch is the biggest cost to be covered], all the items you need to survive in space, plus your oxygen, food and 15 weeks training.
If you don't see yourself raising €55m by 2022, you'll hopefully be able to get a futuristic experience a little closer to home, thanks to the developing world of hyperloop travel.
Hop on a hyperloop train and you could get from Cork to Paris or Dublin to Amsterdam in an hour, door to door.
It's thought hyperloop could soon be able to transport humans from home to holiday destination at the speed of sound (that's 1,234km per hour, by the way).
Before you can book a trip though, there's a lot more development to be done. This episode, we visited Team ÉirLoop, a team of Irish student engineers whose hyperloop prototype will be competing in the finals of the SpaceX Hyperloop Pod Student Competition in California.
#Open journalism No news is bad news Support The Journal

Your contributions will help us continue to deliver the stories that are important to you

Support us now
"Imagine transport that's faster than a plane, but as convenient and as affordable as a train," says Akhil Voorakkara, the Marketing Director and Head of Electronics for Team ÉirLoop.
That's it, in layman's terms that's all we're trying to do. Make transport at the speed of sound possible overland or underground so that we don't have to rely on air travel.
Team ÉirLoop shipped their pod prototype to California late last month, where it'll compete against 19 other teams. As well as being safe for use, the pod must fulfill one sole criteria to win: reaching a higher speed than all other competitors… without crashing
You can follow Team Éirloop's progress here – and you'll hear more about hyperloops and space hotel's on this month's episode of Future Stories, which is all about the future of your summer holidays.
It's live right now. Listen below on Soundcloud, or click-through to be taken to the episode on:
Apple Podcasts
Spotify
Audioboom
Source: Journal Media/SoundCloud