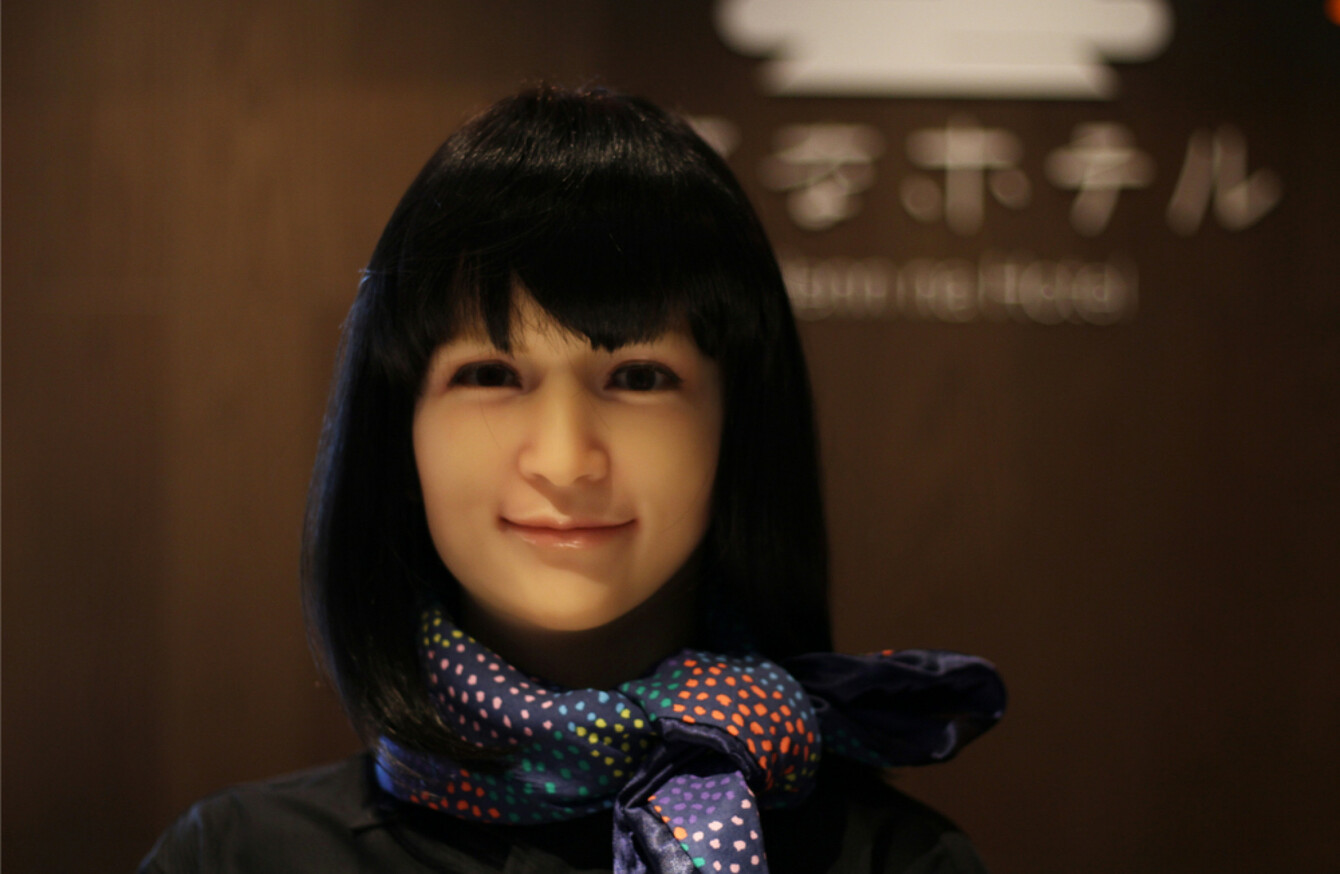 A robot receptionist at a hotel in Tokyo
Image: Shutterstock/Ned Snowman
A robot receptionist at a hotel in Tokyo
Image: Shutterstock/Ned Snowman
The way we live is changing fast. Every fortnight in our Future Focus series, supported by Volkswagen, we'll look at how one aspect of everyday life could change in the coming years. This week: hotels.
ADMIT IT: WE'RE all starting to get a bit fed up of our work colleagues' stories about their holidays and our Instagram feeds being full of people standing, back facing the camera and arms raised joyfully in the air, on front of some beautiful beach.
Holidaying and hotel-going, always a pain to hear about, will at least become a lot more straightforward over the coming years. Soon, when you finally load up the car for your week away, you won't have to worry about carrying bags, faulty air conditioning or even remembering the key card for your room.
In Ireland, and Dublin in particular, hotel occupancy levels are at an all-time high, and prices are continuing to rise. Throughout the city centre, multinational chain hotels are popping up left, right and centre, including right on top of the Vicar Street concert venue. Although it doesn't seem like Irish hotels have to be particularly tech savvy right now to draw in guests, moving forward they certainly will be; by 2020, it's expected that millennials will make up around 50 percent of the world's hotel guests.
There are already some hotel chains around the world starting to get ready for the change – but most will have to see significant alterations to remain competitive. It's possible we'll start to regret giving planning permission to yet another chain hotel in the city too, as millennials look for more 'real' experiences.
Hello, robot butler!
In the coming years, our hotels and destinations of choice will probably be even more influenced by our friends, rather than by extensive use of hotels.com. As we begin to use VR more and more, those social media snaps we see online will probably turn into social media experiences, as we see, feel and hear the travels of our friends in 3D and 4D. The Palladium hotel chain has already begun to use VR to promote its hotels, with its salespeople carrying around virtual reality headsets rather than brochures or even tablets to sell their wares.
Once arriving at your chosen hotel, you mightn't need to encounter a human at all. This might happen sooner rather than later – as robots are already starting to replace human receptionists, porters and cleaners on a small scale. YO2D2 (no relation to R2D2 – as far as we know) is a 36 inch tall robot used by the Yotel chain. YO2D2 can summon the elevator or bring room service deliveries straight to your room.
Source: gu4n2/YouTube
Similarly, the Sheraton Los Angeles San Gabriel has taken on 8 TUG robots which can give directions, help with check in and show guests to their rooms.
But interestingly, humans aren't being entirely replaced by robots just yet. As holidaymakers look for more unique and tailored experiences, this might involve human personalisation of our hotel stays, or particularly in-tune customer service. Rather than administration, people will bring the artistry to hotels.
"We don't just do technology for technology's sake, it needs to be functional, first and foremost," says Yotel General Manager Chris Hartzell. "Since YO2D2 was introduced, our guests have been fascinated and entertained by the robot, but more importantly, it's expediting the delivery of linens, extra towels and retail items to their cabins and freeing up our crew to assist guests with anything else they might need."
The Marriott hotel chain, probably due to its innovation lab in Maryland, is also top of the game when it comes to future-proofing, but it's cutting down on human encounters too. The Marriott hotel app allows guests to check in as well as gain access to their room, without keys, cards, or even receptionists. It also offers an 'Ask Anything' messaging concierge service through which guests can order towels, room service or – if all else has failed – connect to a staff member.
No more angry TripAdvisor reviews?
HiJiffy provides a similar service: a form of AI which responds to guests' queries through Facebook messenger. As IoT develops, it will also be able to detect problems before they arise; for instance, if the air conditioning isn't working, staff will be able to attend to it before they have to deal with a guest complaint. This might mean that angry TripAdvisor reviews will become a distant memory.
As younger generations travel more, hotels and types of accommodation will change too. Capsule hotels have risen in popularity in Japan and have also reached Europe, offering a more private alternative to communal rooms in hostels. While many young people stay in hostels and communal rooms if they're on a budget, City Hub in Amsterdam offers futuristic pods with double beds and WiFi, electronic wristbands to open the door, and streaming services for the "digital native". While they're still classed as hostels, they offer a practical – and less grubby – option for regular travellers on a budget, and it's likely the ideas behind them will spread. As Airbnb shows no signs of slowing down, hotels can cater to the same market by offering cheaper, smaller and cosier rooms, which mimic the homey environment.
But for those with more money to spend, there'll be plenty of more exotic options. The Conrad Maldives Rangali Island resort will open the world's first undersea villa this autumn, while Orion Span hopes to have the first space hotel, the Aurora, open by 2022. (You can hear more about space hotels in our Future Stories podcast.)
Or, closer to home (and considerably more likely to be within the reach of our wages), Ireland's first "boatel" may launch in Cork this year, as planning permission has been granted for the permanent mooring of a river cruiser. But whether we're staying in space, in a pod, in the sea, or over Vicar Street, it won't be in the too distant future that we'll be getting late-night room service delivered by a robot.