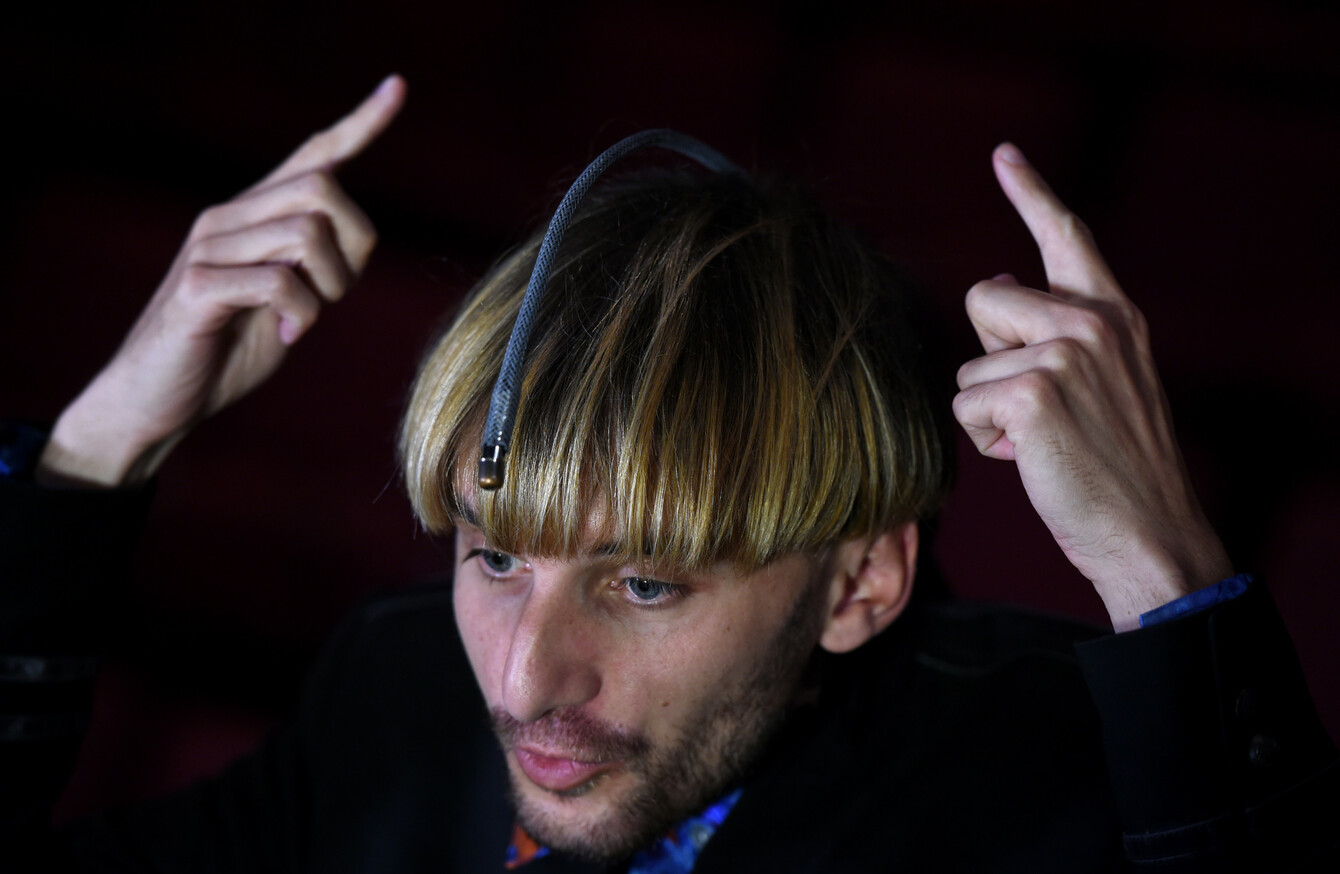 Cyborg Neil Harbisson with the antenna that allows him to 'hear' colour
Image: AAP/PA Images
Cyborg Neil Harbisson with the antenna that allows him to 'hear' colour
Image: AAP/PA Images
The way we live is changing fast. Every fortnight in our Future Focus series, supported by Volkswagen, we'll look at how one aspect of everyday life could change in the coming years. This week: biohacking. 
REMEMBER LUKE'S bionic hand in Star Wars? How about RoboCop's weapon arm in Robocop 3? And what if both of them might be just around the corner?
Biohacking isn't a new phenomenon; in fact, you could say it's been around since we first started taking vitamin supplements or since the invention of the pacemaker. Biohacking improves the capabilities of living things through the use of technology, gene editing or drugs. However, today we're getting closer to the science fiction version of biohacking, and while it is still improving the lives of those with health difficulties, we're also beginning to use biohacking to augment our natural capacities.
A recent report by Gartner estimated that our transhuman period could begin as soon as within the next decade. As we've begun to give machines new capabilities through IoT, it seems the next step was always going to be that we would begin to do these things to ourselves. Elon Musk of Tesla has gone a step further, even claiming that humans must become cyborgs if they want to stay relevant in a future of AI and robots.
We are already seeing biohacking in action through improvements with the use of prosthetics. Progress has been made in enabling people with prosthetics to not just control the limb, but to feel when it's touched, or even tell when a touch is soft or hard, as demonstrated in Italy by Almerina Mascarello earlier this year. It has also enabled people with paraplegia to walk again.
However, there's potential for this to go further. Cambridge Bio-Augmentation Systems (CBAS) have created an interface which acts like a USB port which enables different prosthetic limbs to be attached. This connects directly to the nervous system. However, this has also created a way for people to add non-medically necessary prosthetics to their bodies should they wish – and with these, the options are limitless. It's possible that, in the coming years, we will be able to add bits on to ourselves as we see fit.
Source: IBTimes UK/YouTube
Today, people are already augmenting their own bodies and abilities – sometimes even by adding extra senses. Neil Harbisson described in a piece with National Geographic how an antenna which was implanted in his head has allowed him to "hear" colour. Born with complete colour blindness, Harbisson is now able to tell the differences between colours by their different wavelengths, which are translated into vibrations by the implant, and he then hears as sound.
There is also a movement of people – biohackers – who experiment with these technologies for non-medical reasons. Cyborg artist Moon Ribas, for instance, has had implants which are connected to online seismographs, with the result that she can feel if there's an earthquake above 2 on the Richter scale anywhere on the planet. She then uses the vibrations from the implant to choreograph her dance performances. Adding on to our senses in this way – which could include anything from echolocation capabilities to being able to see infrared light – could allow us to see the world in a whole new way.
Source: Moon Ribas/YouTube
While it's possible that we'll all be able to augment and improve our sensory capabilities in the coming years, potentially the most imminent application of implants and augmentation is microchipping. Although here in Ireland this is generally something we do with our pets, there are reportedly around 60,000 people across the world who have been microchipped, and the number is growing. Microchipping is especially popular in Sweden, where people can be microchipped to replace work key cards, gym cards, and now even pay their train fare.
While we mightn't yet be fully comfortable with this in Ireland, it's likely that enabling people to complete everyday tasks using microchips could build confidence with the technology before we move towards adding other augmentations to our bodies.
#Open journalism No news is bad news Support The Journal

Your contributions will help us continue to deliver the stories that are important to you

Support us now
The companies making these microchips aren't shy to try them out themselves, and even to experiment with new uses. Cofounder of Grindhouse Wetware, Tim Cannon, has inserted the Circadia monitor into his arm which can be used to control a Bluetooth thermometer or call an ambulance if his temperature suddenly spikes or falls. A spokesperson for Grindhouse Wetware explained that "This was to prove that we could design and implant a subdermal device in the body for nonmedical purposes," and may be an example of how current versions of assistive technology will develop going forward.
'Great muscle force and strength'
Gene modification is another aspect of biohacking that will become more common over the coming years. The CRISPR gene editing technique enables doctors to edit the genetic sequence with more precision than ever before, and now it's becoming cheaper and easier to do. While this may have positive implications for people with genetic diseases and illnesses, already there are concerns being raised that it could be used as a threat. Dr Pierre Noel, a professor at the Mayo Clinic, has drawn attention to how gene editing could be used in war, saying that "As the technology becomes more sophisticated, countries may be able to implement gene-editing technology to design super soldiers with great muscle force and strength."
Moreover, this raises questions about the changes that we would make to our genomes if gene editing were accessible to all, ranging from physical attractiveness to intelligence – and what could happen if this was accessible but expensive, meaning that only the wealthy could edit their genes or their children's genes.
Again, this is already here to a certain extent: biohacker Josiah Zayner injected himself with CRISPR live at a conference last year in order to "give him[self] bigger muscles". Although it was unlikely to work – and Zayner himself has since said that he regrets the move – it heralds a new era of DIY gene editing. Zayner now runs a company which sells CRISPR kits to enable people to engineer microorganisms, and while self-editing your own genome is discouraged, it's likely to become more commonplace as it becomes more easily accessible.
Today, we're already living among cyborgs to a certain extent, but moving forward we might see an era where we're able to design our own bodies, whether to prevent illnesses, or to alter our sensory capabilities. It's possible that we will be able to design our physical features and add on to them – whether it's with additional USB limbs or just microchipping to allow us to get around the world without carrying a wallet. However, although the sky is the limit when it comes to biohacking, it's also one of the areas we will need to approach with the most caution.