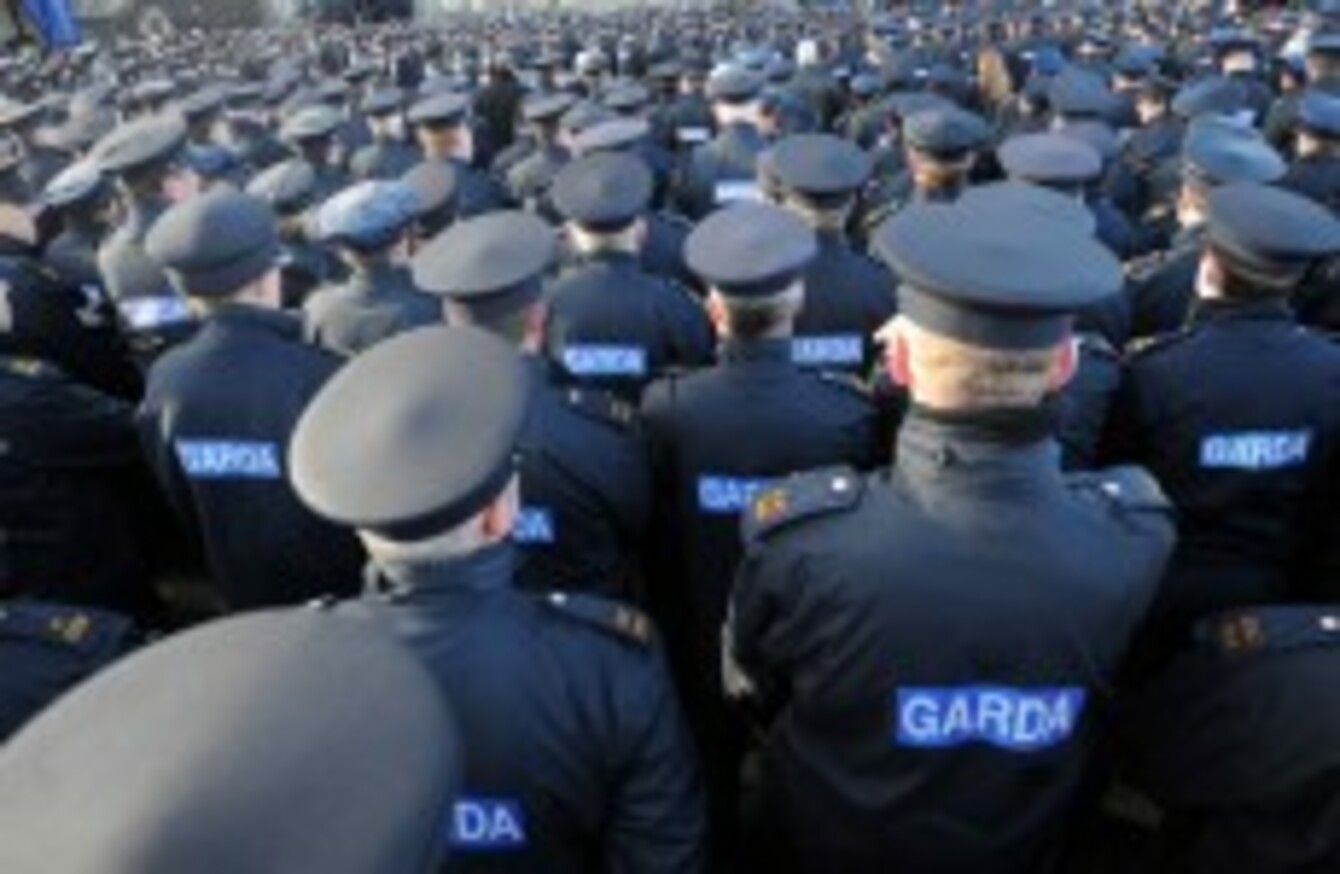 Image: Laura Hutton/Photocall Ireland
Image: Laura Hutton/Photocall Ireland
THE BODIES representing both Garda sergeants and rank-and-file members have lashed out at the government – with ordinary members warning against proposed Garda pay cuts, while sergeants accused the Minister for Justice of trying to 'confuse the public'.
The Garda Representative Association, which represents rank-and-file members of the force, this evening said it would not participate in any negotiations that proposed a cut to Garda pay – suggesting the group has pulled out of the current talks on extending the Croke Park agreement.
"Our membership have told us that they cannot accept any further reduction in Garda pay, nor can they accept a reduction in the terms and conditions of their employment," the body said this evening following a meeting of its central executive committee.
"Garda pay is protected under the Croke Park Agreement that our members have honoured in full, and any attempt to renege on this will be challenged," they said.
However, the association said it would be willing to examine any revised proposals or cost-cutting measures which would not impact on pay or hours worked. "We will make our position known on any further proposals at that time," it said.
The association added that its members were facing "great financial hardship" – with many unable to pay their mortgages or loans – while continuing to serve their communities.
Sergeants query Shatter's '61,000 hours' claim
Earlier, the group representing Garda sergeants accused justice minister Alan Shatter of trying to mislead the public over the reasons behind the decision to close 100 Garda stations this year, including 95 which shut last week.
Shatter had yesterday claimed that the closure of the stations – many of which opened for three hours a day or less – would mean fewer Gardaí assigned to desk duty and result in an extra 61,000 Garda patrol hours this year.
The Association of Garda Sergeants and Inspectors took issue with the claim, however – with its general secretary John Redmond describing Shatter's claim as "simply not true".
"It is the case, in fact, that the members who are reassigned as a result of all stations being closed are instead 'lost to the community," he said.
Redmond said the reassignment of Gardaí from small rural stations would give precedence to the policing of the larger urban areas where those Gardaí are now based, instead of the local communities they were being withdrawn from.
Earlier today the Garda Commissioner, Martin Callinan, said threats by Gardaí to undertake a round of informal 'blue flu' strikes were "not on".
Gardaí are legally forbidden from undertaking industrial action, and have previously resorted to calling in sick in large numbers as a way of illustrating their opposition to various government measures.