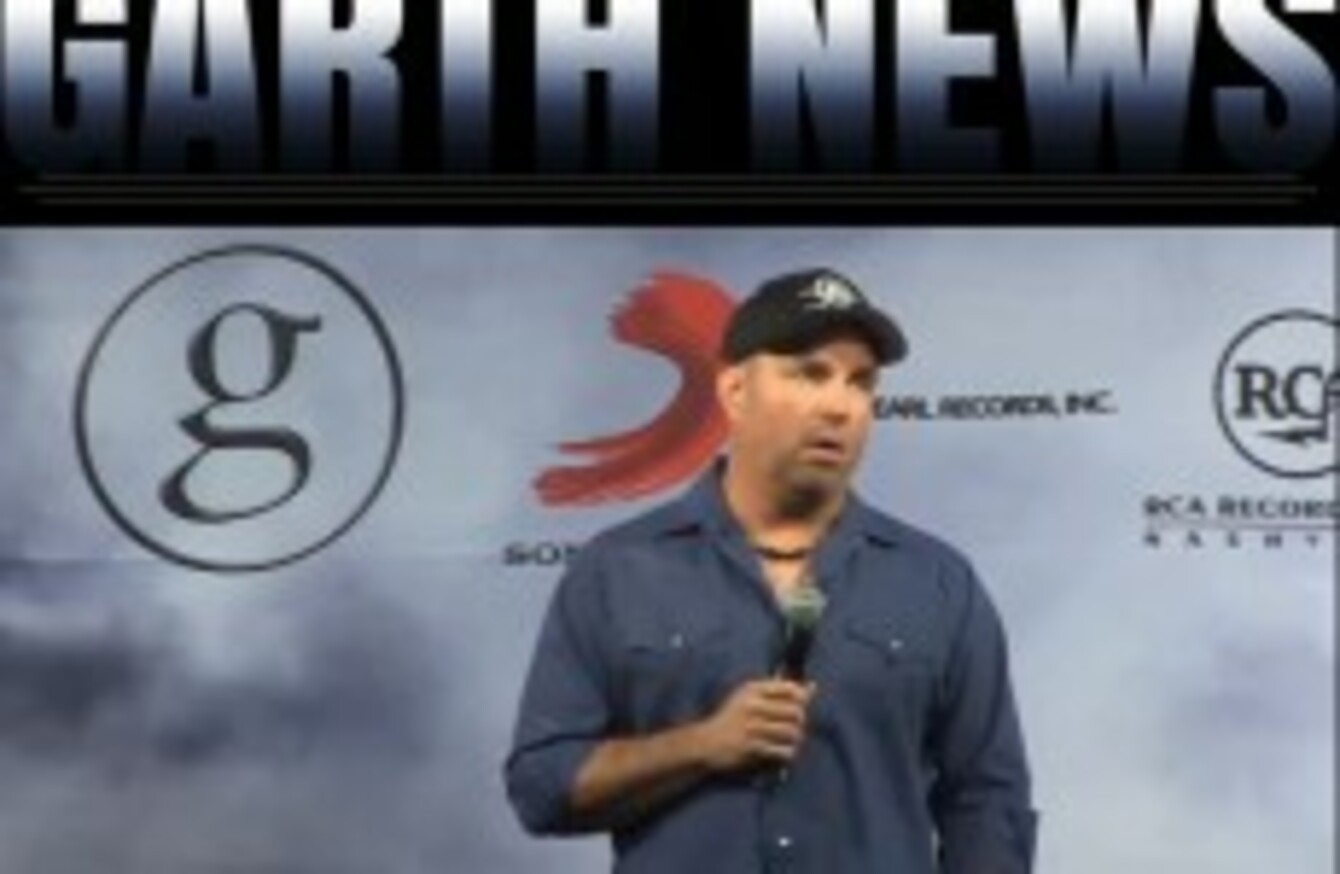 Garth Brooks speaking at today's press conference.
Image: Screengrab from GarthBrooks.com
Garth Brooks speaking at today's press conference.
Image: Screengrab from GarthBrooks.com
SINGER GARTH BROOKS has spoken of his willingness to meet with Enda Kenny to find a resolution to the ongoing controversy over his cancelled concerts at Croke Park.
"If the Prime Minister himself wants to talk to me, I will crawl, swim, I will fly over there this weekend, sit in front of him, I will drop on my knees and beg for those 400,000 people to have fun", he said in a press conference this evening.
Brooks emphasised that his cancelled Croke Park events can only be reinstated by a solution found in Ireland.
He added that he was not interested in playing any fewer than the five gigs because he does not want to disappoint those with tickets to the two cancelled ones.
However, he said he was hugely disappointed not to be playing the Dublin events:
Anyone in Ireland, anyone on the planet who is sad about this, you're not one-billionth as sad about this as I am.
Brooks also spoke of being taken aback by the objections to the concerts, saying: "In no time in there ever, when the 400, 000 tickets were announced, did people say 'no way'."
"Ireland – I don't have a clue. [In] January I went over for press, I had the greatest time, I was treated like a king – I have never been treated as anything less than a king by the Ireland or its people."
Brooks said his team was blindsided by the refused licences:
We've passed every one of the safety tests – up until two weeks ago there was nothing but love. And then there came, 'hey Garth, we're ok with three of them'… I wish I could tell you I saw it coming, I never did.
Resolution
On the issue of going ahead with the three permitted concerts, Brooks said that the "powers that could fix this aren't here":
It's just kind of put on my side – and the statement was 'Garth, with a simple 'yes', you could make 240,000 people happy', and my statement back was 'with a simple 'yes', you could make 400,000 people happy'.
He criticised the timing of the refused licences and cancellations. He said that if the Irish system for organising events needs to be 'fixed', then that should be done after allowing the events which have already sold tickets.
"Let the concerts go ahead and then work on not letting it happen again," he urged.
The western singer said he was stunned to discover the level of interest in his gigs when tickets first went on sale, and his team's efforts to redress problems reported by his Limerick fans in buying tickets in advance of the shows originally announced:
And because of one on-sale, in Limerick, the system went horribly wrong for them… We said if we're doing another on-sale we've got to take care of Limerick.
Responding to questions from the floor, Brooks spoke with affection of his experiences of Ireland and Irish people, insisting: "Ireland should never be embarrassed, its people should never be embarrassed".
Earlier today, it emerged that the residents of Croke Park are willing to seek "a new direction" in resolving the concert cancellations.
New record deal
Speaking ahead of Brooks' appearance at the press conference, Sony CEO Doug Morris said he was pleased to announce a record deal between Brooks and Sony. 
Listing the awards and accolades Brooks has received over the course of his career, Morris noted: "He is…the only solo artist to have six albums sell over 10 million copies."
Brooks retired from touring in 2001, but indicated late last year that he was planning a world tour in 2014. The Croke Park gigs at the end of July were expected to act as the launch of Brooks' wider touring plans. The announcement about which city will host the start of his new world tour will be made on 14 July, he said at this evening's press conference.