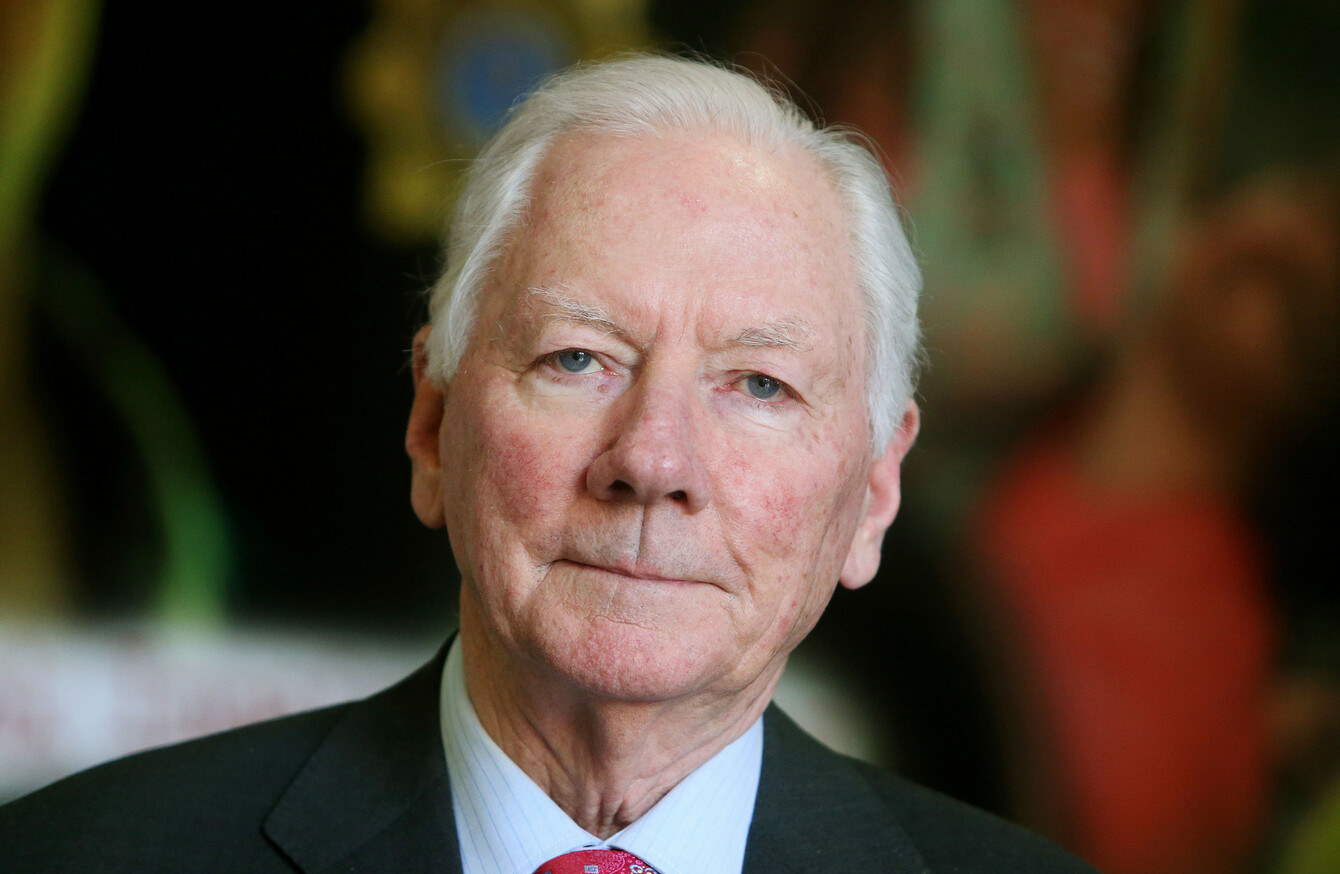 Image: Brian Lawless
Image: Brian Lawless
Updated Nov 4th 2019, 3:22 PM
BROADCASTER GAY BYRNE, the host of RTÉ's The Late Late Show for almost four decades and one of the country's best-known broadcasters, has died aged 85.
Alongside the Late Late, the veteran broadcaster also presented the weekday Gay Byrne Show on RTÉ radio for almost three decades.
In the wake of his retirement from full-time radio and TV broadcasting he served as the chairman of the Road Safety Authority for eight years, stepping down as he approached his 80th birthday in 2014. 
His death was announced by RTÉ at 2.44pm. RTÉ One interrupted its schedule to break the news of his death this afternoon and switched to rolling coverage.  
In a statement, his family said: ""It is with sadness that Kathleen, Crona and Suzy wish to announce that their beloved Gay has died peacefully at home today, surrounded by his family.
We wish to thank everybody for their love and support during Gay's illness. Particularly the wonderful teams in the Mater Hospital, St Francis Hospice and the Irish Cancer Society.
A special live edition of the Late Late Show in tribute to Gay Byrne will be broadcast tomorrow night on RTÉ One at 9.35pm to remember the late broadcaster. 
President Michael D Higgins led the tributes, saying he had heard news of the death with "deep sadness". 
The statement from the Áras said: "Having begun his career in broadcasting with Radio Éireann in 1958, he retained a love of radio as a medium. With the arrival of television he went on to become one of the most recognisable faces of Irish broadcasting, hosting one of the world's longest running chat shows – The Late Late Show.
"A man of great charisma, Gay Byrne was someone who exuded warmth and presence, who was possessed of effortless wit, charm and who had a flair for broadcasting. This was combined with an innate gentleness as a person, professionalism and humour.
Through his work in radio and on television he challenged Irish society, and shone a light not only on the bright but also the dark sides of Irish life.
In doing so, he became one of the most familiar and distinctive voices of our times, helping shape our conscience, our self-image, and our idea of who we might be. Beyond compassion, which he had in abundance, he had a sense of what was just.
Sabina and I wish to express our deepest sympathy to his wife Kathleen, his daughters Suzy and Crona, his grandchildren, and all his friends and colleagues.
Taoiseach Leo Varadkar said Gay Byrne was a "much-loved figure who changed Ireland for the better in so many ways".
"A consummate entertainer, he also provided a voice for all those who had been silenced or were afraid to speak up, and he forced us to confront things that needed to be challenged in our society," Varadkar said in a statement.
For generations of Irish people he was Uncle Gaybo, a welcome presence in every home, someone who led change because he listened and he cared.  We have lost someone who was a voice for change and a force for good.
RTÉ Director General Dee Forbes said in a statement: "We are all greatly saddened by the passing of Gay Byrne who has been a household name in this country for so many years. Gay was an exceptional broadcaster whose unique and ground-breaking style contributed so much to the development of radio and television in this country. 
Gay's journalistic legacy is as colossal as the man himself – he not only defined generations, but he deftly arbitrated the growth and development of a nation. Ireland grew up under Gay Byrne, and we will never see his like again. My deepest sympathies to Kathleen and his family.
Ryan Tubridy, the current host of the Late Late, said in the RTÉ statement that he had heard the news of Gay's death with enormous and profound sadness.
He was the master, a once off and the likes of which we will never see again. I watched him as a child, worked alongside him as a young man and he guided me as I grew older and I will forever be indebted to him. We in RTÉ have lost a friend, a family have lost a father and a husband and the country has lost an icon. May he rest in peace.
Liveline presenter Joe Duffy, a protégé of Byrne, added: "More so than any one individual, Gay Byrne represented modern Ireland and through his daily broadcasting on radio and television he propelled this country and its people forward. In no other country can one individual claim to have had such a positive impact on an entire nation over such a long period. Ireland is a better country thanks to Gay's lengthy career behind the microphone at the centre of public discourse.
"He brightened and enlightened the lives of so many people through his broadcasting, his charm, wit, voice, and wonderful command of the English language. His broadcasts were a public joy, a personal pleasure and comfort to so many. Like so many I feel his passing as a deeply personal loss. He was a generous mentor and good friend to me, as he was to so many.
Above all, condolences to his wife Kathleen, his loving daughters Susie and Crona, his sons in law and his much loved grandchildren, who have been such a support to him in his very difficult illness. He worked hard all his life. He searched for meaning, and gave meaning to so many. His death is heartbreaking but I, like so many, am very thankful for his life.
Speaking on a special extended edition of Liveline this afternoon, Duffy called him "the greatest unelected leader that Ireland had ever had". 
"Gay's impact on Irish society has been seismic and positive," he added.
Stephen Fry sent a message about Gay Byrne to RTÉ's Drivetime show. 
Fry said he met Byrne several times, and would be stopped on the street the following day by people who said "Ah, I see you were on the show with Himself last night".
"To have earned the sobriquet Himself says something, I reckon," said Fry. 
Discussing his viral video with Byrne in which they discussed religion, Fry said he fears Byrne was "somewhat" shocked with his reply.
"He couldn't not have been more delightful, charming and – I think – tolerantly amused by my wickedness. So here's to Himself. Who knows? Maybe he will wake up in a certain place and be able to pass on my regards," said Fry. 
CEO of the Irish Cancer Society Averil Power said Byrne was an "extraordinary man" who tackled difficult issues with sensitivity and compassion.
"He opened our minds, challenged our views and won our hearts," she said. 
The Road Safety Authority (RSA), of which Byrne was chairperson for eight years up to 2014, said the chairperson, board and members extend their "sincerest condolences" to his wife, daughters and extended family. 
Retirement years
The veteran broadcaster retired from The Late Late Show, as well as his long-running RTÉ radio programme, in 1999.
During his 'retirement years', Byrne hosted a Sunday afternoon jazz show on RTÉ Lyric FM.
He also presented Who Wants To Be A Millionaire? on RTÉ as well as The Meaning of Life, a series in which he interviewed public figures about meaning and faith.
In one of the most notable incidents from his later career, Byrne hit the international headlines in 2017 following reports that gardaí had launched a probe into Stephen Fry's comments about God on the Meaning of Life.
The broadcaster had also dealt with a number of health problems in recent years. He was admitted to hospital after a heart attack in late 2015 – and shortly before Christmas in 2016 he told listeners to his Lyric FM show that he was undergoing tests for cancer.
He described his "gruelling" chemotherapy treatment in that Ray D'Arcy interview last year. 
'Ireland is a better place thanks to him'
Culture Minister Josepha Madigan said the impact that Gay Byrne had on Irish society was "phenomenal" and "Ireland is a better place thanks to him". 
Fianna Fáil leader Micheál Martin, meanwhile, said Byrne had "left an indelible mark not only on Irish broadcasting but on Irish society as a whole". 
"His intellect and emotional intelligence was unparalleled and his ability to sensitively approach delicate and sometimes controversial issues set him apart from other presenters," Martin said.
The Fianna Fáil leader also joined the Taoiseach in paying tribute to Byrne's role as chairman of the Road Safety Authority. 
"Ar dheis Dé go raibh a anam," Martin added. 
Labour leader Brendan Howlin said that Byrne "defined and shaped a modernising Ireland" while Sinn Féin president Mary Lou McDonald said he has "occupied a special place in the hearts and minds of many Irish households". 
Fine Gael MEP Mairead McGuinness said Byrne was a "great listener" who kept a close eye on the smallest details. 
"Gay has left an enormous and very proud legacy to his family with whom I express my deepest condolences on his death," she said in a statement. 
A book of condolence will be opened at the Mansion House tomorrow for Byrne, who had been named a freeman of Dublin.
The book will be available to sign from 11am – 5pm tomorrow, and from 10am to 5pm on Wednesday.
With reporting from Seán Murray