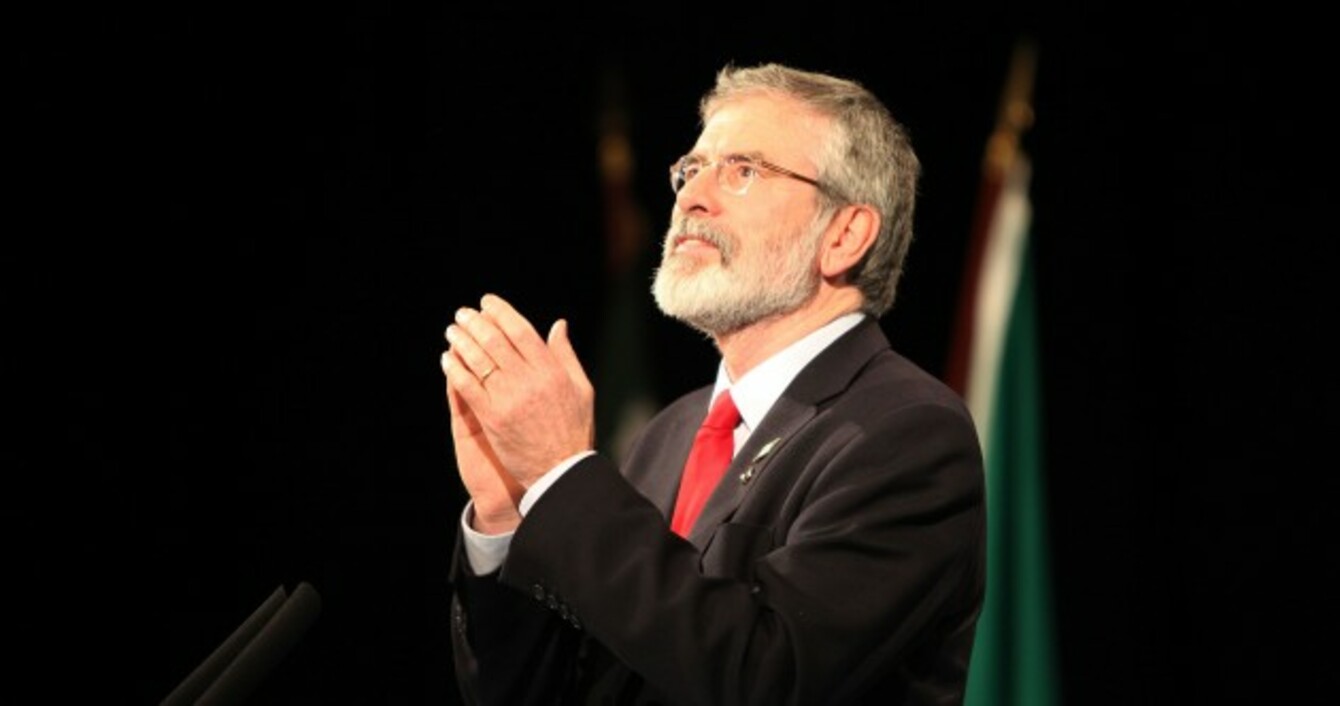 Image: graph: Stephen Kilkenny/Photocall Ireland
Image: graph: Stephen Kilkenny/Photocall Ireland
Updated: 21.10
GERRY ADAMS HAS said that the "tsunami of untruth and smears" against the party has failed, and the party is now ready for power.
In his presidential address at the party's Ard Fheis in Derry, Adams told delegates:
"As our political strength increases our opponents have become more strident. There has been a tsunami of untruth and smears against us. It didn't work. It didn't work because of you."
Adams said people's perception of Sinn Féin has remained positive despite negative coverage of the party in certain media outlets.
"People listened to the lies and they looked at you, their neighbours and family members, their work colleagues, and they said 'the Shinner I know isn't like the one depicted in the Independent Group of newspapers and by out political opponents'."
In line with a party vote yesterday evening, Adams said:
"Sinn Féin will not prop up either a Fine Gael or a Fianna Fáil government. Sinn Féin wants to lead the next government. I am confident that when it comes to making a choice, the people will make the change."
Austerity
Adams described Fine Gael and Labour's recent budgets as "among the most regressive in history".
A third of our children now live in consistent poverty. Public money – which should have been used to end the scandal of patients lying on trolleys; to house our citizens; and to create jobs – is bring used to repay private bank debt.
"That's Labour's way. That's Fine Gael's way. That's Frankfurt's way. That's not the Sinn Féin way."
Adams said that while the establishment parties accused Sinn Féin of "fairytale economics", they delivered "nightmare economics".
"Fianna Fáil wrecked the economy, drove hundreds of thousands out of work, and forced many young people to emigrate.
Fine Gael and Labour made things worse by delivering Fianna Fáil policies. They made working class people, senior citizens, patients and children pay the price for private banking greed.
Adams criticised Taosieach Enda Kenny and Finance Minister Michael Noonan for failing to ask for retrospective recapitalisation of the pillar banks.
"191 individuals held €62 billion of the banking debt. 50% of the Irish loan book of Anglo Irish Bank was held by just 20 greedy people."
He said the Syriza-led government in Greece, who had a representative at the Ard Fheis, has broken the "pretence" that "austerity is the only way".
Water charges and housing
Adams again promised that, if in power, Sinn Féin would scrap water charges and the local property tax, while introducing a wealth tax and bring in a third rate of tax for those earning over €100,000 a year.
He said the party will also take a further 200,000 people out of the Universal Social Charge.
Adams stated that Sinn Féin "will invest in local authority housing and introduce rent controls to help stem the rising tide of homelessness".
He described the Fine Gael Labour Government as "a disaster for rural Ireland"
Rural Ireland needs a new deal. A new deal that will create and retain jobs in rural communities, protect rural schools and services, ensure access to health services and maximise support for hard pressed Gaeltacht and island communities.
#Open journalism No news is bad news Support The Journal

Your contributions will help us continue to deliver the stories that are important to you

Support us now
Same-sex marriage
Adams also used his speech as an opportunity to call for a 'yes' vote in the upcoming same-sex marriage referendum.
Most people know a family member, work colleague or a neighbour who is gay, and we love them for who they are.
"On May 22nd, I am calling for a resounding 'Yes' vote."
Northern Ireland
In terms of Northern Ireland, Adams said the party had succeeded in protecting people with disabilities, the long-term sick, and those on benefits, in the Stormont House talks.
He said "dealing with the past is very difficult", adding that he hopes the negotiations would "bring closure" to victims in Northern Ireland.
Echoing what many other speakers said during the conference, Adams criticised cuts made by the Tories.
Sinn Féin will continue to oppose austerity – north and south. Those who argue that power should be handed back to London need to get real that would be the road to disaster.
Adams said that politics on both sides of the border is "in a state of flux", noting: "We need a conversation about the future."
https://vine.co/v/OEJv5brld0E
Follow @orlaryan and @TJ_Politics for updates  from the Sinn Féin Ard Fheis in Derry this weekend.
Originally published: 20.30