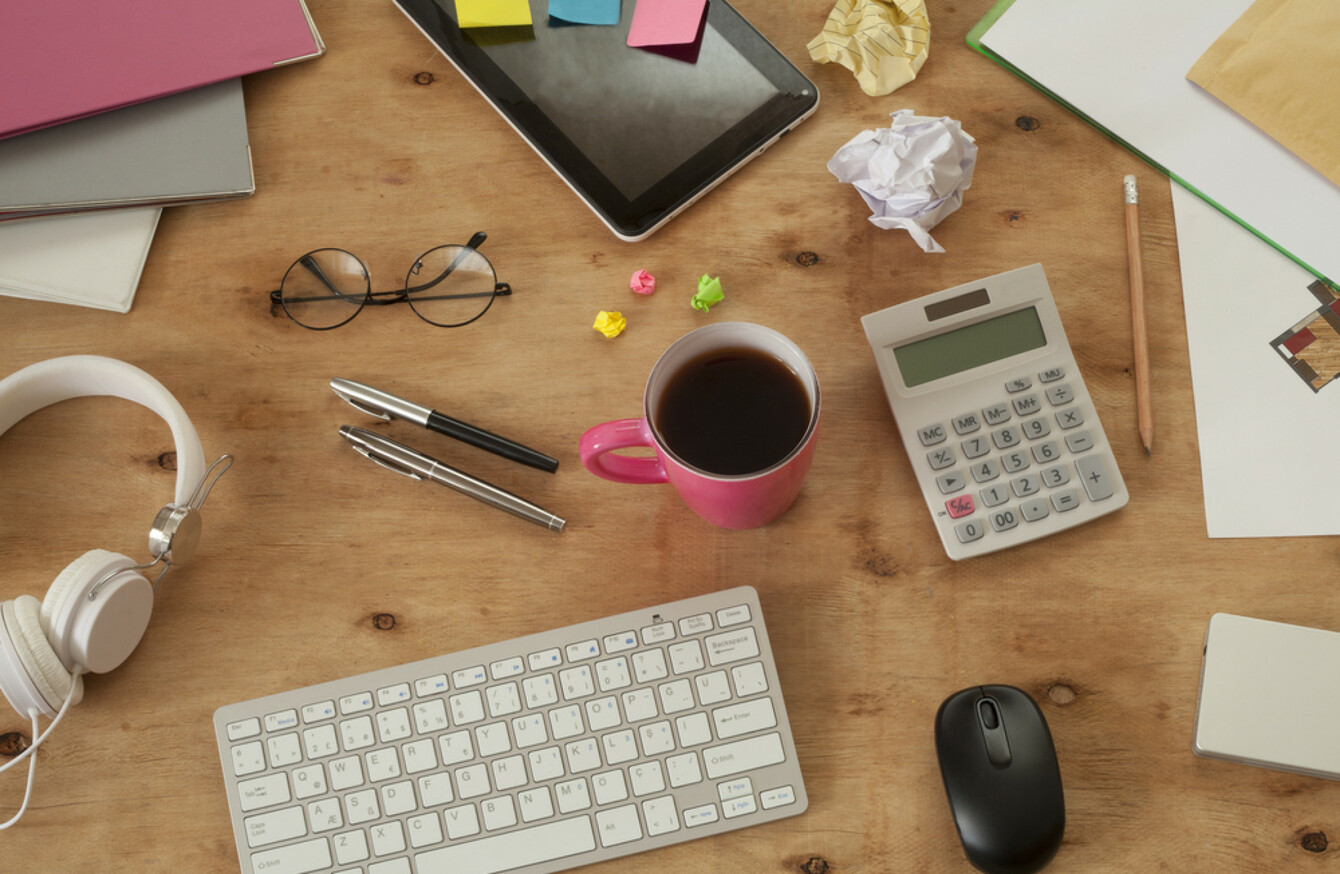 Image: Shutterstock/izzet ugutmen
Image: Shutterstock/izzet ugutmen
IT'S A NEW year, and you may be hoping it's time for a whole new you.
But if you really need to get yourself together, how and where can you start?
Here's our mini guide to getting your stuff together.
Start a diary – or a Bullet Journal
"Buy a diary and use it. Make it a habit to put entries in and to check it every morning. This seems obvious to diary users but I only became an avid one for personal use after forgetting too many things." – Sinéad
If you tend to write your to-do lists on scraps of paper, then do yourself a favour and buy yourself a diary. It doesn't have to be fancy, or expensive, just make it a space dedicated to writing down everything you have to do.
And when you're used to using a diary, you could even step it up a gear and start your own Bullet Journal. Here's our guide to that.
"Keeping a planner and a to-do list are the two basic tools you'll need," says Laura, who runs the site HowToGYST.com. "Knowing where you need to be and when, and what you should be doing, is half the battle. They don't have to be fancy – a cheap diary or even your phone will work. It's also a great idea to plan your days the night before. Nothing too detailed, but just enough so you can start the day on the right foot. I've written a list of 13 of the best ways  to get organised, and they're all super simple things that anyone can implement."
Declutter
Laura has been documenting her journey in getting her sh!t together for a number of years – and says decluttering was key.
"I was keeping so much crap! I started seriously decluttering about two years ago and, looking back now, I don't know why I was hanging onto all that stuff. I also learned that small efforts add up, and taking two minutes to do something now saves hours (and heartache) down the road," she says.
What's the first step to take when you want to get organised at home?
I'd always suggest decluttering first, and not just physical belongings but also your schedule, bad habits, negative thoughts, etc. Organised junk is still junk. Once you start letting stuff go, you'll have a lot less to keep track of. Take stock of everything you own and everything you do. It doesn't have to be done all at once, but become aware of things as you're going about your normal day.
Email
"If you need to reply to an email and you can do it simply, do it straight away. Even if you're not in work. It takes approx 5 seconds (Gmail's auto reply thing is really useful) and means that you don't get that sinking 'emails piling up' feeling, especially when you're at home. In fact you feel good for having dealt with it." – Michael
Whether you work in a busy office, at home, or are a full-time parent, you will still have to deal with emails. And sometimes, they can feel like they're taking over your life.
Another strategy that is useful – try emailing like a CEO, which sounds weird but essentially means just sending short emails and not dilly-dallying on your reply. That way, emails won't hang over you the whole day. Or week. Or month.
Use your calendar 
"I rely heavily on my iCal. I put all outside-of-work happenings in that, plus birthdays, reminders to phone people etc. On Sunday I have a quick look through the week ahead and see what's what." – Paula
Former journalist Jill Farmer, who wrote There's Not Enough Time… And Other Lies, backs this tip from one of our team members up. She says that instead of putting everything on your to-do list, like 'go to the gym', or 'ring Mum', simply schedule it into your calendar.
Not everything can be scheduled, but those that can just don't belong on your to-do list. So you'll be able to put the time away for your task, and cut your to-do list in one fell swoop.
Eat the frog
"Do your worst task in the morning, and you always feel better for having it done so early in the day." – Hannah
Mark Twain is credited with coming up with the phrase 'eat the frog' – do the thing you're least looking forward to first in the morning. Don't procrastinate on it, and then you can give yourself a big pat on the back when it's done, creating a positive feeling for your day ahead.
Figure out what causes you to procrastinate
"One thing I've found helpful: figure out the roadblock that is the biggest obstacle to you getting things done (either because it makes you procrastinate or makes you anxious). For example, if my inbox starts to build up then it drives me crazy, so I always have it at zero at the start and end of every day. Means I have time to focus on other stuff instead of thinking about email. I think most people have something like that, which can prevent them from getting their work done." – Christine
Change starts with knowledge – so have a think about the small or big things that tend to stand in your way. Maybe it's something simple, like hating replying to emails, or not checking your diary daily, or not liking to see a build-up of emails.
What bugs you? Find it out. What can you do about it? Think about strategies and small ways to tackle it.
The small changes may add up into some big changes for you.
Set a timer
"I can get a serious amount of work done if I close down social media and set a timer. 45 minutes of focused work is worth hours of distracted dilly-dallying," says HowToGyst's Laura.
Here at TheJournal.ie, we often have a lot of stuff on the go – so some of use a tomato timer to stay organised.  You can find a digital one here - set it for 25 minutes and shut down all unnecessary sites. Do your work, then take a break when the timer goes off.
Simple tips
"Always losing your keys?" asks Laura.
Hang a hook or set out a small dish and get into the habit of dropping them there as soon as you come home. Perennially late? Set your watch 5 minutes fast, or set your alarm for 10 minutes earlier. It's all about spotting problems and then finding simple solutions.
And what about your office?
Keep your workspace clean and tidy, cut things from your to-do list that really don't need to be there (we're all guilty of taking on more than is necessary), ditch as many distractions as possible, and problem solve. It's also helpful to get at least one small task done before you go grab a coffee or get sucked into an email black hole.
Feeling overwhelmed?
"Start small," says Laura. "If resolutions aren't your thing, set yourself mini goals instead. Something like, 'In January, I'm going to open a savings account', or 'This week I'm going to go for a brisk walk'.
If you do have a bigger goal you'd like to reach, break it down into teeny tiny steps. If a healthy diet is something you're striving for, start by just eating one extra serving of veg a day, or drinking a glass of water first thing in the morning. You can always build on small successes, but it's really hard to bounce back from a big fall. Make it easy on yourself by building up some momentum.
For people who want to get organised, does Laura think the new year is a good time to start?
"It can be, especially when most people's motivation and desire to change is high. But, really, there's no need to wait. The perfect time to make a positive change is right now."