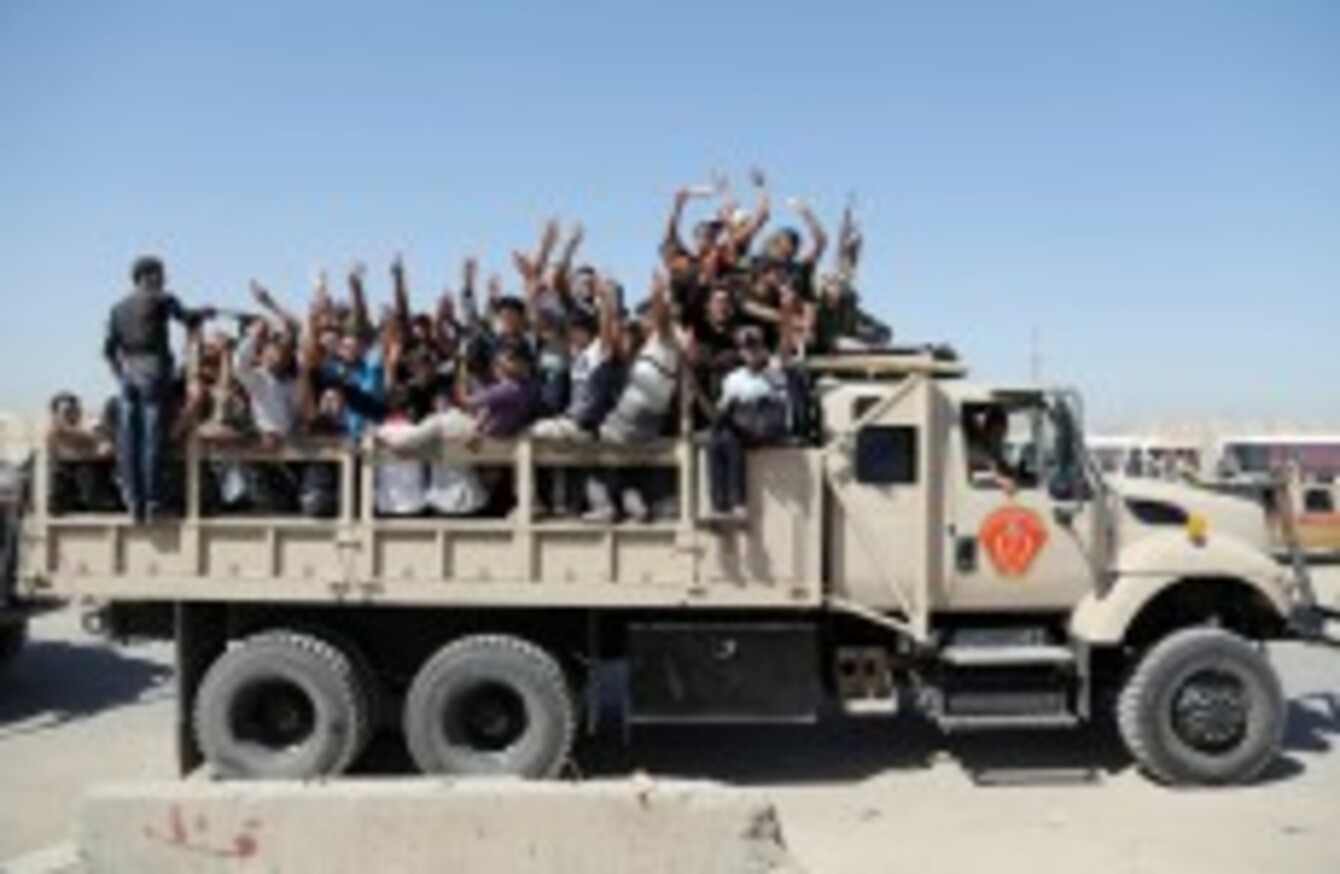 Iraqi men flash victory signs as they join the Iraqi army.
Image: AP/Press Association Images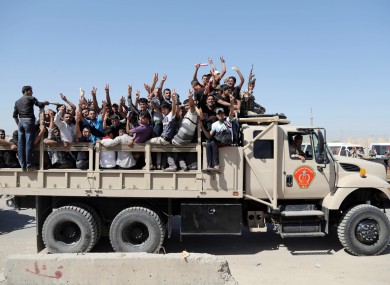 Iraqi men flash victory signs as they join the Iraqi army.
Image: AP/Press Association Images
GOAL IS DEPLOYING an emergency team to Iraq as it expresses concern that dual humanitarian crises in Iraq and Syria could lead to aid agencies being overwhelmed.
Three GOAL workers are being sent to the north-eastern Iraqi province of Erbil to work with local relief agencies as the UN estimates that 1 million people have been displaced by the advance of Muslim extremists ISIS.
GOAL says that its partners in the region estimate that over 300,000 people have crossed into the relatively stable autonomous Kurdish region with a further 250,000 people waiting to cross the border.
The three GOAL workers are being redeployed from operations elsewhere, one of whom is English and another based out of Ireland.
Chief operations officer at GOAL Jonathan Edgar says that huge numbers have fled the city of Mosul since ISIS took control, adding that the speed of their advance has made the situation more pressing.
"The level of capability of ISIS as they move towards the Baghdad is what has given people this level of concern," he said.
"One of the our biggest concerns is how this is going to affect our operations in northern Syria. Our operation there is huge and what we are seeing in Iraq suggests that it will stretch the aid community."
GOAL's first task in in Iraq will be to assess the needs of the those in camps along the border with the Kurdish region and engage with local authorities on how best to secure food and clean water in the short term.
A security consultant will be travelling with the GOAL team to Erbil in what the agency says would be considered less dangerous region by Iraqi standards.
"It's one of the safer areas for our staff to go into," said Edgar. "In advance of any decisions being made our security consultant will assess the situation."
Asked about the the announcements that the US will be sending a small number of troops to Baghdad and will consider drone strikes on ISIS fighters, Edgar said that GOAL's focus is on humanitarian issues but stressed the seriousness of the violence in Iraq at present.
The GOAL deployment comes as  ISIS fighters briefly held areas of Baquba, a short drive from Baghdad, and took control of most of Tal Afar, a Shiite-majority town in north Iraq that lies along a strategic corridor to Syria.
The overnight attack on Baquba, which was pushed back by security forces but left 44 prisoners dead at a police station, marked the closest that fighting has come to the capital as part of a lightning offensive in which jihadists have said they intend to march on Baghdad and the southern Shiite holy city of Karbala.
Additional reporting by © – AFP 2014