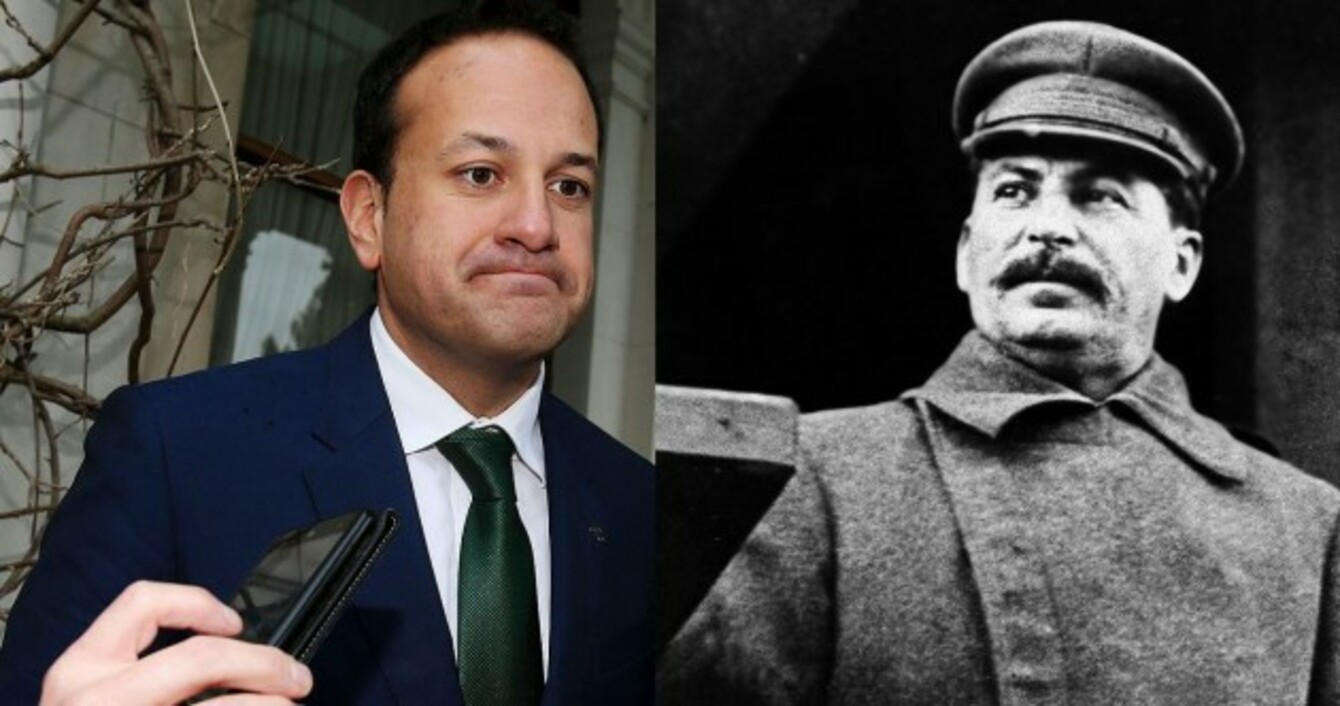 DOCTORS UNION THE National Association of General Practitioners has compared Health Minister Leo Varadkar's decision to exclude them from talks on a new GP contract to the actions of Soviet dictator Joseph Stalin.
The group, which has around 1,200 members, was responding to a statement from the Minister reported in the Sunday Business Post today.
In it, the Fine Gael minister said that while his department remained willing to engage with the union, given the NAGP's "stated position that government policy on extending GP care without fees is immoral, and their call for a boycott, it is hard to see any real basis for partnership at this time".
A statement from the Department of Health on Friday said an agreement had been reached with rival union the Irish Medical Organisation to start negotiations on a new GP contract next month.
"Negotiations are already at an advanced stage with the IMO on GP care without fees for the under sixes," a statement from Varadkar and Minister of State Kathleen Lynch said.
The NAGP last month called on all GPs in the country to refuse to sign any contract regarding the coalition's proposed free care scheme for under-sixes, saying doctors had an ethical and moral responsibility to prevent its introduction.
In a press release today, the GPs union said Varadkar's decision to speak only with the IMO on a GP contract was "tantamount to Stalinism".
A quote from CEO of the NAGP Chris Goodey said:
Obviously we no longer live in a democratic society. In the Stalinist-style state we now live in, if you question Government policy, your views are silenced by any means possible.
(In case your history is a little rusty, Stalin purged the Communist Party of 'enemies of the people' during the Great Terror of the 1930s resulting in the executions of thousands, and exiling millions to gulags. It's estimated his actions resulted in the deaths of some 20 million people in this period alone.)
"The NAGP represents 1,200 GPs yet we have been consistently excluded from all Department of Health and HSE negotiations," the statement from Goodey continued.
"The Minister has come up with one sham reason after another to justify this discrimination against our members.
Today he has finally admitted that the real reason we are being excluded is that we have refused to be bullied into accepted a policy that is driven by political need rather than the common good.
The press statement also included a comment from NAGP Secretary Keith Swanick, who asked whether the Good Friday Agreement would have been successful "if any party had been excluded".
"Full inclusion and participation of all stakeholders is essential to the success of any negotiation process," Shanwick said.