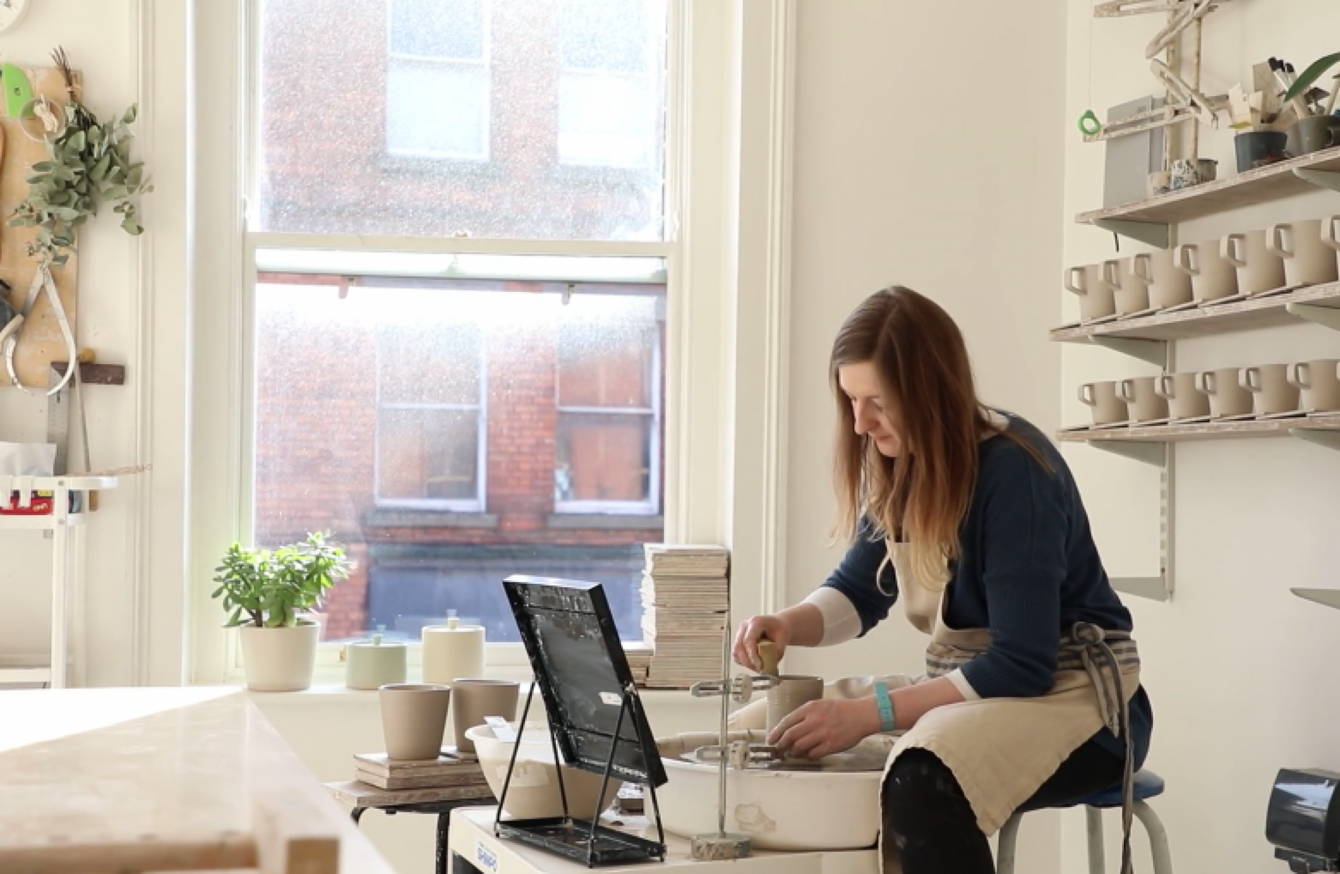 Marta Ozog, Head Potter at Arran Street East.
Image: Arran Street East
Marta Ozog, Head Potter at Arran Street East.
Image: Arran Street East
ARRAN STREET EAST, an independent pottery studio tucked away on a side street close to Smithfield Square, is known for its beautifully crafted ceramic tableware and interiors.
But over the last few months, staff at the studio have been working behind the scenes on another important element of the business: its sustainability practices.
Eco-consciousness has always been at the heart of how the company operates, but when the Climate Action Bill was introduced by the government in March this year, Arran Street East's business manager Dobrawa Brach-Kaluzna knew she wanted to take the company's level of eco-sustainability even further. 
It was good timing, then, when she heard about the Local Enterprise Office's new Green for Micro programme. 
"Customers are so aware of sustainability and the climate crisis. The businesses that are not following up on those issues are only missing out, I think… All companies, regardless of their size, have to play a part. It was a no brainer for me to apply.
Beginning the education
For newer or smaller companies, it can be difficult to find time to take a step back and consider bigger-picture topics like sustainable ways of working. That's where the Green for Micro programme can help, says Padraic McElwee, Chair of the Network of Local Enterprise Offices.
"The overall aim is to start educating micro enterprises into developing sustainable practices and improving their efficiency. We put in a consultant that will engage with the business, assess how it works and build understanding."
From there, business owners can begin to identify and make changes in a range of areas, from the type of packaging they choose for orders to the energy sources they use for lighting and heating.
After applying for the programme, Dobrawa and the four other members of the team at Arran Street East were assigned a mentor by the Local Enterprise Office in Dublin city. They were paired up with Paul Murphy from Climeaction, who set about creating a sustainability audit and action plan to "green" the business. 
Making a plan
Although the company had already implemented a number of sustainability practices, like recycling clay or firing kilns only when necessary, the mentoring offered a chance to bring those practices to the next level:
"Even though he had never worked with a pottery studio like ours before, Paul really took the time to understand what we do," says Dobrawa. "He was able to look at our company and suggest ways that we could start saving money, and more importantly, how we could best contribute to that lower carbon economy."  
I think that's a big benefit of being part of the programme – you are paired with someone who is thinking outside the box, bringing different experience and looking at solutions and opportunities that you might not see yourself because you've been doing things the same way for years.
Together with the team, Paul created a report with 20 actions that could be carried out to improve the company's sustainability. 
Looking to the future
Being a small business, time is often in short supply for the team at Arran Street East – but Dobrawa says she knows the hours spent doing the programme will have positive effects long into the future.
"It was quite intense for me because I had to sit down and look at our energy usage, the packaging we used and other information, and put all the data together, but it was 100% worth doing because now we have an action plan.
One of the key points on the plan was a switch to a renewable energy provider – something the company is currently implementing – and a more improved management of energy use overall.
In a small business like ours, there are just so many things you have to do on a daily basis. But having an energy management system, something that we haven't had before, has allowed us to measure, compare and take action.
After completing the programme, Arran Street East has seen a CO2 emission savings reduction of 31.8%. 
"For small businesses, the money and the bottom line is important," says Dobrawa. But I think there is a bigger picture that we all need to look at.
"Our customers are very sustainable, and acknowledging that we as a business are on the same journey with them is very important. It's not only the customers, it's the team. We're all in it together. There is no planet B, so we really have to act together."
Are you a small or micro business owner who wants to cut costs and improve resource efficiency? Apply for the free Green for Micro programme through the Local Enterprise Office website here.