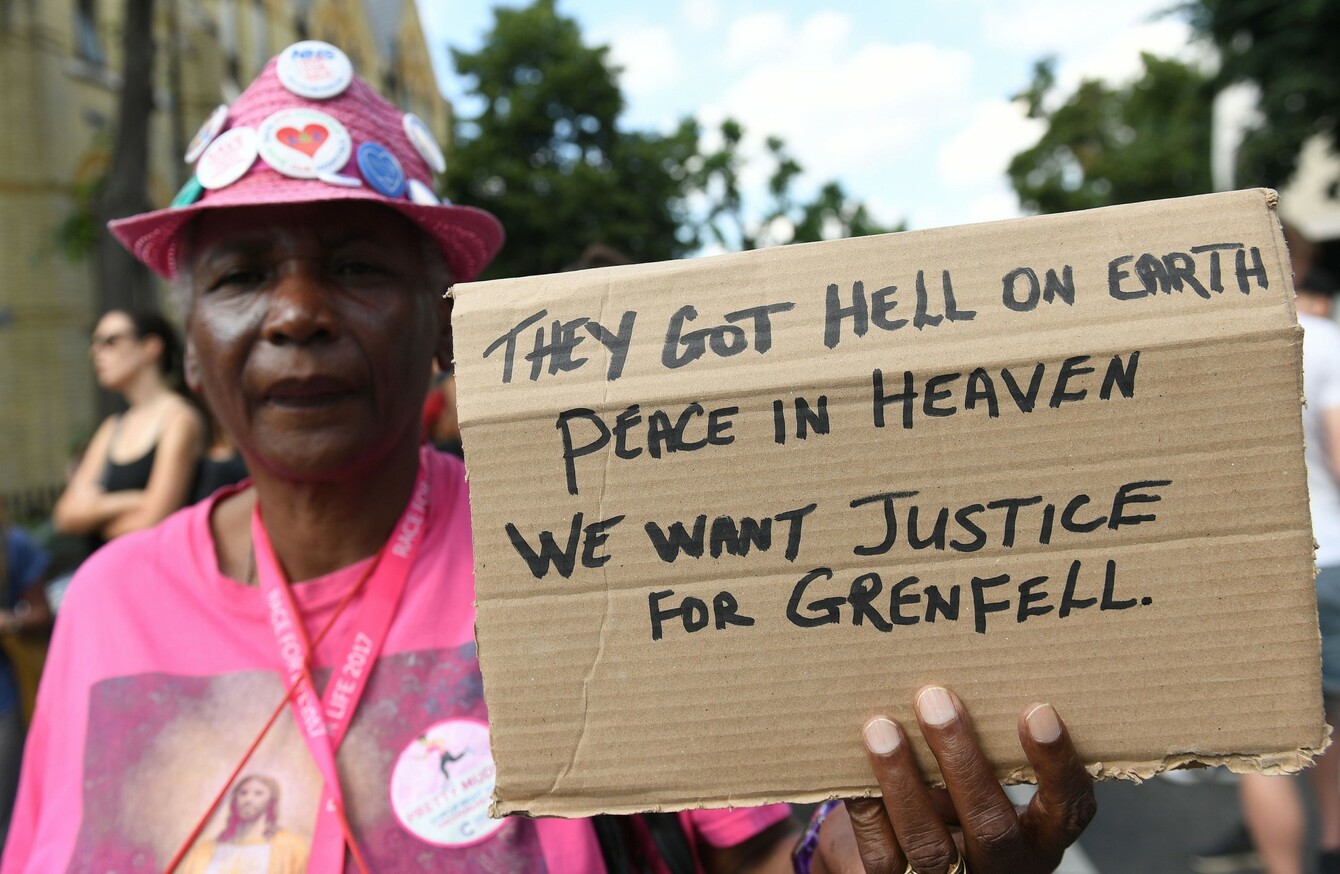 Image: PA Wire/PA Images
Image: PA Wire/PA Images
THE CLADDING AROUND the Grenfell Tower which is being blamed for spreading the fire is already illegal in the UK, the Chancellor of the Exchequer Philip Hammond has claimed.
Speaking on the Andrew Marr show on BBC One this morning, Hammond said that it is his belief that the cladding, which was wrapped around the tower block to improve its appearance, was banned.
There are questions about why the block was not fitted with sprinklers or a central smoke alarm, as well as whether the recent refurbishment, including the use of cladding that was blamed for worsening previous building fires in France, the United Arab Emirates and Australia, helped fuel the flames.
Hammond said: "My understanding the cladding in question, this flammable cladding that is banned in Europe and the US, is also banned here.
So there are two separate questions. Are our regulations correct, do they permit the right kind of materials and ban the wrong kind of materials. The second question is were they correctly complied with.
"That will be a question the inquiry will look at, it will also be a question the separate criminal investigation will be looking at."
"But my understanding is that the best expert advice is that retro-fitting sprinklers may not always be the best technical way of ensuring fire safety in a building."
But public anger has been swelling, with furious residents heckling May and storming the local authority headquarters on Friday.
They demanded justice for the victims and claimed Wednesday's fatal blaze was due to negligence, with many citing the new cladding put on the 1974 concrete tower.
"It was a death trap, and they knew it," one person shouted as demonstrators surged inside the offices of the Kensington and Chelsea council, responsible for managing the social housing block in a working-class enclave of one of Britain's richest districts.
Police said on Saturday that their investigation would look at the building and its 2016 refurbishment, and vowed to bring prosecutions "if there is evidence".
"There are 58 people who we have been told were in Grenfell Tower on the night that are missing and therefore, sadly, I have to assume that they are dead," police commander Stuart Cundy told reporters at the scene.