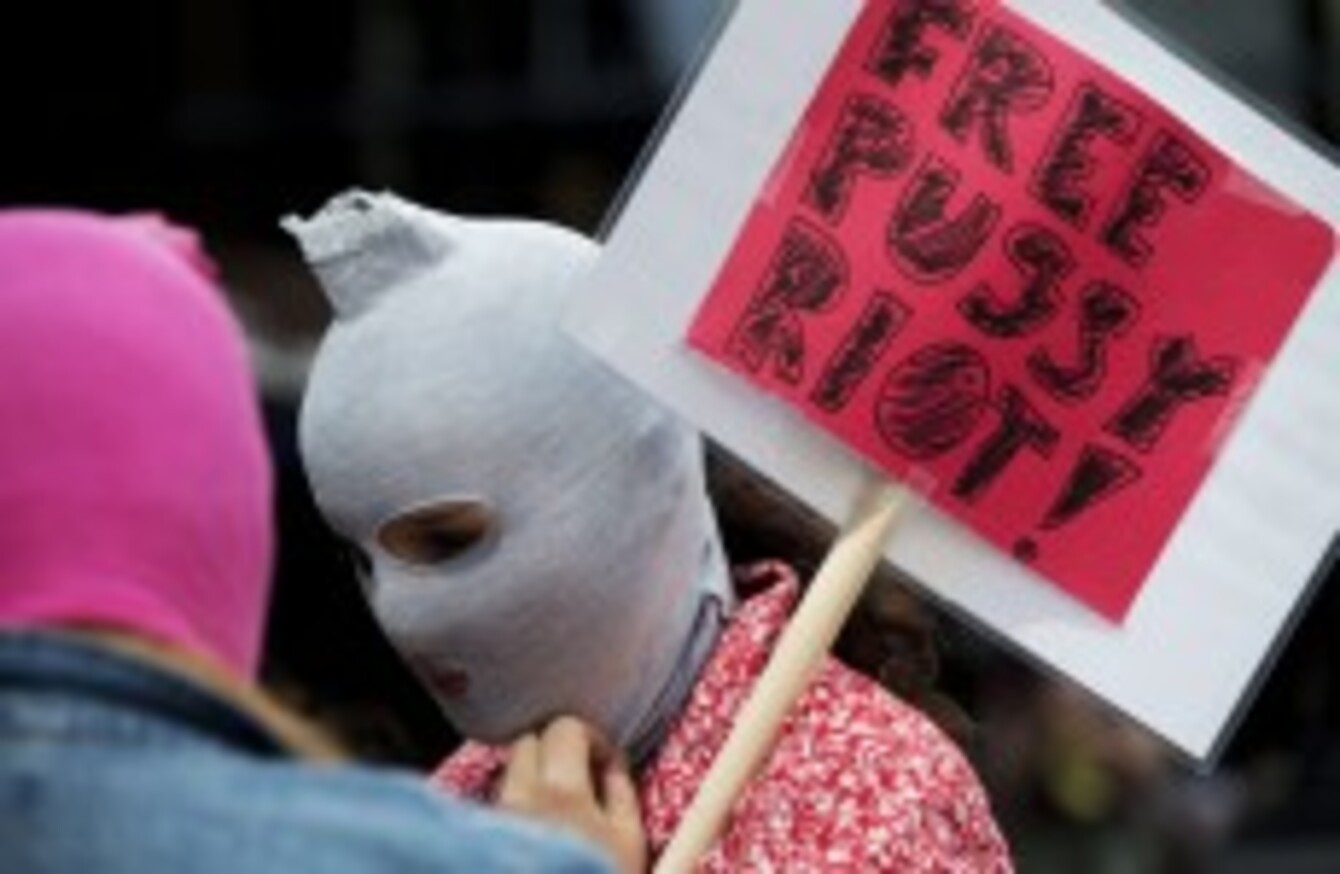 A supporter of the Russian female punk band "Pussy Riot" sports a mask during a protest outside the Russian consulate in Toronto on Friday, Aug. 17, 2012
Image: Michelle Siu/The Canadian Press/Press Association Images
A supporter of the Russian female punk band "Pussy Riot" sports a mask during a protest outside the Russian consulate in Toronto on Friday, Aug. 17, 2012
Image: Michelle Siu/The Canadian Press/Press Association Images
THE WEBSITE OF the Russian court that sentenced three members of the band Pussy Riot to jail has been attacked by hackers posting anti-Putin messages.
The Khamovnichesky District Court's website was targeted by a group associating themselves with the international "hacktivist" movement Anonymous, reports the BBC.
In a message posted on the website, the hackers said the following in Russian:
We are American group Anonymous. We don't forget and we don't forgive. Justice system has to be transparent. Pussy [Riot's members] are alive.
The names of tabs on the website were replaced with titles like 'Free Pussy Riot' and 'Only an Open Trial Can BeFair', reports the Wall Street Jourla.
A spokesman for the court said the attack was noticed early this morning and the website was subsequently taken offline for a short while.
The hackers also uploaded a new song released by Pussy Riot, called Putin Lights Up the Fires, as well as a video called "Hate" by gay Bulgarian singer Aziz.
Three members of Pussy Riot, Maria Alyokhina, Nadezhda Tolokonnikova and Yekaterina Samutsevich, were jailed for two years last Friday after being found guilty of hooliganism motivated by religious hatred.
Jude Marina Syrova said that the women had grossly violated public order and "deeply insulted the faith of the believers with their disrespectful criminal act" when they took over a church pulpit in Moscow's Christ the Savior cathedral to stage an anti-Putin protest.
During the demonstration, which lasted under a minute, the group performed a song and appealed to the Virgin Mary to "drive Putin away".
The women's sentencing has been roundly criticised by the international community.

Uploaded by 
incGumb