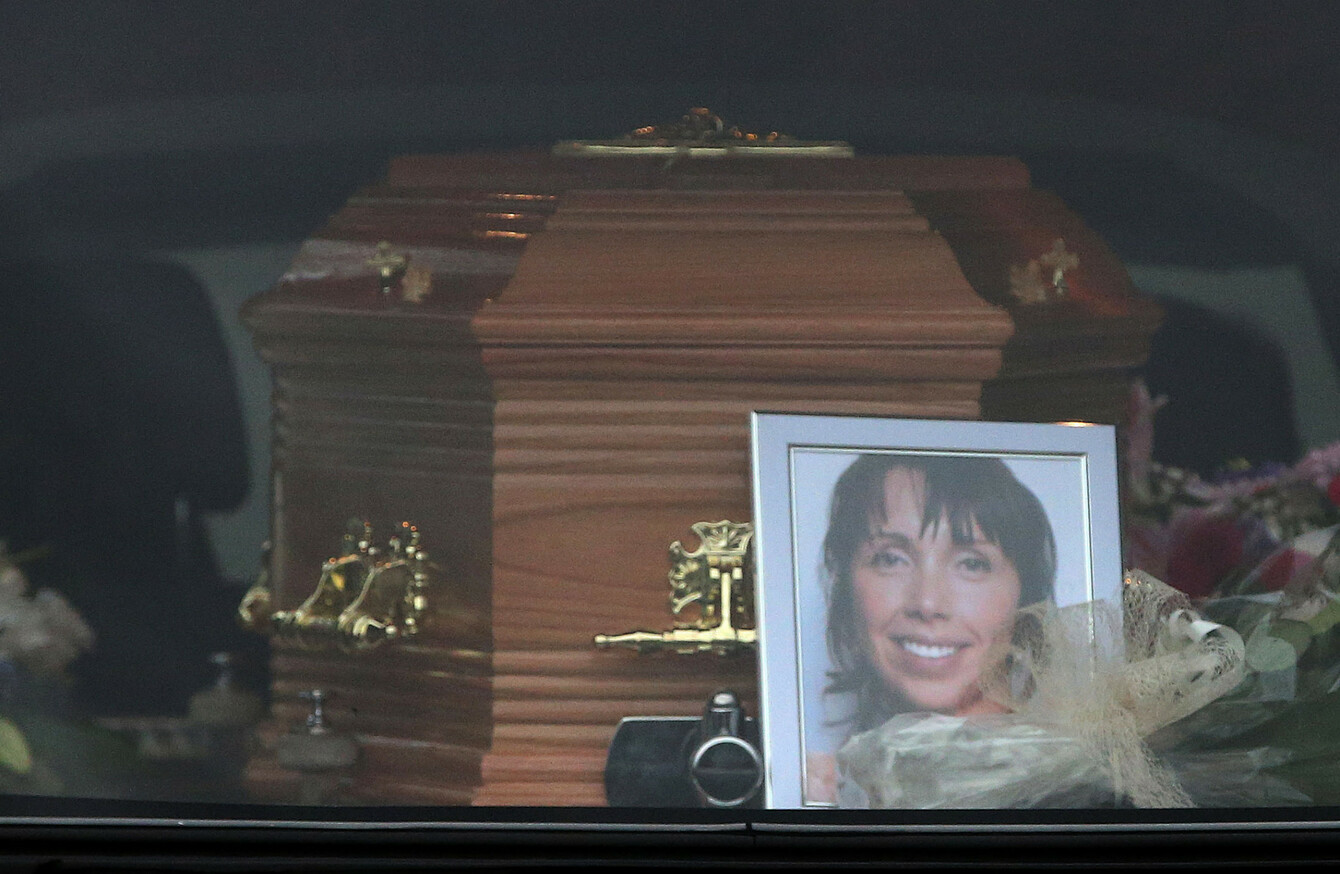 The hearse carrying the coffin of Clodagh Hawe arrives at Saint Mary's Church in Castlerahan, Co Cavan.
Image: Brian Lawless
The hearse carrying the coffin of Clodagh Hawe arrives at Saint Mary's Church in Castlerahan, Co Cavan.
Image: Brian Lawless
Warning: Some of the following details will be distressing to readers
CLODAGH HAWE AND her three sons were 'unlawfully killed', the inquest into their deaths has found. A verdict of suicide was returned for Alan Hawe.
This afternoon at Cavan courthouse the inquests into the deaths of Alan Hawe (40), who took his own life after killing his wife, Clodagh (39), Liam (13) , Niall (11) and Ryan (6) at their home at Oakdene, Barcony, Ballyjamesduff on August 28, 2016, were concluded.
A jury recorded death by suicide for Alan Hawe and that of unlawful killing in regard of his wife and three children.
Psychiatrist's report
In the morning, Cavan Coroner's Court heard from psychiatry Professor Harry Kennedy who compiled a report on the deaths for coroner Dr Mary Flanagan.
Professor Kennedy said that he was limited in his report because he was relying on notes from Alan Hawe's GP and counsellor and his suicide note, but that these were after the fact and that he had never met Alan Hawe.
Kennedy said that since 2008 Alan Hawe had suffered with "somatic [physical] anxieties without basis in reality" that "developed into severe and pervasive preoccupations" with his physical condition.
He suffered "ruminations" and "scruples" and "guilty feelings blown out of all proportion that indicate a major depressive illness".
Alan Hawe had told his GP, Paula McKevitt, that he had felt run down, that he had difficulty sleeping and that he presented to her with a toenail problem which he said he treated with Domestos bleach.
Kennedy said Alan Hawe told his counsellor that he was troubled but the professor noted that there was no history of alcohol or substance misuse.
His GP said she had only ever treated him for physical ailments in the five years that Alan Hawe was registered with her.
"It is much more likely than not that at the time Mr Hawe had a long-standing depressive illness," said Kennedy, and that he suffered "with anxiety and somatic issues", resulting in a "severe depressive episode with psychotic symptoms".
Counsllor
Earlier in the hearing, the court heard from David McConnell, a counsellor, who Alan Hawe attended over 10 sessions from March to June, 2016.
A confidentiality contract between the two was signed and Hawe was told that if any matters breached the agreement – risk of harm to himself or others – that McConnell was duty-bound to inform gardaí or the appropriate third party.
Alan Hawe told McConnell that he had been feeling "a little bit down in his 20s", when he was between college and working. This had been resolved once he started working.
He told his counsellor that he had attended his GP and that he had also attended a marriage counsellor.
McConnell said his client had wanted to get his "family life back to where it was", adding that he believed Alan Hawe to be a "good father and husband who placed a very high value on his family".
In their last session, on 21 June, Hawe appeared stressed but spoke "openly and emotionally'". Alan Hawe told his counsellor: "People think of me as a pillar of the community… if only they knew." He then "wept", at which point McConnell said the two felt a connection.
McConnell said Mr Hawe had a 'fear of shame and of being less than perfect'.
During the 10 sessions, there were no reasons to break confidentiality and Alan Hawe stopped seeing the counsellor after the last session of 21 June 2016.
His GP, Dr McKevitt, said Alan Hawe and his three children were all registered at her Oldcastle practice but that none had psychiatric history, nor repeat prescriptions.
On the same afternoon of his last counselling session, Hawe presented to her with a "toenail abnormality", for which he was prescribed daily medication.
Hawe had in the past attended Dr McKevitt for being run-down and for mouth ulcers.
He had told Dr McKevitt that he treated his toenail problem by cleaning his feet with bleach, specifically Domestos, but she could find no damage to corroborate that.
She was told by Alan Hawe that his sleep problem was down to conflict with a colleague at work and that he felt 'isolated' in that regard but that he was not looking for a sick cert from her.
She said he was in preparation for the end of the school year and looking forward to a holiday in Italy. She prescribed him 10 sleeping pills to "catch up" on his sleep, which was being interrupted by "short-term insomnia". She also advised him to avoid further conflict at work and to come back to her if there was no improvement.
She said he seemed "clear, coherent, with no agitation, focused and was of normal behaviour".
She said there was no mention of "despair or hopelessness" in him, that the work conflict was a "great source of stress for him" and that he appeared positive towards going on holiday.
However, Dr McKevitt said she was unaware that Alan Hawe was also seeing a counsellor and saw one on that day.
Professor Kennedy said that Alan Hawe had developed an 'odd preoccupation' with somatic, or physical ailments and that in this regard his GP was at a disadvantage that she did not know that his counsellor thought him to be "troubled".
He said the "somatic anxieties" were "unfounded" and that it could have developed into an "insidious depressive illness".
Psychotic symptoms
Professor Kennedy said that he had notes from the counsellor, the GP and the suicide notes and in that regard he had an "unfair advantage" in his hindsight as the GP was not aware of the counselling.
He described psychotic symptoms as having the characteristics of a "feeling of catastrophe from which there was no recovery" but that the feeling was a sort of delusion and "out of the context of reality".
#Open journalism No news is bad news Support The Journal

Your contributions will help us continue to deliver the stories that are important to you

Support us now
At this point, Mary Coll, Clodagh's mother and grandmother to the boys asked if the professor ever considered interviewing the families of the people who were murdered or the family of the murderer.
Professor Kennedy said that he was constrained in his role in the inquest.
Mary Coll said:
Did you consider interviewing them, seeing as you never met Alan Hawe, Clodagh or his family? I knew him for 20 years. I didn't know him… but I knew him.
At midday, the coroner Dr Mary Flanagan reviewed her notes and what she considered appropriate verdicts.
In the killing of Clodagh, Liam, Brian and Ryan Hawe she considered unlawful killing to be appropriate verdicts. In the case of Alan Hawe she thought suicide the appropriate verdict.
At 12.35pm, the jury returned verdicts of unlawful killing, due to head and neck injuries caused by a knife and an axe to Clodagh Hawe.
In the case of Niall and Liam, unlawful killing was recorded and the cause of death was stab wounds to their necks.
In the case of Ryan, unlawful killing was also recorded with cause of death judged to be a deep incision to his neck.
Alan Hawe's cause of death was listed as hanging causing suicide.
All deaths were recorded as happening on 29 August, 2016, at the family home at Oakdene Downs, Barcony, Ballyjamesduff, Co Cavan.
Gardaí, the coroner, the legal representatives and the jury all expressed their deepest sympathies to both the Coll and Hawe families. Dr Flanagan said she offered her sympathy over a "most dreadful chain of events that occurred to this family".
There are no words to describe the upset that befell your family present here today,' she said.
"No words will reflect, or be of adequate sympathy or really condone with you. It is unimaginable what you have had to endure."
She said she had not attended an inquest before where the "chairperson of the jury was almost going to cry in delivering verdicts".
If you need to talk, contact:
Samaritans: 116 123 or text 087 2609090
Aware: 1800 80 48 48 (for depression and anxiety)
Pieta House: 1800 247 247 or email mary@pieta.ie (for suicide and self-harm)
Teen-Line Ireland: 1800 833 634 (for ages 13 to 19)
Childline: 1800 66 66 66 (for under 18s)
Domestic violence support: Safe Ireland
You can contact Women's Aid on 1800 341 900.