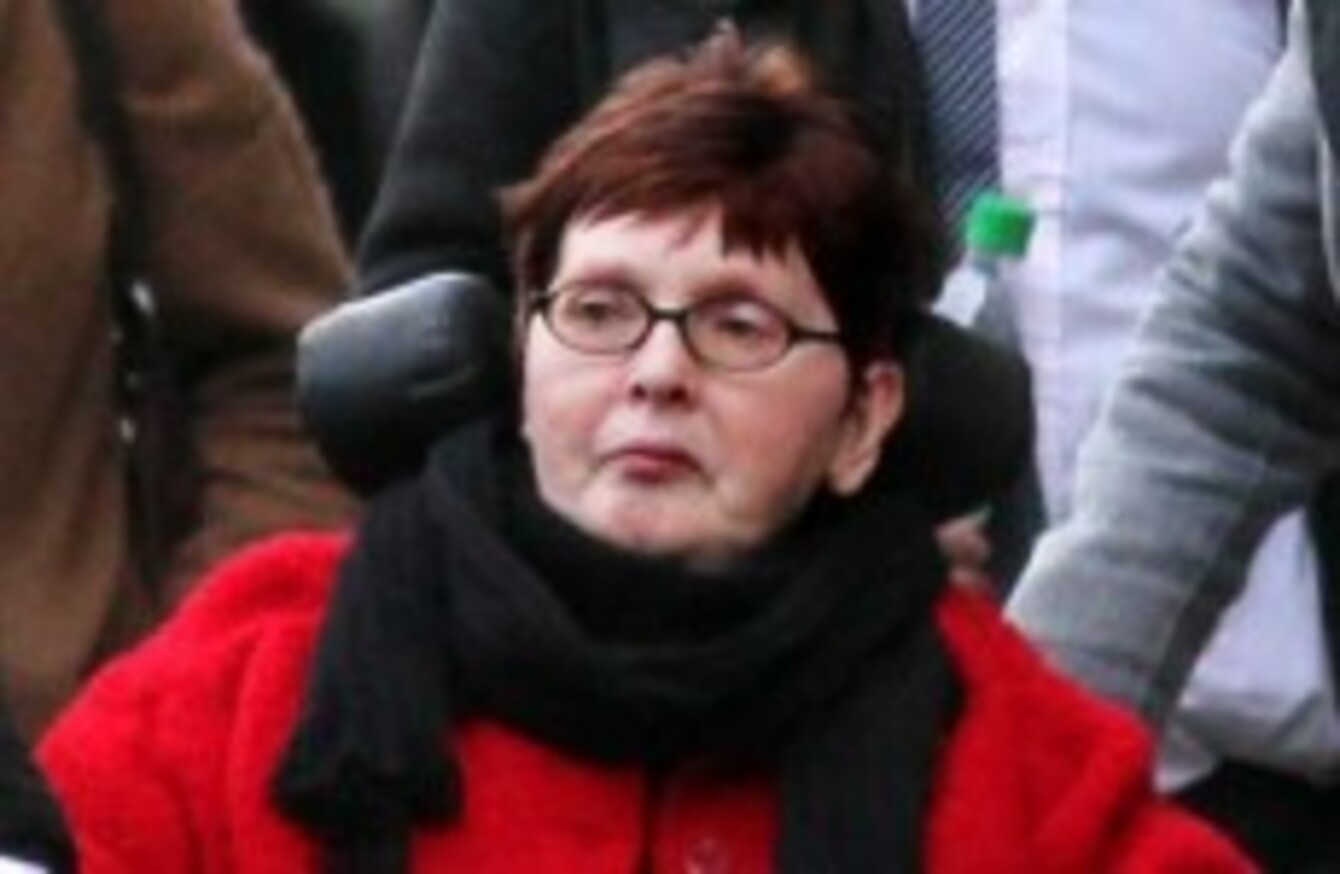 Image: PA Wire
Image: PA Wire
A MULTIPLE SCLEROSIS sufferer has failed in her court efforts to have a legal clause, which would forbid her husband for assisting her in ending her own life, declared unconstitutional.
The High Court has refused an application from MS sufferer Marie Fleming seeking a declaration that sections of laws from 1993 – which decriminalise suicide, but makes it a criminal offence to assist one – was in breach of both the Constitution and the European Convention on Human Rights.
She also failed in her request to have the Director of Public Prosecutions issue public guidelines outlining the factors that would be taken into account when it was deciding whether to prosecute people under the 1993 laws.
Justice Nicholas Kearns, the president of the High Court, ruled that there was "a profound difference between the law permitting an adult to take their own life on the one hand and sanctioning another to assist that person to that end on the other."
It added that the DPP did not have the legal discretion to decide when a criminal offence could be ignored, as this would amount to rewriting laws in breach of Article 15.2 of the Constitution.
It further found that the European Convention allowed states to "maintain a complete prohibition on assisted suicide".
A court-issued summary noted that if the court could "tailor-make a solution which would suit the needs of Ms Fleming alone without any possible implications for third parties or society at large, there might be a good deal to be said" for her claim of a constitutional right to die.
"But this Court cannot be so satisfied," it said.
Likely to choke on her own saliva
Fleming, 59, from Wicklow, was diagnosed with multiple sclerosis 27 years ago and had told the court she was being forced to live in pain and indignity because she was unable to end her life by herself.
The former UCD lecturer told the court that her husband Tom had agreed to assist her in ending her life, but would not do so if he was acting illegally in doing so.
"Tom has promised to help me, only if it's lawful. Otherwise, I will die a horrible death which could take months or even a year," she told the court during a six-day hearing in December.
She argued that she was ultimately likely to die by choking on her own saliva if her condition was permitted to deteriorate further in the case that she was not assisted in her request to end her own life.
The State had opposed Fleming's application on the grounds that the Constitution did not impart a right to die.
Fleming was awarded her costs.
The Criminal Law (Suicide Act) 1993, which decriminalised suicide, makes it a criminal offence to assist someone in ending their life, with jail terms of up to 14 years for offenders.
This clause is on the premise that the clause avoids the possibility of having a vulnerable person's life ended without their full consent.