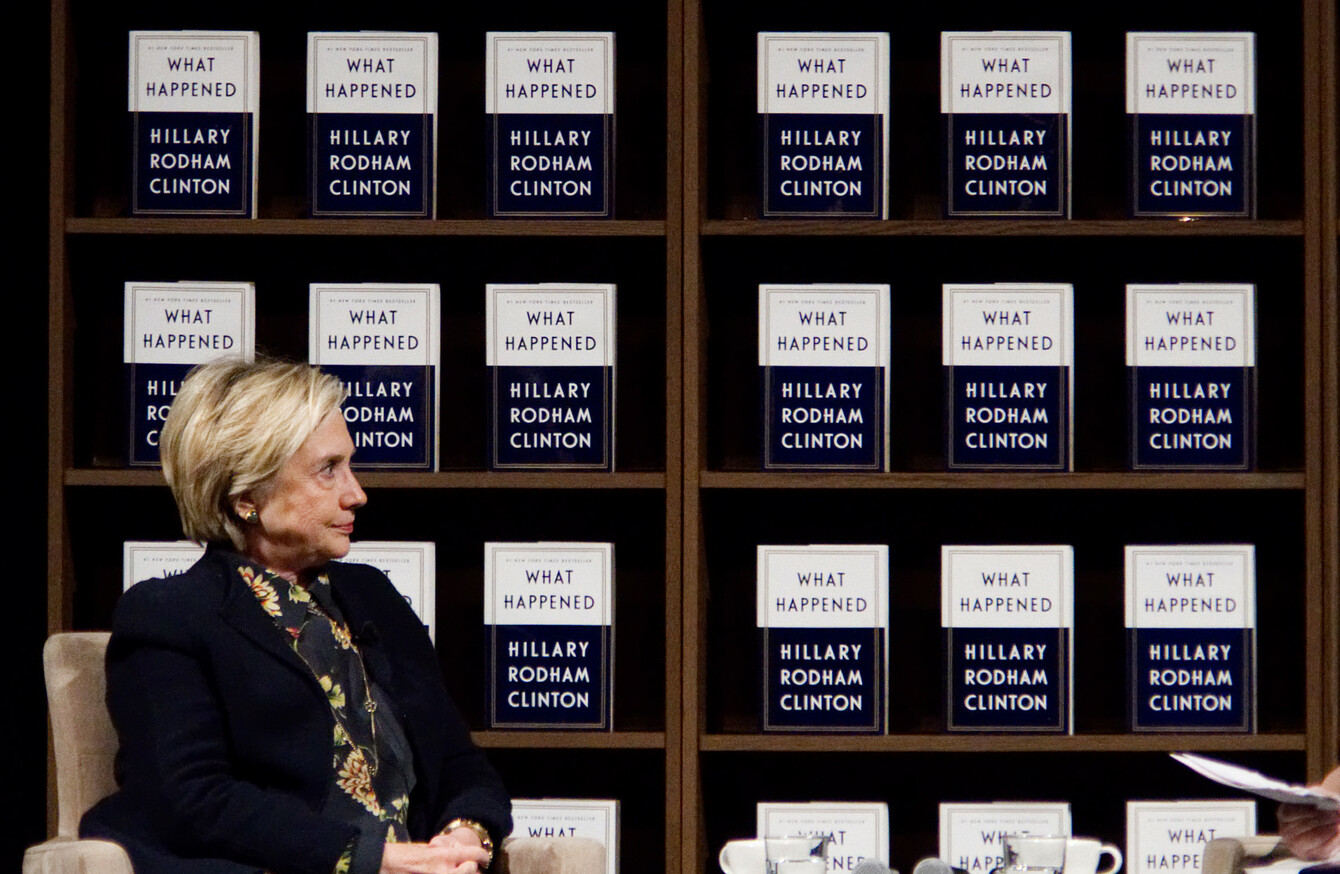 Image: SIPA USA/PA Images
Image: SIPA USA/PA Images
HILLARY CLINTON ADDRESSES reports that she chose to keep a top adviser who'd been accused of sexually harassing a younger colleague repeatedly on her campaign team in a lengthy Facebook post last night.
The explanation was posted minutes before Donald Trump's State of the Union address. It does not contain an explicit apology.
Burns Strider was a senior Clinton adviser during her 2008 presidential campaign, and was docked several weeks pay over the alleged harassment.
Clinton's then-campaign manager is said to have urged her to fire Strider, but he kept his job while the woman he allegedly harassed was moved to a new position.
In the Facebook post, Clinton says that she has supported and empowered women in her work.
"I started in my twenties, and four decades later I'm nowhere near being done. I'm proud that it's the work I'm most associated with, and it remains what I'm most dedicated to.
"So I very much understand the question I'm being asked as to why I let an employee on my 2008 campaign keep his job despite his inappropriate workplace behaviour.
"The short answer is this: If I had it to do again, I wouldn't."
She goes on to explain the incident, saying that the woman made a complaint in 2007 which was "taken seriously" and the issue was investigated.
Despite the recommendation he be fired, Clinton says she allowed him keep his job because she "believes in second chances".
My then-campaign manager presented me with her findings. She recommended that he be fired. I asked for steps that could be taken short of termination. In the end, I decided to demote him, docking his pay; separate him from the woman; assign her to work directly for my then-deputy-campaign manager; put in place technical barriers to his emailing her; and require that he seek counseling. He would also be warned that any subsequent harassment of any kind toward anyone would result in immediate termination.
I did this because I didn't think firing him was the best solution to the problem. He needed to be punished, change his behaviour, and understand why his actions were wrong. The young woman needed to be able to thrive and feel safe. I thought both could happen without him losing his job. I believed the punishment was severe and the message to him unambiguous."
Clinton says that while she believes in second chances, Strider "squandered" his, being fired from another job for inappropriate behaviour.
Woman involved
The defeated Presidential candidate goes on to say that she had contacted the woman involved after last week's New York Times report.
She says the woman "expressed appreciation that she worked on a campaign where she knew she could come forward without fear".
"The fact that the woman involved felt heard and supported reinforced my belief that the process worked – at least to a degree."
Clinton said that the changing tide in relation to sexual abuse was "long overdue" and only happened because women spoke out. The post then says that people should be willing to question their own views on the subject.
"In other words, everyone's now on their second chance, both the offenders and the decision-makers. Let's do our best to make the most of it.
I recognise that the situation on my 2008 campaign was unusual in that a woman complained to a woman who brought the issue to a woman who was the ultimate decision maker. There was no man in the chain of command. The boss was a woman. Does a woman have a responsibility to come down even harder on the perpetrator? I don't know. But I do believe that a woman boss has an extra responsibility to look out for the women who work for her, and to better understand how issues like these can affect them.
You may question why it's taken me time to speak on this at length. The answer is simple: I've been grappling with this and thinking about how best to share my thoughts. I hope that my doing so will push others to keep having this conversation – to ask and try to answer the hard questions, not just in the abstract but in the real-life contexts of our roles as men, women, bosses, employees, advocates, and public officials.
"I hope that women will continue to talk and write about their own experiences and that they will continue leading this critical debate, which, done right, will lead to a better, fairer, safer country for us all."