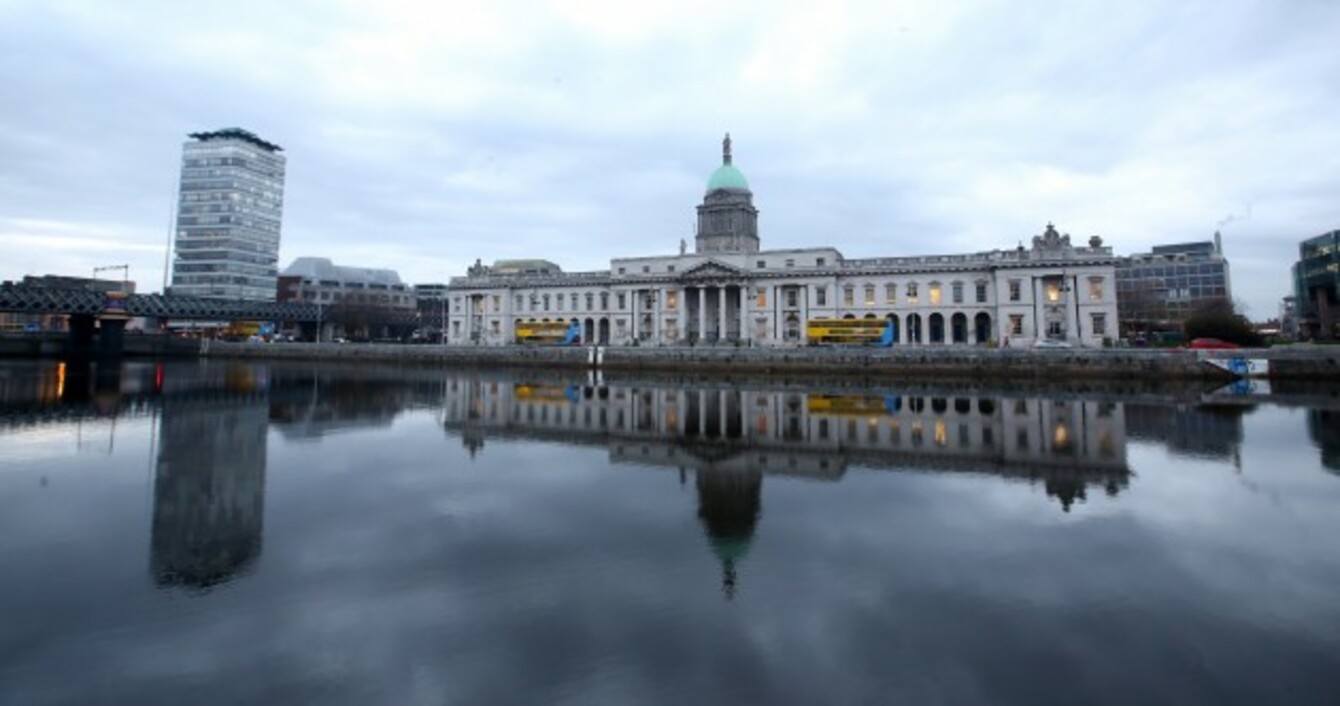 Image: RollingNews.ie
Image: RollingNews.ie
THERE'S BEEN AN increase in the number of people scaling the railings of the Custom House in Dublin to sleep in the grounds of the building overnight, according to a group chaired by former Dublin Lord Mayor Christy Burke.
The Department of the Environment, which is housed in the landmark building, has disputed the claim.
The Inner City Helping Homeless (ICHH) organisation said it had noticed the rise over the last few weeks.
Around five or six people are typically bedding down for the night in the grounds of the Department building, Elaine McCann, one of the group's founders, said.
"The last few weeks we've seen an increase. It had stopped for a while."
Following reports of people who are homeless sleeping in the archways of the landmark building last September, the Department said it was aware of the issue and was seeking a solution.
And speaking yesterday, a spokesperson said their records showed there had been no increase in levels in recent months.
He said there had been no-one sleeping in the grounds over the last number of weeks.
"There was a couple who used to sleep under the trees," he said.
Still being used
However, McCann said people were still using the building and its grounds as a base.
"We'd go out every night, starting at 11 and finishing at 2.30am or 3.
"We've talked to people sleeping there – with sleeping bags, without sleeping bags. Sometimes they have tents in there.
The issue of people bedding down at the building is nothing new she said – noting that in the depths of winter, the number is often far higher.
Undisturbed
Speaking to TheJournal.ie back in May, a man living homeless in Dublin city centre explained how people seeking a place where they'd be undisturbed for the night would scale the railings of the Custom House after nightfall.
Following a highly publicised summit on homelessness last December, Environment Minister Alan Kelly pledged that everyone sleeping rough on the streets of Dublin would be offered beds by Christmas.
The Labour minister has been under pressure to cut short his summer break in recent weeks, as the issue comes under the spotlight once again.
Recent figures showed that the number of families living homeless in the capital increased by 100% over the last year.
It also emerged last week that a family with three young children were forced to sleep in a park in Dublin city centre after being evicted by their landlord.
Described on the Department's website as one of the jewels in the city's architectural crown, the James Gandon-designed structure took ten years to build and was finished in 1791.
It was burnt to the ground in during the Irish War of Independence, with restoration work competed in the late 1920s.