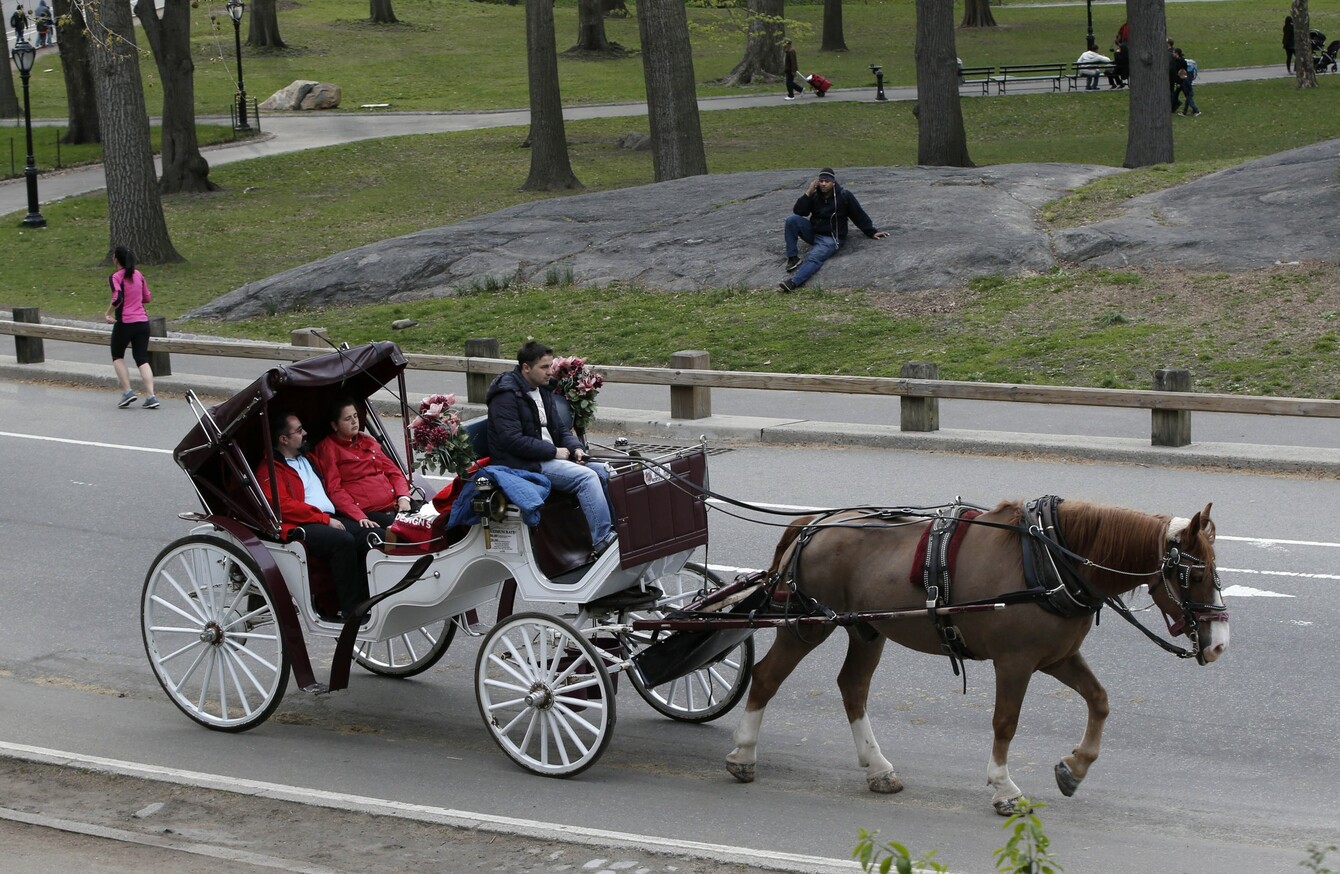 Image: AP/Press Association Images
Image: AP/Press Association Images
LEGISLATION THAT WOULD have restricted the use of horse-drawn carriages in New York City has collapsed after the union representing carriage drivers rejected the widely criticized bill.
Mayor Bill de Blasio, who had pushed the plan, said he was "disappointed" after the City Council cancelled today's vote on a bill that would have limited the use of carriages to Central Park, and cut their number by more than half.
De Blasio promised during his 2013 campaign to get rid of the century-old tourist attraction, calling the conditions for horses "inhumane."
The City Council, which never rallied behind the mayor's drive to ban horse-drawn carriages, last month backed an agreement in principle to halve the number of horses from 220 to 95 and house them in disused Central Park stables that would have cost taxpayers an estimated $20 million to renovate.
The plan would have also restricted pedicabs — seen as competition to horse-drawn carriages — from operating in the southern part of the park most popular among tourists.
The bill drew criticism from nearly all sides, from pedicab drivers to the Central Park Conservancy.
De Blasio worked hard over the past few days to keep a compromise deal together until the Teamsters union representing workers in the carriage industry announced on Thursday it was withdrawing support for the legislation.
"Our members are not convinced that it offers a viable future for their industry," George Miranda, the president of Teamsters Joint Council 16, said in a statement.
The City Council removed a vote on the bill from its calendar after it was clear the measure would not muster enough votes to pass.
The decision represents a political setback for de Blasio.
"We negotiated in good faith with the City Council and the Teamsters to reach this agreement," he said.
The terms of that agreement have not changed during these past weeks, but today the Teamsters decided to back away from the fair compromise they had previously endorsed.
The mayor promised to keep trying, however, saying "we will work toward a new path on this issue."