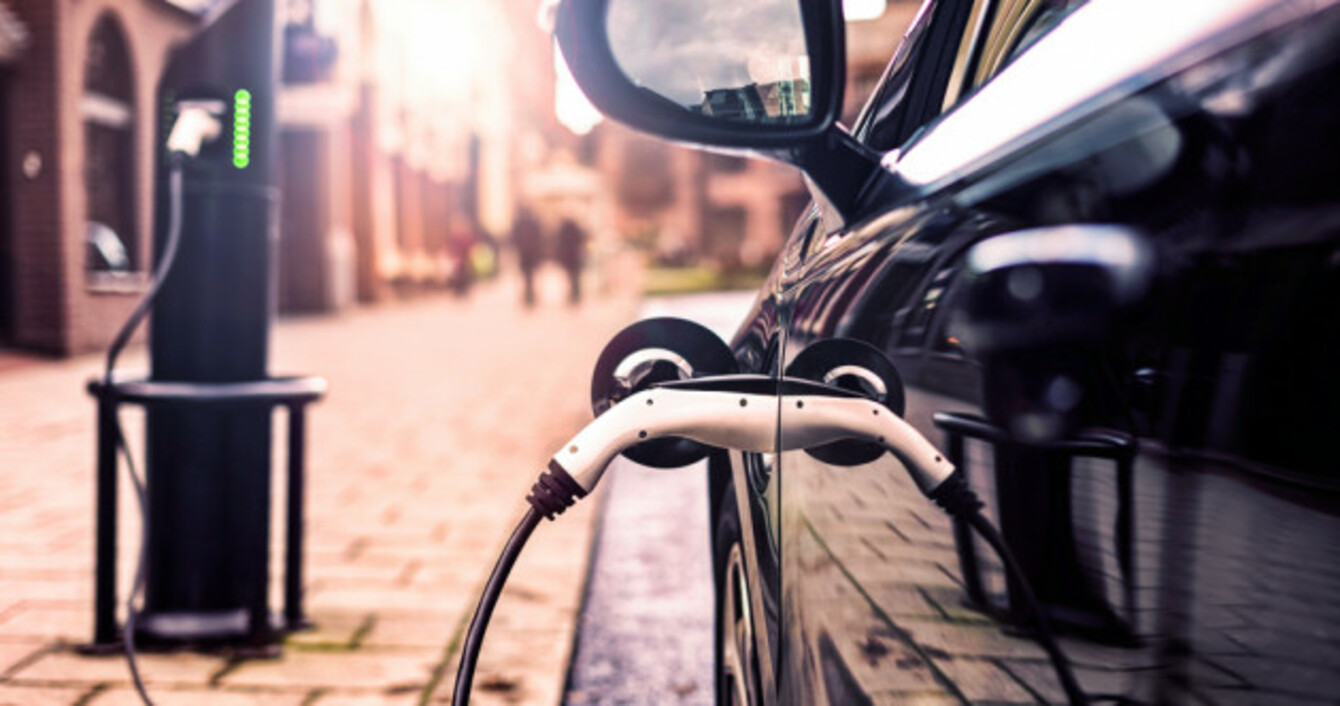 An electric vehicle charging at a public charge point.
Image: Shutterstock/nrqemi
An electric vehicle charging at a public charge point.
Image: Shutterstock/nrqemi
This article was updated on 28/08/18.
AT THE START of 2018, there were around 4,000 electric vehicles on the road in the Republic of Ireland, a figure that looks set to be well over 5,000 by year-end.
So far this year, 912 EVs have been registered here, a massive 88 per cent more than the same period last year. That's quite a powerful jump, if you'll forgive the pun.
Along with lower emissions, one of the key perks of owning an EV is the money you'll save. But how much does it actually cost to run a fuel-free motor? Let's crunch the numbers.
1. Purchase price – what will I pay on the day?
If you buy your new EV from an approved dealer (of which there are 110 across the country) you can get a grant of up to €5,000 towards the cost. For commercial vehicles the maximum grant is €3,800.
Beware though, you'll only get a grant for vehicles priced €14k or higher. Also, the lower the price, the lower the grant – the maximum €5k grant only applies to  vehicles with a price tag of €20k or more.
Let's look at the price of the best selling EV in Ireland, the Nissan Leaf. The cheapest Leaf is €28,690 which includes the €5,000 grant.
Let's compare this to another popular five-door hatchback, the Ford Focus. The most economical Ford Focus, a 120hp 1.5-litre diesel with six-speed manual gearbox, costs €26,220.
Total EV cost so far: €28,960
2. Vehicle Registration Tax
Happy days, owners of new electric vehicles registered before December 2021 are eligible for VRT relief up to €5,000. With the 14% rate of VRT applied to electric vehicles, this means EVs have a tax free value of up to €35,714. In the case of the new Nissan Leaf in this example, that means VRT is €0.
Total EV cost so far: €28,960 + €0 = €28,960
3. Motor tax
EV owners pay the lowest motor tax rate, which is €120 a year. The motor tax on the Ford Focus is €180, by comparison.
Total EV cost so far: €28,960 + €120 = €29,080
4. How much is a home charger?
In theory, you'll mainly charge your EV at home (or at work, if your workplace has the facilities to do so). There is currently a €600 SEAI grant available towards the purchase and installation of a home charger system. On carcharger.ie, the cost for a basic 16 amp charger plus installation, cabling and VAT is €1049, or €449 with the grant included.
Of course, you'll definitely need top-up charges as you go. There are currently almost 1,100 free public charge points available across the island of Ireland, including 87 fast chargers, which can give you an 80 per cent charge in around 40 minutes. Beware though, plans are afoot to introduce fees for public charging in the near future.
Total EV cost so far: €29,080 + €449 = €29,529
5. What will my electricity bill be?
According to the ESB calculator, if you travel 20,800km a year, the charging will cost you about €265 in added electricity costs.
That works out at about €22 a month, for an average motorist charging the new Nissan Leaf twice a week. Of course, if you keep all your charging to public charge points, you'll pay nothing.
Comparatively, the new Ford Focus would cost €1,068 a year, or €89 a month, for the same distance, using 791 litres of fuel at €1.35 per litre.
Total EV cost so far: €29,529 + €265 = €29,794
6. Servicing costs
There are fewer moving parts in the Leaf than in a standard petrol or diesel car – no clutch, timing belt or gearbox, no motor oil required. The 40kWh battery comes with an eight year/160,000km warranty. A full service for a Nissan Leaf should roughly cost from about €120. A petrol or diesel service will cost you €199.
However, do bear in mind that while the EV battery should be good for at least ten years, diesel and petrol cars can happily run for twice that if not more.
Total EV cost so far: €29,794 + €120 = €29,914
7. Reduced road tolls
As of July 1st, 2018, EV and plug-in hybrid drivers are eligible for reduced toll charges under the Electric Vehicle Toll Incentive included in Budget 2018. The EVTI runs until 2022 and will be applicable to the first 50,000 EVs with a toll tag – so you're in no danger of missing out just yet.
Maximum savings are capped at €500 per year for private drivers and €1,000 per year for commercial drivers. Details of saving here. So, assuming you're using the M50 twice daily on weekdays with a toll tag and paying €2.10 a pop, you'll pay €596 over the year instead of €1,096.
Total EV cost so far: €29,914 + €596 = €30,510
So, how does it all add up?
To buy and run a Leaf a year, paying €449 for a home charging system, charging the car twice a week, servicing once a year, and using the M50 twice a day, Monday to Friday during peak hours with a tag account and with the EVTI savings, will cost you €30,510.
Removing the initial purchase price of the Leaf, it costs €1,550 a year to run the car all-in.
Using the same variables, it costs about €2,539 a year to run a Ford Focus.
Please note all costings are based on the most recent available estimates and are not exact.
Want to make sure you don't miss out on anything going on in the world of motors? Like us on Facebook and follow us on Twitter for the latest updates.