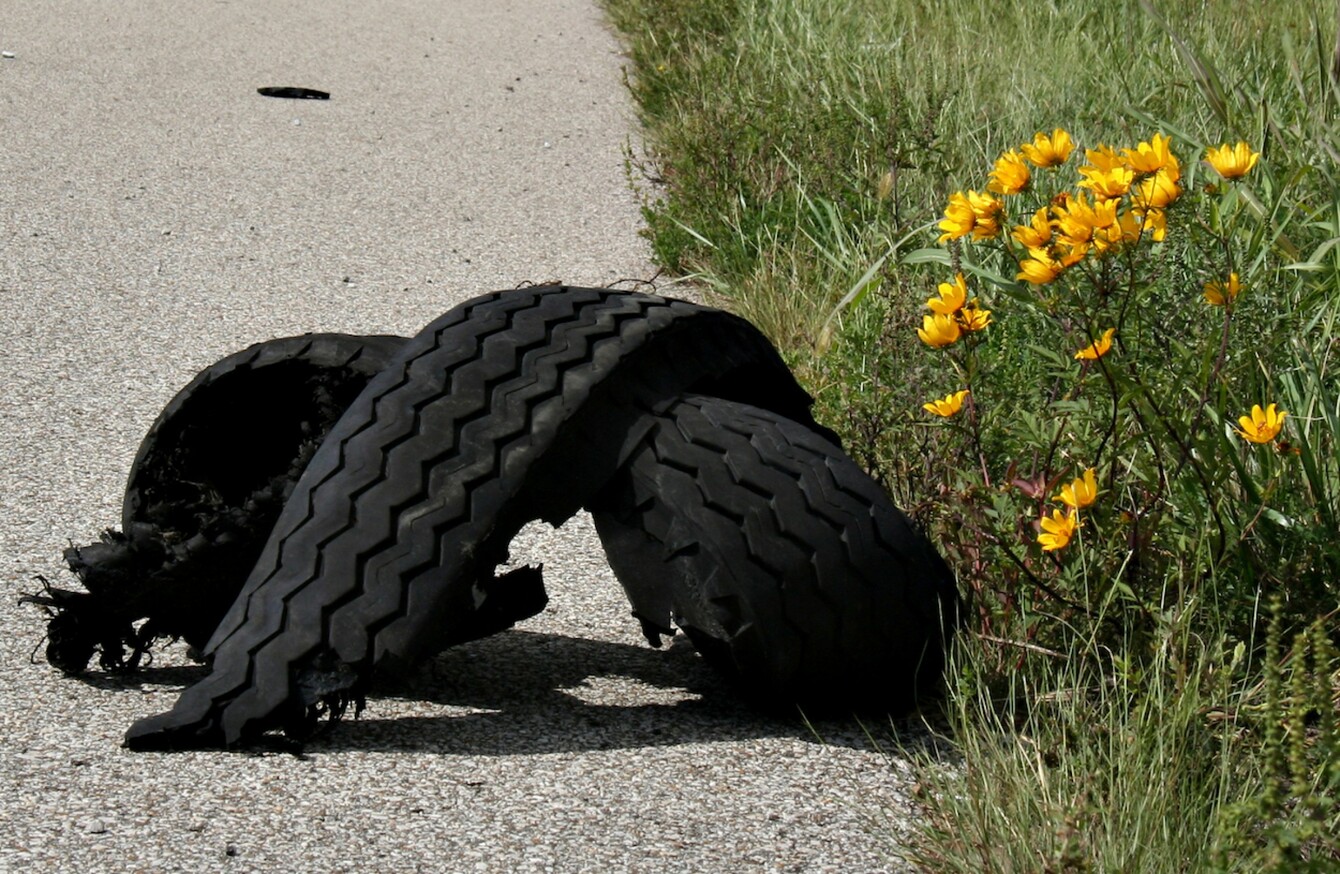 Image: deemac
Image: deemac
BLOWOUTS ARE THANKFULLY extremely rare but getting a puncture or blowout while driving can be a scary experience – especially if you have never experienced on before or if you're driving at high speed on the motorway. Knowing the correct way to respond could make the difference between survival and disaster.
When a blowout occurs, all the air is released immediately from the tyre. Causes of blowouts include under-inflation, damage sustained by striking a kerb or hitting an obstacle on the road. (Or, as I once experienced in Australia, the tarmac being so hot that it caused the tyre to explode – although this may not be a worry here in Ireland.)
During a blowout the car will suddenly and violently swerve to the left or right.
The first thing to remember is to avoid destabilising your vehicle further, or putting more stress on the other tyres. Don't make any sudden movement of the steering wheel. You may feel the urge to steer the car back into its original direction but it is best not to do this, even though it goes against your instinctive reaction. The worst thing you could possibly do is pull on the steering wheel and make the car turn.
You will also need to keep your foot on the accelerator to counteract the deceleration caused by the blowout.
It is important to recognise which tyre has blown. You won't need to guess, you'll be able to feel this and one corner of the vehicle will be lower than the rest.
Neil Worth, road safety officer with road safety and breakdown recovery provider GEM Motoring Assist, offers this advice:
In a front wheel blowout, one of your tyres will have lost all its inflation, and you could be driving on bare wheel rims. Don't brake hard, as this will increase the weight on the front tyres and could force the wheel rim to dig into the tarmac, causing the car to lose stability and even flip over. In a rear wheel blowout, the any attempt to steer or brake hard can further increase drag, meaning the vehicle will be much harder to control. You may even enter a 360-degree spin.
#Open journalism No news is bad news Support The Journal

Your contributions will help us continue to deliver the stories that are important to you

Support us now
The priority immediately after a blowout is to regain and maintain control of the vehicle.
Neil continues:
Maintain speed, grip the steering wheel with both hands and focus on the road ahead. Check your mirrors, then indicate left and steer gently towards the side of the road (or to the hard shoulder of the motorway). Use the gears to slow down gradually, then when you have stopped, apply the handbrake and switch in your hazard warning lights.
Again, proper tyre maintenance can go a long way in making sure that blowouts don't happen.