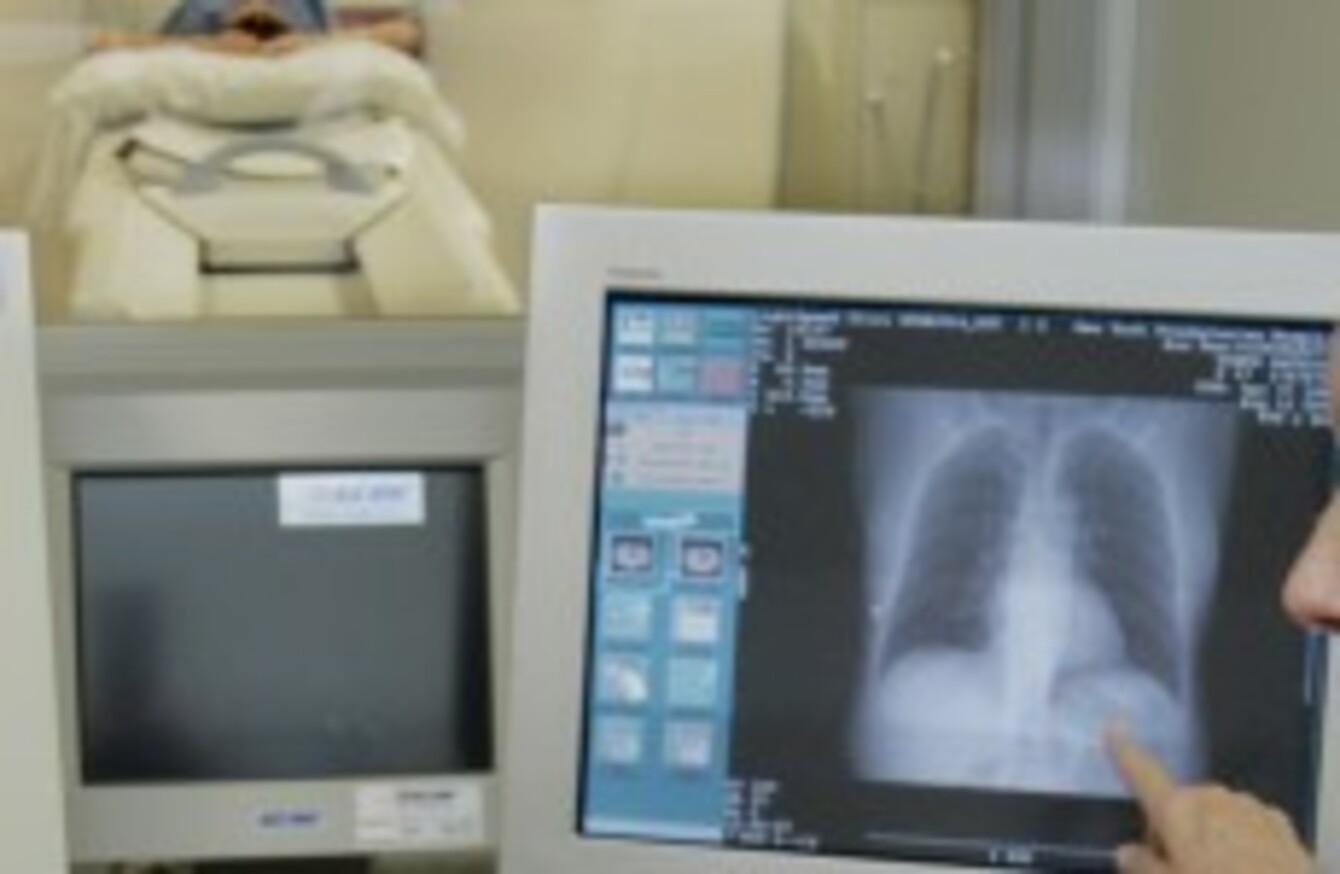 Image: RICHARD DREW/AP/Press Association Images
Image: RICHARD DREW/AP/Press Association Images
IT COULD NOW  be possible to avoid a dangerous biopsy procedure when diagnosing a deadly lung disease that kills thousands every year, new research has found.
Published in The Lancet Respiratory Medicine, a study of idiopathic pulmonary fibrosis (IPF) found that by using a particular scanning technique, a 'honeycomb pattern' can be seen on the lungs.
This is caused by progressive scanning of lung tissue and damage to the lung's air sacs. This eventually leads to the organ being unable to supply the body with sufficient oxygen.
Research in the United States has suggested that 40,000 people die from IPF each year — the same number as breast cancer.
High Resolution Computed Tomography (HRCT) allows doctors to identify if a patient has IPF, once other factors have been ruled out.
'Honeycomb pattern'
However, if the 'honeycomb pattern' can not be identified, the traditional technique of diagnosis using a lung biopsy must still be sought.
Professor Ganesh Raghu from the University of Washington Medical Center, who led the research, said biopsies pose 'substantial risks' to patients who are elderly, sick, or have other pre-existing conditions.
"A confident diagnosis of IPF is needed to ensure that patients are well informed of the poor prognosis associated with IPF," Dr Raghu said, "are treated with the most appropriate therapies, consider participation in clinical trials of new therapies, and to identify those most suitable for lung transplantation."
Caution
However, he cautioned that those involved in the study "highly selected cohort of patients suspected to have IPF and referred to regional sites for consideration of participation in a clinical trial".
The study involved 315 patients aged 40 years or over.
79 (94 per cent) of 84 patients who showed the 'honeycombing pattern' on HRCT scans were found to have "histopathological usual interstitial pneumonia", the technical term for this pattern, after analysis of lung biopsy samples.
"In future, combination of high-resolution CT with new noninvasive biomarkers and functional imaging could be used to better define phenotypes of fibrotic interstitial lung disease," Dr Simon Hart from Hull York Medical School in the UK said in a linked comment, noting that an increased ability to spot these patterns could diminish the role of lung biopsy assessment.