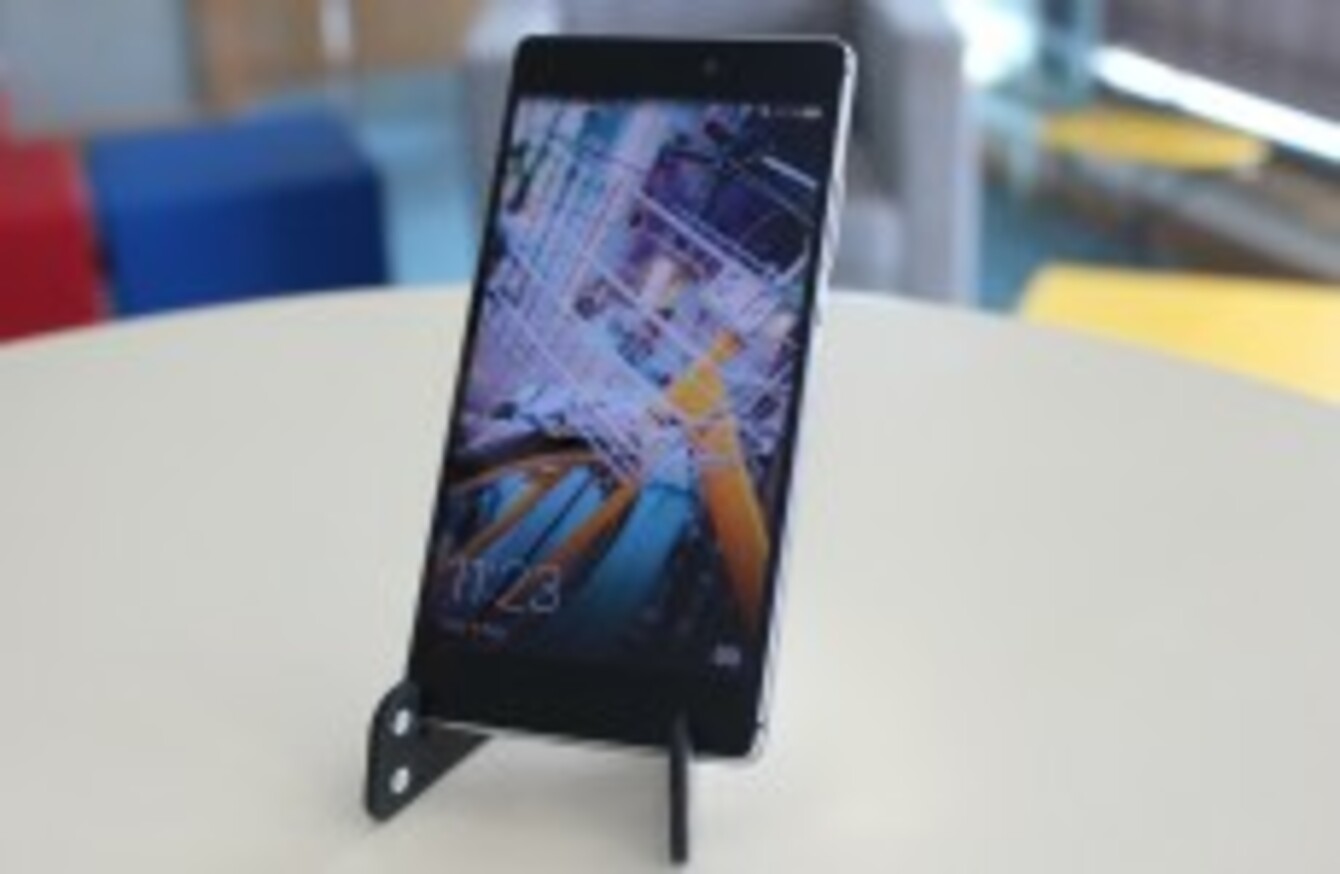 Image: TheJournal.ie
Image: TheJournal.ie
Score: 7/10
Verdict: Huawei's latest flagship tries to match the biggest players but its software prevents it from achieving this.
NOW THE THIRD-LARGEST handset manufacturer in the world, Huawei has slowly built up a reputation for providing good mid- and low-range devices. It's a decent position to be in considering how competitive the space is.
This year saw it take its latest step into the high-end market with the Ascend P8. The company's phones already represented good value on the cheaper end of the market but how does it fare in a crowded field featuring the likes of Samsung, HTC and OnePlus?
Look and feel
Going for an aluminium casing, the 5.2-inch screen device is just about the right size for it to be manageable one-handed and it does feel thin – just that bit thinner than the Samsung's Galaxy S6 or the iPhone 6 – but it doesn't feel as snug as other handsets.
While you have to concentrate a little more on grip, it slides into your pocket without much hassle and the aluminium design does give it a premium feel.
The placement is straightforward. Headphone jack at the top, USB port, speakers and fan at the bottom. The right-hand side is where the volume and power buttons are, as well as slots for your SIM and micro SD cards. Meanwhile, the left side is left clean.
Software
Running on a modified version of Android Lollipop 5.0, Huawei's version is pretty standard but there are a few iOS inspired choices built into its Emotion UI.
It's a mixture of the nice (animations when turning off your phone) and bland (the iconography used for apps and widgets), but it lacks the polish you would find on other phones.
Moving between sections is smooth and it skips from one task to another with relative ease, but it doesn't create a coherent experience of its own.
The design choices that are nice tend to be optional, lesser features like taking screenshots. Instead of pressing the volume and power buttons, you tap the screen with your knuckle.
You can also screenshot a portion of the screen by drawing a circle or shape with your knuckle, but it's difficult to master and it will take many attempts before it recognises your action.
The other 'nice in theory but lacking in practice' feature is the ability to find your phone by calling out for it.
In theory, this is great if you've misplaced your phone as calling out a select phrase will activate it – but the reality isn't as smooth.
For one, the voice function is limited to just that and ringing up contacts, the other problem is how it will activate at random times when you're talking. There were some instances where it activated mid-conversation, resulting in it being turned off within moments.
If there's a real criticism to these small design features as a whole, it isn't the execution but their usefulness. Huawei is pushing them as selling points for the phone, but it feels odd when standard features like an app tray are absent.
Hardware
Using a Kirin 930 processor, two quad-core CPUs, and featuring 3GB of RAM, the P8 is capable of handling almost any task you throw at it.
It doesn't quite match the speed of the Galaxy S6, and performance on the most demanding games can be a bit patchy in places, but it's does a good job considering the price point.
The screen is sharp but falls a bit short of the biggest players. Still, it performs admirably, it's bright and responsive and unless you're swapping from an S6, you won't notice the difference.
One problem is battery life. A 2680 mAh battery doesn't exactly scream long-life, and to combat that, the P8 alerts you to any battery-intensive apps running in the background. That's handy to have but it means you have to be more wary of resource-intensive apps since they can drain your battery quickly.
You'll get a day out of it from normal use, but heavier use will see you looking for a charger come evening time.
Camera
Another fusion of iOS principles and Huawei's own twists, the P8′s camera is the strong point of the P8. On the surface, the auto camera app is stripped down to its basics, allowing you to just take photos without worrying about quality.
Part of that is down to what Huawei's calling the world's first four-colour RGBW sensor, allowing it to change brightness depending on the environment, and image stabiliser.
What that means is in auto mode, you will capture some good photos with little effort.
Huawei Ascend P8 Photos

Source: quinton

Huawei Ascend P8 photos

Huawei Ascend P8 photos

Huawei Ascend P8 photos

Huawei Ascend P8 photos

Huawei Ascend P8 photos

Huawei Ascend P8 photos

Huawei Ascend P8 photos

Huawei Ascend P8 photos
It's a little strange that pro features like adjusting ISO can only be found by diving into settings, but you have a wealth of other features available like 'Watermark', 'Super night' (for low-light situations) and 'Director mode' which allows four Android phones to shoot a video from four different angles.
The front-facing 8MP camera also deserves a mention thanks to its beauty features, which can thin your face, smooth out your skin and increase the size of your eyes. Provided you keep the adjustments small, they can help, but going too far can present you with a stick-thin, bug-eyed monstrosity that will haunt somebody's nightmares, if not your own.
As far as efforts go, Huawei's camera features go beyond what you would usually expect from your smartphone and while some don't work as well as you would like, there's still a lot to work with.
Is it worth getting?
The P8 is probably one of the best phones to come from Huawei so far. Yet while it has positives like its price point and camera, it doesn't quite match what the other big players have to offer.
No one feature makes or breaks the P8 but you're left feeling that it doesn't quite manage to be more than the sum of its parts. The software is its biggest issue and if Huawei can iron out the problems with future updates, then it can really start thinking about matching its rivals.
The more you use it, the more you feel Huawei is one or two phones away from properly matching the big players. Until then, it's just a step below what the likes of Samsung and Apple are offering, and that's a pity as there are some nice ideas nestled within it. Maybe its rumoured Google Nexus phone will tell a different story.
Pros
- Attractive price compared to similar flagships.
- Premium design.
- Both front and rear end cameras are packed with features.
- Good screen.
Cons
- Uninspired software design.
- Doesn't break any new ground.
- Battery life isn't exactly great.
The Huawei Ascend P8 costs €429 (without contract) and is available in Meteor (bill pay: Free – €149) and eMobile (Bill Pay pre-order). It will also be available in Three and Carphone Warehouse later this month.