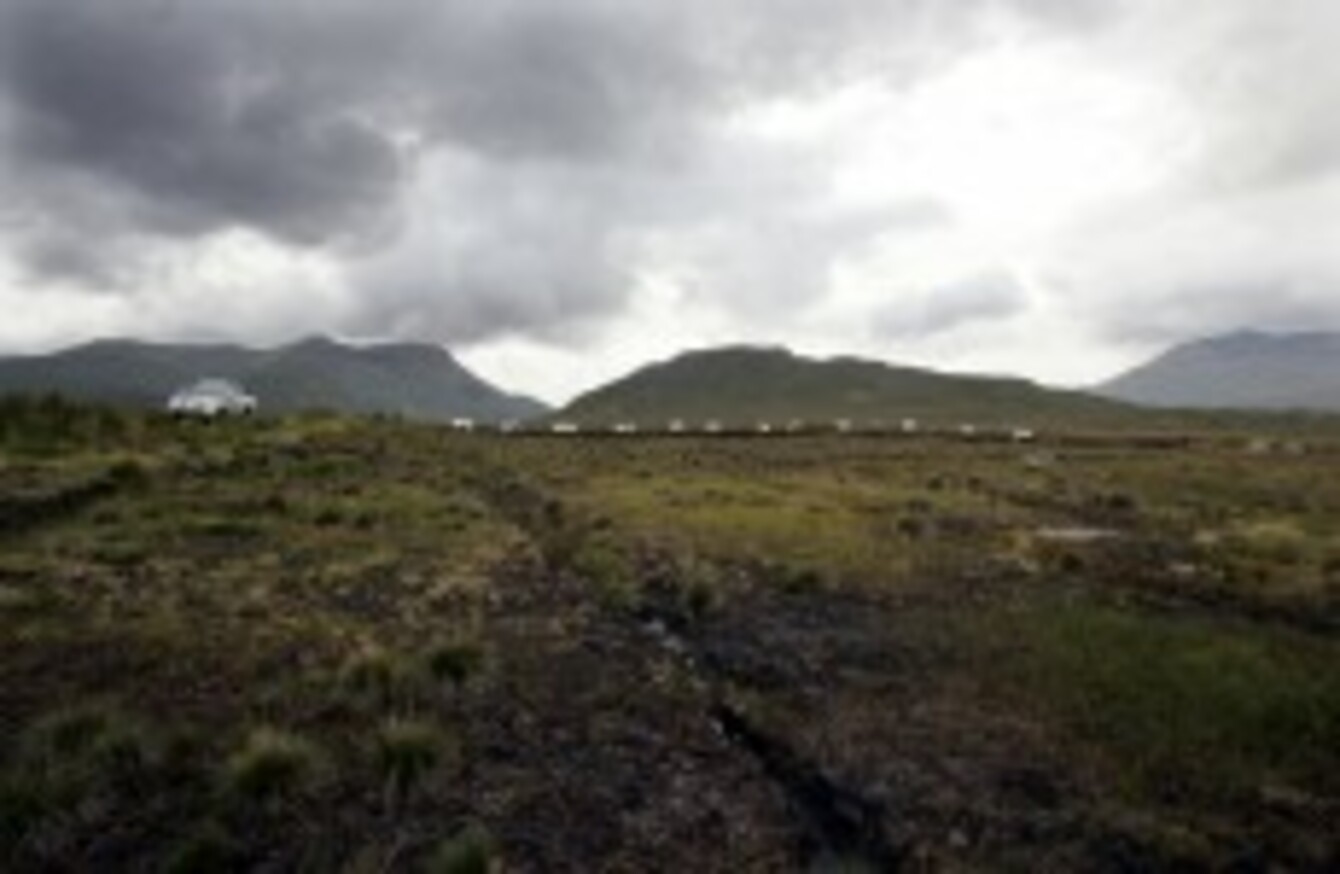 A bog in Connemara
Image: Eamonn Farrell/Photocall Ireland
A bog in Connemara
Image: Eamonn Farrell/Photocall Ireland
TURF CUTTERS EXCHANGED "angry words" with Taoiseach Enda Kenny when he visited Tuam and Ballinasloe yesterday while canvassing with presidential candidate Gay Mitchell.
The group were protesting against restrictions on turf cutting in Ireland.
Michael Fitzmaurice, chairman of the Irish Turf Cutters' and Contractors' Association, told TheJournal.ie:
There were 300 people in Tuam livestock mart, and Enda Kenny would have got a robust reception from very angry people. In Ballinasloe I would imagine there were between 350 – 400, which included some people from the Roscommon Hospital action committee and people from the bogs around Ballinasloe. Mr Kenny got another angry reception there.
Fitzmaurice said they confronted the Taoiseach because they are "sick of lies" about the turf cutting restrictions, which the association members oppose.
The Government has offered domestic turf cutters compensation of €1000 year but the association members are not happy with this.
Fitzmaurice said he has been dealing with the situation on a voluntary basis for a year, and that "when you are being told lies long enough you become a non-believer".
What saddens me is spin doctors that the government have in the media will turn around and say we will be fined by the EU, but it's  our own government and our own civil servants that are going to be the cause of it.
The association chairman said he was disappointed by the government's response to the turf cutters' issues, saying:
I believe this could have been solved. It's like bringing a horse to the water but you can't make it drink. When you have it nearly ready to resolve the government does something to sh*g you up.
He believes the compensation scheme will cost the government less money, which is why they are encouraging the turf cutters to accept the deal.
Turf cutters have said they will go to jail rather than give up their land.
"They won't get my land. If I have to go to jail I will," he said. "Enda Kenny has given broken promises one after the other."
The association is to bring a plan to the European Union with a proposed solution for the situation.
Fitzmaurice said if this fails, "we are going out cutting our turf and whatever the consequences are I'm not letting my kids go cold in the winter".
The government says it will be given heavy fines if it allows domestic turf cutting on bogs which are protected under the EU Habitat Directive.
A four-year Government-funded project for the Environmental Protection Agency, called Bogland, found that compensation tied to the value of lost peat "is unrealistic", the Irish Times reports.