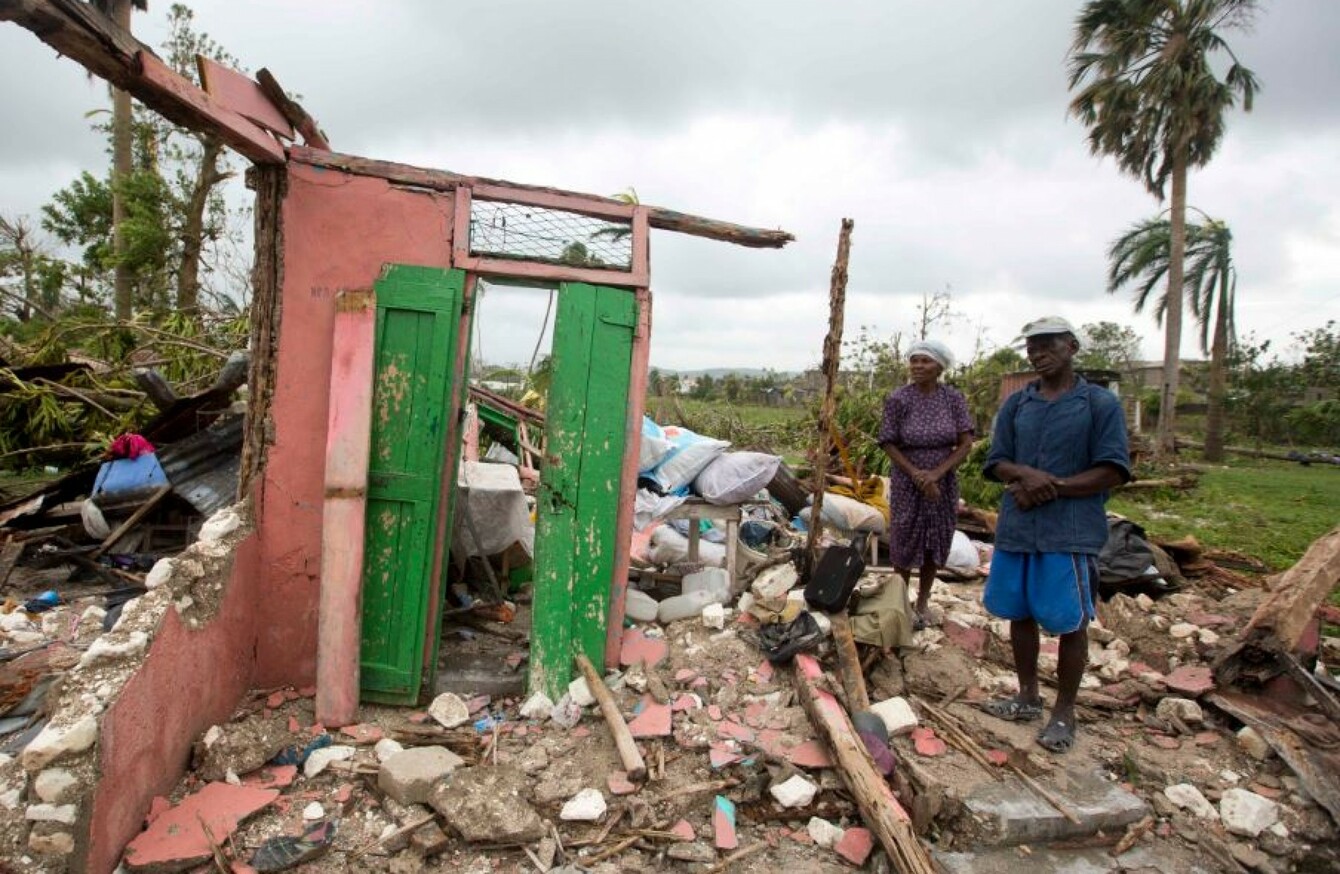 Saintanor Dutervil stands with his wife in the ruins of their home destroyed by Hurricane Matthew in Haiti.
Image: Dieu Nalio Chery AP/Press Association Images
Saintanor Dutervil stands with his wife in the ruins of their home destroyed by Hurricane Matthew in Haiti.
Image: Dieu Nalio Chery AP/Press Association Images
Updated 2.40pm 
IRELAND WILL PROVIDE humanitarian aid to Haiti in response to the devastation caused by Hurricane Matthew.
At least 300 people have been killed in the country, as the storm left a trail of destruction in its wake across the Caribbean in recent days.
The Irish Department of Foreign Affairs said the number of dead may rise as authorities re-establish contact with regions cut off by the storm.
In a statement released today, the department noted: "Emergency relief operations, led by the Haitian government, are hindered after the collapse of a bridge which cut off the only road linking Port-au-Prince to the southern Haiti peninsula."
Foreign Affairs Minister Flanagan said the damage and destruction caused by Hurricane Matthew in Haiti in recent days is "another devastating blow to communities previously affected by the earthquake in 2010″.
Initial rapid assessments indicate that over 350,000 people are in need of humanitarian assistance and some 20,000 people have been displaced from their homes. There are increasing concerns that flooding will exacerbate pre-existing epidemics such as cholera, dengue fever and Zika.
"The death tolls continues to rise and we know that many thousands of people have lost their homes and possessions in the aftermath of the strongest storm to hit the region in a decade.
"We are monitoring the situation closely in coordination with our partners on the ground. Assessments of the damage and requirements are ongoing and Ireland is prepared to provide humanitarian assistance once a clearer picture of humanitarian needs has emerged. We will work with our NGO partners to respond appropriately."
Florida
Hurricane Matthew unleashed torrential rains and up to 120 mile-an-hour winds as it passed the Florida coast today.
Matthew was downgraded to a Category Three storm earlier by the National Hurricane Center, as its wind speed dropped slightly. However, Florida is still facing its most dangerous hurricane in recent memory.
Local media showed empty streets battered by wind as horizontal rain pounded the coast at dawn, with downed power lines and trees blocking streets and keeping residents trapped in place.
States of emergencies have been declared in Florida, Georgia, South Carolina and North Carolina.
The storm caused havoc as it hit Haiti's southern coast on Tuesday, killing more than 300 people, according to a senator from the region, Herve Fourcand.
The government toll stands at 122 deaths and Radio Television Caraibes reported 264 dead. A definitive tally will take some time to collect because the damage is so intense.
Aerial footage by journalists who made it to the hardest hit towns showed a ruined landscape of metal shanties with their roofs blown away and downed trees everywhere. Brown mud from overflowing rivers covered the ground.
In the town of Jeremie, 80% of the buildings were knocked down, the NGO Care said. The town of 30,000 people "is completely destroyed", Jean-Michel Vigreux, director of Care Haiti, said.
The aerial footage is reminiscent of the aftermath of the killer earthquake that ravaged Haiti in 2010.
Further south, the town of Cayes, the third largest in Haiti, was battered by the storm for hours.
"I thought I was going to die. I looked death in the face," 36-year-old Yolette Cazenor said, standing in front of a house smashed in two by a fallen coconut palm.
In Florida, the NHC said the storm was moving parallel to and just off the east coast before dawn today.
The big question was when and if it will hit the coast and how. A direct hit would have devastating impact, but a sideswiping blow could still be catastrophic.
#Open journalism No news is bad news Support The Journal

Your contributions will help us continue to deliver the stories that are important to you

Support us now
Over the course of the day, Matthew could scour its way up a 600-mile (965-kilometer) strip of coast from Boca Raton in Florida to just north of Charleston, South Carolina, driving seawater and heavy rain inland.
Only a handful of hurricanes of this strength have ever made landfall in Florida, and none since 1898 has threatened to move its way north along the low-lying, densely populated coast into Georgia and beyond.
As the first bouts of heavy rain and powerful gusts arrived at seafront resorts presaging the storm beyond, more than 400,000 homes and businesses in Florida had lost power.
Evacuation orders were issued for areas covering some three million residents and major cities like Jacksonville, Florida and Savannah, Georgia lay in the path of the terrible storm.
Matthew has already battered Haiti, Jamaica, Cuba, the Dominican Republic and the Bahamas and US officials are taking no chances, warning that loss of life is a virtual certainty.
"This storm is a monster," Florida's Governor Rick Scott, said, adding:
I want everybody to survive this. We can rebuild homes. We can rebuild businesses … We can't rebuild a life.
As of 11am Irish time, the storm was about 35 miles east of Cape Canaveral — about half way up the peninsula — which is home to the Kennedy Space Center. It was moving northwest at 14 miles per hour, the National Hurricane Center said.
South Florida, including Miami, was thus spared the worst of the storm after it took a slight turn to the north and east.
With reporting by © AFP 2016